 News
Bill Withers / The Complete Sussex and Columbia albums box set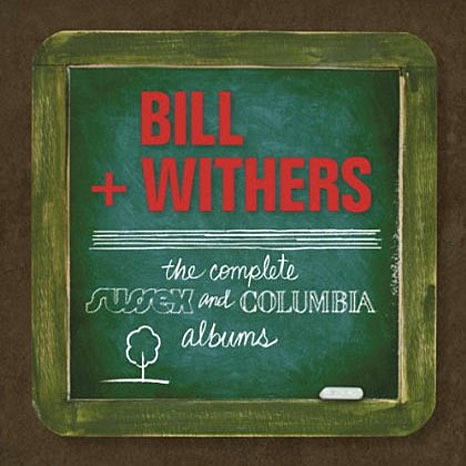 The best Bill Withers product is back in print
When reflecting on the sad death of Bill Withers recently on Saturday Deluxe, I mentioned that the best item to try and get hold of was the out-of-print Complete Sussex and Columbia Albums nine-CD box set. Well, as it turns out Music On CD were in the process of preparing a reprint (before Bill died) of what was originally a Sony Music product and this will be released next month.

The clamshell box set features all nine of Withers' albums recorded between 1970 and 1985. That's four on the Sussex label (including Live at Carnegie Hall) and five on Columbia.
This set comes with a very good 40-page booklet and upon its original release, way back in 2012, I made an early SDE unboxing video, which is slightly rough around the edges, to be honest, but at least affords you the opportunity of a closer look (ignore the pricing comments at the end). The only difference with the new box is that this is licensed by Music On CD and not coming direct from Sony – other than that, it's identical.
This Bill Withers box set is being released on 15 May 2020 and is available from the SDE shop, among other retail channels (it's not available on Amazon UK at the moment).
CD 1 -Just As I Am (1971)
1. Harlem
2. Ain't No Sunshine
3. Grandma's Hands
4. Sweet Wanomi
5. Everybody's Talkin'
6. Do It Good
7. Hope She'll Be Happier
8. Let It Be
9. I'm Her Daddy
10. In My Heart
11. Moanin' and Groanin'
12. Better Off Dead
CD 2 – Still Bill (1972)
1. Lonely Town, Lonely Street
2. Let Me in Your Life
3. Who Is He (And What Is He to You)?
4. Use Me
5. Lean on Me
6. Kissing My Love
7. I Don't Know
8. Another Day to Run
9. I Don't Want You on My Mind
10. Take It All in and Check It All Out
CD 3 – Bill Withers Live At Carnegie Hall (1973)
1. Use Me
2. Friend of Mine
3. Ain't No Sunshine (Live)
4. Grandma's Hands (Live)
5. World Keeps Going Around
6. Let Me in Your Life (Live)
7. Better Off Dead
8. For My Friend
9. I Can't Write Left-Handed
10. Lean on Me (Live)
11. Lonely Town, Lonely Street (Live)
12. Hope She'll Be Happier
13. Let Us Love
14. Cold Baloney
CD 4 – +' Justments (1974)
1. You
2. The Same Love That Made Me Laugh
3. Stories
4. Green Grass
5. Ruby Lee
6. Heartbreak Road
7. Can We Pretend
8. Liza
9. Make a Smile for Me
10. Railroad Man
CD 5 – Making Music (1975)
1. I Wish You Well
2. The Best You Can
3. Make Love to Your Mind
4. I Love You Dawn
5. She's Lonely
6. Sometimes a Song
7. Paint Your Pretty Picture
8. Family Table
9. Don't You Want to Stay?
10. Hello Like Before
CD 6 – Naked & Warm (1976)
1. Close to Me
2. Naked & Warm
3. Where Are You?
4. Dreams
5. If I Didn't Mean You Well
6. I'll Be with You
7. City of the Angels
8. My Imagination
CD 7 – Menagerie (1977)
1. Lovely Day
2. I Want to Spend the Night
3. Lovely Night for Dancing
4. Then You Smile at Me
5. She Wants to (Get on Down)
6. It Ain't Because of Me Baby
7. Tender Things
8. Wintertime
9. Let Me Be the One You Need
CD 8 – 'Bout Love (1978)
1. All Because of You
2. Dedicated to You My Love
3. Don't It Make It Better
4. You Got the Stuff
5. Look to Each Other for Love
6. Love
7. Love Is
8. Memories Are That Way
CD 9 – Watching You Watching Me (1985)
1. Oh Yeah!
2. Something That Turns You on
3. Don't Make Me Wait
4. Heart in Your Life
5. Watching You, Watching Me
6. We Could Be Sweet Lovers
7. You Just Can't Smile It Away
8. Steppin' Right Along
9. Whatever Happens
10. You Try to Find a Love