 News
Buzzcocks / Sell You Everything box
8CD set brings together music recorded during the band's second act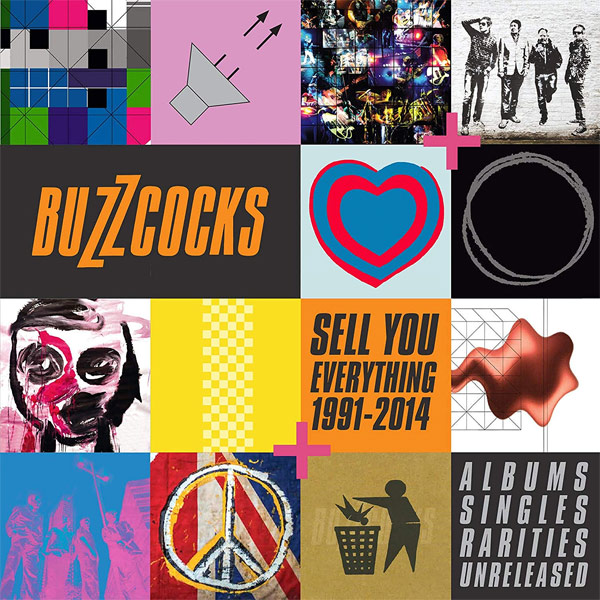 Cherry Red will issue Sell You Everything 1991-2014, an eight-CD box set featuring albums, singles, rarities and unreleased music from the Buzzcocks in the post-reformation era.

The band disbanded in 1981, but re-grouped in 1989 and actually continue to write, record and perform to this day, despite the untimely death of Pete Shelley in 2018.

Across eight CDs, Sell You Everything 1991-2014 delivers 160 tracks, including the entire 1991 demo album, six studio albums, and bonus tracks consisting of home recordings from Steve Diggle's archive, demos, B-sides and promo-only tracks.

This set also features the A Different Compilation collection which includes re-worked versions of some classic tracks like 'Ever Fallen In Love' and 'What Do I Get'.

The box set has been produced in association with Steve Diggle and Buzzcocks and comes with a booklet which features sleevenotes by Pat Gilbert. It will be released on 26 June 2020.




CD 1 – THE 1991 DEMO ALBUM *

1. DREAMIN'
2. ALIVE TONIGHT
3. NEVER GONNA GIVE IT UP
4. WALLPAPER WORLD
5. SUCCESSFUL STREET
6. WHO'LL HELP ME TO FORGET
7. SERIOUS CRIME
8. WHY COMPROMISE
9. LAST TO KNOW
10. RUN AWAY FROM HOME
11. SEARCHING FOR YOUR LOVE
12. TRANQUILLIZER
13. WHEN LOVE TURNS AROUND YOU
BONUS TRACKS
14. ALL OVER YOU (DEMO)*
15. ISOLATION (DEMO)*
16. TRASH AWAY (DEMO)*
17. INSIDE (DEMO)*
18. ALIVE TONIGHT (EP VERSION)
19. SERIOUS CRIME (EP VERSION)
20. LAST TO KNOW (EP VERSION)
21. SUCCESSFUL STREET (EP VERSION)

* PREVIOUSLY UNRELEASED

CD 2 – TRADE TEST TRANSMISSIONS

1. DO IT
2. INNOCENT
3. TTT
4. ISOLATION
5. SMILE
6. LAST TO KNOW
7. WHEN LOVE TURNS AROUND
8. NEVER GONNA GIVE IT UP
9. ENERGY
10. PALM OF YOUR HAND
11. ALIVE TONIGHT
12. WHO'LL HELP ME FORGET
13. UNTHINKABLE
14. CRYSTAL NIGHT
15. 369
BONUS TRACKS
16. INSIDE
17. LIBERTINE ANGEL
18. ROLL IT OVER
19. EXCERPT FROM 'PRISON RIOT HOSTAGE'
SOMEWHERE IN THE WORLD*
20. ENERGY (HOME DEMO)*
21. IT'S ALRIGHT (HOME DEMO)*
22. TAKE YOUR LIFE (HOME DEMO)*
23. SOMEWHERE IN THE WORLD
(HOME DEMO)*

* PREVIOUSLY UNRELEASED

CD 3 – ALL SET

1. TOTALLY FROM THE HEART
2. WITHOUT YOU
3. GIVE IT TO ME
4. YOUR LOVE
5. POINT OF NO RETURN
6. HOLD ME CLOSE
7. KISS 'N' TELL
8. WHAT AM I SUPPOSED TO DO
9. SOME KINDA WONDERFUL
10. WHAT YOU MEAN TO ME
11. PLAYING FOR TIME
12. PARIAH
13. BACK WITH YOU
BONUS TRACKS
14. WITHOUT YOU (DEMO)*
15. YOUR LOVE (DEMO)*
16. GIVE IT TO ME (DEMO)*
17. KISS 'N TELL (DEMO)*

* PREVIOUSLY UNRELEASED

CD 4 – MODERN

1. SOUL ON A ROCK
2. RENDEZVOUS
3. SPEED OF LIFE
4. THUNDER OF HEARTS
5. WHY COMPROMISE?
6. DON'T LET THE CAR CRASH
7. RUNAROUND
8. DOESN'T MEAN ANYTHING
9. PHONE
10. UNDER THE SUN
11. TURN OF THE SCREW
12. SNEAKY
13. STRANGER IN YOUR TOWN
14. CHOICES
BONUS TRACKS
15. HERE COME THE NICE
16. AUTUMN STONE – Stevie's Buzz

CD 5 – BUZZCOCKS

1. JERK
2. KEEP ON
3. WAKE UP CALL
4. FRIENDS
5. DRIVING YOU INSANE
6. MORNING AFTER
7. SICK CITY SOMETIMES
8. STARS
9. CERTAIN MOVE
10. LESTER SANDS
11. UP FOR THE CRACK
12. USELESS
BONUS TRACKS
13. DON'T COME BACK
14. NEVER BELIEVE IT (DEMO)
15. PARADISE (LIVE)
16. OH SHIT! (LIVE)

CD 6 – FLAT-PACK PHILOSOPHY

1. FLAT-PACK PHILOSOPHY
2. WISH I NEVER LOVED YOU
3. SELL YOU EVERYTHING
4. RECONCILIATION
5. I DON'T EXIST
6. SOUL SURVIVOR
7. GOD, WHAT HAVE I DONE
8. CREDIT
9. BIG BROTHER WHEELS
10. DREAMIN'
11. SOUND OF A GUN
12. LOOK AT YOU NOW
13. I'VE HAD ENOUGH
14. BETWEEN HEAVEN AND HELL
BONUS TRACKS
15. SEE THROUGH YOU
16. HOLDING ME DOWN
17. EVERY DAY AND EVERY NIGHT (DEMO)
18. DON'T MATTER WHAT YOU SAY
19. ORION
20. DARKER BY THE HOUR
21. LOVE BATTERY (LIVE)
22. SIXTEEN (LIVE)

CD 7 – A DIFFERENT COMPILATION

1. BOREDOM
2. FAST CARS
3. I DON'T MIND
4. AUTONOMY
5. GET ON OUR OWN
6. WHAT EVER HAPPENED TO?
7. WHEN LOVE TURNS AROUND YOU
8. WHY SHE'S A GIRL FROM THE CHAINSTORE
9. WHY CAN'T I TOUCH IT?
10. ALIVE TONIGHT
11. I DON'T KNOW WHAT TO DO WITH MY LIFE
12. YOU SAY YOU DON'T LOVE ME
13. TURN OF THE SCREW
14. NOISE ANNOYS
15. BREAKDOWN
16. PROMISES
17. LOVE YOU MORE
18. WHAT DO I GET
19. HARMONY IN MY HEAD
20. OH SHIT!
21. EVER FALLEN IN LOVE (WITH SOMEONE YOU SHOULDN'T'VE)?
22. ORGASM ADDICT
23. I BELIEVE
24. LOVE IS LIES

CD 8 –  THE WAY

1. KEEP ON BELIEVING
2. PEOPLE ARE STRANGE MACHINES
3. THE WAY
4. IN THE BACK
5. VIRTUALLY REAL
6. THIRD DIMENSION
7. OUT OF THE BLUE
8. CHASING RAINBOWS/MODERN TIMES
9. IT'S NOT YOU
10. SAVING YOURSELF
BONUS TRACKS
11. GENERATION SUICIDE
12. DREAM ON BABY
13. HAPPY
14. DISAPPOINTMENT
15. IN THE BACK (HOME DEMO)*
16. DANCING AT DAWN (HOME DEMO)*
17. CAN YOU DIG ME? (HOME DEMO)*

* PREVIOUSLY UNRELEASED