 News
Camouflage / Voices and Images 30th anniversary deluxe editions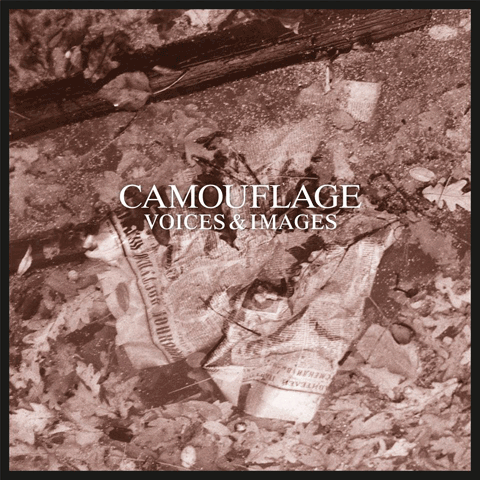 2CD deluxe • Very limited 3LP signed vinyl
Voices and Images, the 1988 of debut of German new wave band Camouflage will be reissued as an expanded 30th anniversary deluxe edition in October.

Founded in Bietigheim-Bissingen by Heiko Maile, Oliver Kreyssig and Marcus Meyn in 1984, Camouflage had a top 20 hit with their debut single 'The Great Commandment', released in the autumn of 1987. A remix became an unlikely Billboard Dance Club chart hit in the USA.
Voices & Images was issued in March of 1988 and this new 30th anniversary deluxe edition is issued as a two CD set and on very limited (500 copies only) 3LP vinyl. Both include remixes, rare versions and B-sides.
German label Tapete Records are putting this out. The triple vinyl is exclusive to their webstore and comes with a SIGNED cover print. The 2CD set (there isn't a signed version) should be more widely available, although it's still limited to 1500 copies.
This 30th anniversary edition of Voices and Images will be released on 12 October 2018.
Order 3LP or 2CD via Tapete Records' web shop.
Compare prices and pre-order
Camouflage
Voices and Images - 2CD deluxe
LIMITED 2-CD EDITION
CD1
01) That Smiling Face
02) Helpless Helpless
03) Neighbours
04) The Great Commandment
05) Winner Takes Nothing
06) Stranger's Thoughts
07) From Ay to Bee
08) Where Has the Childhood Gone
09) Music for Ballerinas
10) I Once Had a Dream
11) They Catch Secrets
12) Pompeji
CD2
01) The Great Commandment – Extended Dance Mix
02) The Great Commandment – Extended Radio Mix
03) Pompeji
04) Stranger's Thoughts Longer
05) They Catch More Secrets
06) Zwischenspiel
07) Neighbours – Extended Version
08) Every Now and Then
09) That Smiling Face – German Band Version
10) The Great Commandment – US 12″ Mix
11) The Great Commandment – US Dub Mix (2018 Edit)
12) The Great Commandment – Justin Strauss Remix
13) The Great Commandment – Acid Commandment (2018 Edit)
14) That Smiling Face – Justin Strauss Radio Version
15) That Smiling Face – Justin Strauss Remix
LIMITED 3-LP EDITION
LP1
A1 That Smiling Face
A2 Helpless Helpless
A3 Neighbours
A4 The Great Commandment
A5 Winner Takes Nothing
B1 Stranger's Thoughts
B2 From Ay To Bee
B3 Where Has the Childhood Gone
B4 Music for Ballerinas
B5 I Once Had a Dream
LP2
C1 They Catch More Secrets
C2 Pompeji
C3 Stranger's Thoughts Longer
C4 Zwischenspiel
C5 Every Now and Then
D1 Neighbours – Extended Version
D2 That Smiling Face – German Band Version
D3 The Great Commandment – Extended Dance Mix
D4 The Great Commandment – Extended Radio Mix
LP3
E1 The Great Commandment – US 12″ Mix
E2 The Great Commandment – US Dub Mix
E3 The Great Commandment – Justin Strauss Remix
F1 That Smiling Face – Justin Strauss Remix
F2 That Smiling Face – Tech A Pella (2018 Edit)
F3 The Great Commandment – Acid Commandment
F4 The Great Commandment – Deep Commandment (2018 Edit)