 News
David Bowie / Space Oddity album issued as vinyl picture disc
Picture disc of 1969 album • Reissue artwork • Available everywhere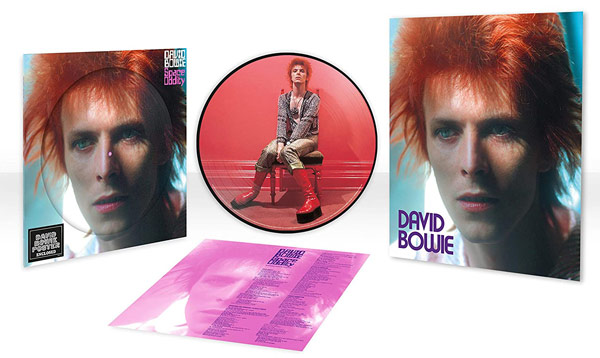 Parlophone will issue a special limited edition 12-inch vinyl picture disc of David Bowie's Space Oddity album next month.

The picture disc reverts to the rather iconic, but inaccurate, Ziggy-era artwork given to the album when it was re-released by RCA in the wake of the success of The Rise and Fall of Ziggy Stardust and the Spiders From Mars, in 1972. It was at this point the record was retitled 'Space Oddity' (having previously been known as 'David Bowie' or 'Man of Words/Man of Music'.

This picture disc edition uses the 2009 40th anniversary remastering (i.e. not the recent Tony Visconti 2019 remix) and comes with a replica of the poster which came with this release back in the day.

This Space Oddity picture disc will be issued on 19 June 2020 (was 17 April 2020. This will be the third vinyl edition of this album released in 10 months if you include the limited edition Paul Smith vinyl.


Compare prices and pre-order
David Bowie
Space Oddity - vinyl picture disc
Side 1
Space Oddity (5.20)
Unwashed and Somewhat Slightly Dazed (6.18)
Letter To Hermione (2.32)
Cygnet Committee (9.28)
 Side 2
Janine (3.21)
An Occasional Dream (2.57)
Wild Eyed Boy From Freecloud (4.50)
God Knows I'm Good (3.16)
Memory Of A Free Festival (7.14)