 News
Depeche Mode / Black Celebration & Music for the Masses 12″ boxes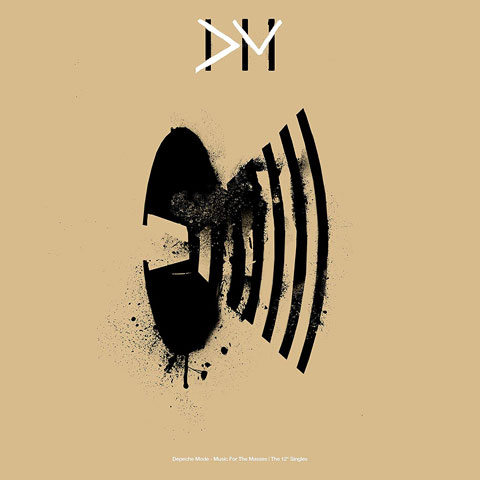 More 12″ box sets • Seven records in 'Masses', five in 'Black Celebration'. 
Depeche Mode continue with their 12-inch vinyl box set reissue campaign with packages around the singles pulled from their fifth and six albums Black Celebration and Music For The Masses.

Black Celebration was issued in March 1986 and with the band apparently bored of creating hit singles, saw a move into more gloomy atmospheric soundscapes. The three singles ('Stripped', 'A Question of Lust' & 'A Question of Time') didn't reward them with any top ten hits in Britain, the album did peak at number four in the UK charts – a new high.
Music For The Masses (it's title deliberately tongue-in-cheek) was issued in 1987 and co-produced by Dave Bascombe (best known at that point for his work with Tears For Fears). Less dense than it's predecessor, this album managed to deliver some classic singles in (particularly in 'Strangelove' and 'Never Let Me Down Again') even if, again, they weren't massive commercial successes at the time. Music For The Masses is a personal favourite for this writer – managing to be intimate, cinematic, and industrial all at the same time – and this album and the 101 tour very much laid the groundwork for the next album Violator which of course was massive, both creatively and commercially.
Black Celebration: The 12″ Singles features FIVE 'maxi singles' on vinyl; one for 'Stripped' (five tracks, 25 minutes of music), two for 'A Question of Lust' and two for 'A Question of Time.' The second 12-inch was actually a cassette-only release in the UK. This box also comes with a poster.
Music For The Masses: The 12″ Singles breaks new ground by including SEVEN 12-inch singles; two for each of the first three singles and one for slightly forgotten fourth single 'Little 15'. It too includes a poster.
All audio was remastered at Abbey Road Studios and these come with download cards offering 16- bit WAV files. I have to say the quality of the sleeve reproduction was amazing on the last two sets, in particular (check out the unboxing video here).
These are released on 31 May 2019.
Compare prices and pre-order
Depeche Mode
Black Celebration - The 12-inch singles
Compare prices and pre-order
Depeche Mode
Music For The Masses - The 12-inch singles
Black Celebration: The 12″ Singles
Stripped
A1 Stripped (Highland Mix)
A2 But Not Tonight (Extended Remix)
B1 Breathing In Fumes
B2 Fly On The Windscreen (Quiet Mix)
B3 Black Day
A Question of Lust #1
A1 A Question Of Lust
A2 Christmas Island (Extended)
B1 People Are People (Live)
B2 It Doesn't Matter Two (Instrumental)
B3 A Question Of Lust (Minimal)
A Question of Lust #2
A1 A Question Of Lust
A2 Christmas Island
B1 If You Want (Live)
B2 Shame (Live)
B3 Blasphemous Rumours (Live)

A Question of Time # 1
A Question Of Time (Extended Remix)
B1 Black Celebration (Live)
B2 Something To Do (Live)Mixed By – Gareth Jones
B3 Stripped (Live)Mixed By – Gareth Jones
A Question of Time #2
A Question Of Time (New Town Mix) 6:50
A2A Question Of Time (Live Remix) 4:21
B1 Black Celebration (Black Tulip Mix) 6:36
B2 More Than A Party (Live Remix)Remix 5:12
Music For The Masses: The 12″ Singles
Strangelove #1
A Strangelove (Maxi-Mix)
B1 Strangelove (Midi-Mix)
B2 Fpmip
Strangelove #2
A1 Strangelove (Blind Mix)
A2 Pimpf
B1 Strangelove (Pain Mix)
B2 Agent Orange
Never Let Me Down Again #1
A Never Let Me Down Again (Split Mix)
B1 Pleasure, Little Treasure (Glitter Mix)
B2 Never Let Me Down Again (Aggro Mix)
Never Let Me Down Again #2
A Never Let Me Down Again (Tsangarides Mix)
B1 Pleasure, Little Treasure (Join Mix)
B2To Have And To Hold (Spanish Taster)
Behind The Wheel #1
A Behind The Wheel (Remixed By Shep Pettibone)
B Route 66 (Remixed By The Beatmasters)

Behind The Wheel #2
A Behind The Wheel (Beatmasters Mix)
B Route 66 (Casualty Mix)

Little 15
A Little 15
B1 Stjarna
B2 Sonata Nº 14 In C#M "Moonlight Sonata"