 News
Donna Summer / Encore / career-spanning 33CD deluxe box set
All Donna's albums in one box • Remastered • Massive amount of bonus material • Large format • Hardcover book • Expensive, but limited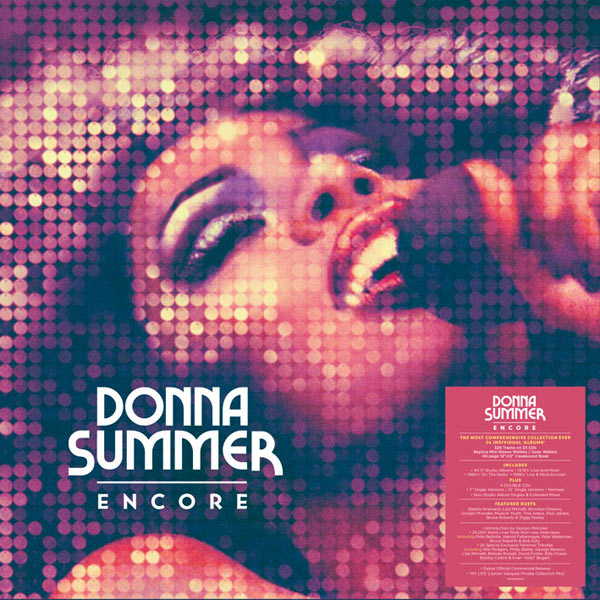 A new comprehensive 33CD box set, Encore, will bring together remastered versions all of Donna Summer's 17 studio albums and offer eight bonus discs of rarities and non-album material.

Encore starts at the beginning with Lady of the Night from 1974 and works its way through the Casablanca era to the eighties, when Donna had spells on Geffen, Mercury and Atlantic. The last album is 2008's Crayons. Also included are 1978's Live And More, the 1979 compilation On The Radio and Live & More Encore! from 1999.

That totals 25 CDs and a further eight discs offer a massive 109 bonus tracks (there are 329 tracks in total). These include seven-inch mixes, 12-inch mixes, non-album rarities and other one-off recordings.

Encore – 33CD box set (click image to enlarge)

All the music is remastered and the albums are presented in mini-replica CD sleeves with inner wallets (the latter is welcome). These are all housed in a large format lift-off lid box set which comes with a 40-page 12" x 12" hardcover book which features a  newly commissioned 25,000 words of sleeve notes by Christian John Wikane. The notes incorporate new interviews with many of Donna's collaborators, including Giorgio Moroder's production partner Pete Bellotte (Moroder himself provides a foreword).

Encore is limited to 1500 copies and will be released on 27 March via Crimson Productions (a Demon Music imprint).




CD1: LADY OF THE NIGHT
Single CD- sized replica mini-sleeve wallet

1 Lady Of The Night
2 Born To Die
3 Friends
4 Domino
5 The Hostage
6 Wounded
7 Little Miss Fit
8 Let's Work Together Now
9 Sing Along (Sad Song)

CD2: LOVE TO YOU LOVE YOU BABY
Single CD-sized replica mini-sleeve wallet

1 Love To Love You Baby
2 Full Of Emptiness
3 Need-A-Man Blues
4 Whispering Waves
5 Pandora's Box
6 Full Of Emptiness (Reprise)

CD3: A LOVE TRILOGY
Single CD-sized replica mini-sleeve wallet

1 Try Me, I Know We Can Make It
2 Prelude To Love
3 Could It Be Magic
4 Wasted
5 Come With Me

CD4: FOUR SEASONS OF LOVE
Single CD-sized replica mini-sleeve wallet

1 Spring Affair
2 Summer Fever
3 Autumn Changes
4 Winter Melody
5 Spring Reprise

CD5: I REMEMBER YESTERDAY
Single CD-sized replica mini-sleeve wallet

1 I Remember Yesterday
2 Love's Unkind
3 Back In Love Again
4 I Remember Yesterday (Reprise)
5 Black Lady
6 Take Me
7 Can't We Just Sit Down (And Talk It Over)
8 I Feel Love

CD6 & 7: ONCE UPON A TIME
Gatefold CD-sized replica mini-sleeve wallet

1 Once Upon A Time
2 Faster And Faster To Nowhere
3 Fairy Tale High
4 Say Something Nice
5 Now I Need You
6 Working The Midnight Shift
7 Queen For A Day

1 If You Got It Flaunt It
2 A Man Like You
3 Sweet Romance
4 (Theme) Once Upon A Time
5 Dance Into My Life
6 Rumour Has It
7 I Love You
8 Happily Ever After
9 (Theme) Once Upon A Time

CD8 & 9: LIVE AND MORE
Double- Gatefold CD-sized replica mini-sleeve wallet

1 Once Upon A Time (Recorded live Universal Amphitheater, Los Angeles, California)
2 Fairy Tale High (Recorded live Universal Amphitheater, Los Angeles, California)
3 Faster And Faster To Nowhere (Recorded live Universal Amphitheater, Los Angeles, California)
4 Spring Affair (Recorded live Universal Amphitheater, Los Angeles, California)
5 Rumour Has It (Recorded live Universal Amphitheater, Los Angeles, California)
6 I Love You (Recorded live Universal Amphitheater, Los Angeles, California)
7 Only One Man (Recorded live Universal Amphitheater, Los Angeles, California)
8 I Remember Yesterday (Recorded live Universal Amphitheater, Los Angeles, California)
9 Love's Unkind (Recorded live Universal Amphitheater, Los Angeles, California)
10 My Man Medley: The Man I Love/I Got It Bad And That Ain't Good/Some Of These Days (Recorded live Universal Amphitheater, Los Angeles, California)
11 The Way We Were (Recorded live Universal Amphitheater, Los Angeles, California)
12 Mimi's Song (Recorded live Universal Summer Amphitheater, Los Angeles, California)

1 Try Me, I Know We Can Make It (Recorded live Universal Amphitheater, Los Angeles, California)
2 Love To Love You Baby (Recorded live Universal Amphitheater, Los Angeles, California)
3 Feel Love (Recorded live Universal Amphitheater, Los Angeles, California)
4 Last Dance (Recorded live Universal Amphitheater, Los Angeles, California)
5 MacArthur Park Suite: MacArthur Park/One Of A Kind/Heaven Knows (with Brooklyn Dreams)/MacArthur Park (reprise)

CD10 & 11: BAD GIRLS
Gatefold CD-sized replica mini-sleeve wallet

1 Hot Stuff
2 Bad Girls
3 Love Will Always Find You
4 Walk Away
5 Dim All The Lights
6 Journey To The Centre Of Your Heart
7 One Night In A Lifetime
8 Can't Get To Sleep At Night

1 On My Honor
2 There Will Always Be A You
3 All Through The Night
4 My Baby Understands
5 Our Love
6 Lucky
7 Sunset People

CD12 & 13: ON THE RADIO
Gatefold CD-sized replica mini-sleeve wallet

1 On The Radio
2 Love To Love You Baby
3 Try Me, I Know We Can Make It
4 Feel Love
5 Our Love
6 I Remember Yesterday
7 I Love You
8  Heaven Knows (Donna Summer/Brooklyn Dreams)
9 Last Dance

1 MacArthur Park
2 Hot Stuff
3 Bad Girls
4 Dim All The Lights
5 Sunset People
6 No More Tears (Enough Is Enough) (Donna Summer/Barbra Streisand)
7 On The Radio (Long Version)

CD14: THE WANDERER
Single CD- sized replica mini-sleeve wallet

1 The Wanderer
2 Looking Up
3 Breakdown
4 Grand Illusion
5 Running For Cover
6 Cold Love
7 Who Do You Think You're Foolin'
8 Nightlife
9 Stop Me
10 I Believe In Jesus

CD15: DONNA SUMMER
Single CD- sized replica mini-sleeve wallet

1 Love Is In Control (Finger On The
Trigger)
2 Mystery Of Love
3 The Woman In Me
4 State Of Independence
5 Livin' In America
6 Protection
7 (If It) Hurts Just A Little
8 Love Is Just A Breath Away
9 Lush Life

CD16: SHE WORKS HARD FOR THE MONEY
Single CD-sized replica mini- sleeve wallet

1 She Works Hard For The Money
2 Stop Look And Listen
3 He's A Rebel
4 Woman
5 Unconditional Love
6 Love Has A Mind Of Its Own
7 Tokyo
8 People, People
9 (I Do Believe) I Fell In Love

CD17: CATS WITHOUT CLAWS
Single CD-sized replica mini-sleeve wallet

1 Supernatural Love
2 It's Not The Way
3 There Goes My Baby
4 Suzanna
5 Cats Without Claws
6 Oh Billy, Please
7 Eyes
8 Maybe It's Over
9 I'm Free
10 Forgive Me

CD18: ALL SYSTEMS GO
Single CD- sized replica mini-sleeve wallet

1 All Systems Go
2 Bad Reputation
3 Love Shock
4 Jeremy
5 Only The Fool Survives (Duet with
Mickey Thomas)
6 Dinner With Gershwin
7 Fascination
8 Voices Cryin' Out
9 Thinkin' Bout My Baby

CD19: ANOTHER PLACE AND TIME
Single CD-sized replica mini-sleeve wallet

1I Don't Wanna Get Hurt
2 When Love Takes Over You
3 This Time I Know It's For Real
4 The Only One
5 In Another Place And Time
6 Sentimental
7 Whatever Your Heart Desires
8 Breakaway
9 If It Makes You Feel Good
10 Love's About To Change My Heart

CD20: MISTAKEN IDENTITY
Single CD- sized replica mini-sleeve wallet

1 Get Ethnic
2 Body Talk
3 Work That Magic
4 When Love Cries
5 Heaven's Just A Whisper Away
6 Cry Of A Waking Heart
7 Friends Unknown
8 Fred Astaire
9 Say A Little Prayer
10 Mistaken Identity
11 What Is It You Want
12 Let There Be Peace

CD21: CHRISTMAS SPIRIT
Single CD- sized replica mini-sleeve wallet

1 White Christmas
2 The Christmas Song
3 O Come All Ye Faithful
4 Christmas Is Here
5 Christmas Medley: What Child Is
This/Do You Hear What I Hear/Joy To
The World
6 I'll Be Home For Christmas
7 Christmas Spirit
8 Breath Of Heaven
9 O Holy Night
10 Lamb Of God

CD22 & 23: I'M A RAINBOW
Gatefold CD-sized replica mini-sleeve wallet

1  I Believe (In You) (Donna Summer duet with Joe 'Bean' Esposito)
2 True Love Survives
3 You To Me
4 Sweet Emotion
5 Leave Me Alone
6 Melanie
7 Back Where You Belong
8 People Talk
9 To Turn The Stone

1 Brooklyn
2 I'm A Rainbow
3 Donna Walk On (Keep On Movin')
4 Don't Cry For Me Argentina
5 A Runner With The Pack
6 Highway Runner
7 Romeo
8 End Of The Week
9 I Need Time

CD24: VH1 PRESENTS LIVE & MORE ENCORE!
Single CD-sized replica mini- sleeve wallet

1 MacArthur Park
2 This Time I Know It's For Real
3 I Feel Love
4 On The Radio
5 No More Tears (Enough Is Enough) (Donna Summer featuring Tina Arena)
6 Dim All The Lights
7 She Works Hard For The Money
8 Bad Girls
9 Hot Stuff
10 My Life
11 Last Dance
12 Love Is The Healer
13 I Will Go WIth You (Con Te Partiró)

CD25: CRAYONS
Single CD-sized replica mini-sleeve wallet

1 Stamp Your Feet
2 Mr. Music
3  Crayons (Donna Summer featuring Ziggy Marley)
4 The Queen Is Back
5 Fame (The Game)
6 Sand On My Feet
7 Drivin' Down Brazil
8 I'm A Fire
9 Slide Over Backwards
10 Science Of Love
11 Be Myself Again
12 Bring Down The Reign
13 It's Only Love

BONUS CDs

CD26 & 27: 7″ SINGLE VERSIONS
Gatefold CD-sized wallet

1 Denver Dream
2 Something's In The Wind
3 Love To Love You Baby [Single Edit]
4 Winter Melody [Single Version]
5 I Feel Love [Edit]
6 Theme From The Deep (Down, Deep
Inside) – Album Version
7 Rumour Has It [Single Version]
8 I Love You [Single Version]
9 Once Upon A Time [7″ Single Version]
10 Heaven Knows (Donna Summer/Brooklyn Dreams)
11 MacArthur Park [Single Version]
12 Hot Stuff [Single Version]
13 Bad Girls [Single Version/Edited]
14 Dim All The Lights [7″ Single Version]
15 Walk Away [Single Version]
16 Sunset People
17 Who Do You Think You're Foolin' (Edit)
18 Cold Love (Edit)
19 Love Is In Control (Finger On The Trigger) (7" Version)
20 State Of Independence (7" Version)

1 She Works Hard For The Money [Edited
Single Version]
2  Unconditional Love [Edit] (Donna Summer with Musical Youth)
3 Stop, Look & Listen [7″ Single Version]
4 Love Has A Mind Of Its Own [7″ Single Version]
5 Eyes (7" Remix Edit)
6 All Systems Go (Edit)
7 Dinner With Gershwin (Edit)
8  Only The Fool Survives (Edit) (Donna Summer duet with Mickey Thomas)
9 This Time I Know It's For Real (7″ Mix)
10 I Don't Wanna Get Hurt (7″ Remix)
11 Love's About To Change My Heart (PWL 7″ Mix)
12 Breakaway (Power Radio Mix)
13 When Love Takes Over You (Dave Ford 7″)
14 State Of Independence [New Bass Mix Edit]
15 Breakaway (Remix Edit)
16 When Love Cries (Single Version Remix)
17 Stamp Your Feet (Jason Nevins Radio Mix)
18 Fame (The Game) (Dave Audé Radio)
19 I Feel Love [Almighty Radio Edit]

CD28 & 29: 12″ SINGLE VERSIONS
Gatefold CD-sized wallet

1 Love To Love You Baby (Come Dancing Version)
2 Could It Be Magic [12″ Single Version]
3 I Feel Love [Special Disco Version]
4 Theme From The Deep (Down, Deep Inside) [12″ Disco Version]
5 Hot Stuff [12″ Version]
6 Dim All The Lights [12″ Version]
7 On The Radio [Long Version]
8 Love Is In Control (Finger On The Trigger) (Dance Remix)
9 She Works Hard For The Money [12″ Single Remix)
10 Eyes (Extended Mix)
11 I'm Free (Extended Mix)

1 All Systems Go (Extended Remix)
2 Dinner With Gershwin (Extended Version)
3 This Time I Know It's For Real (Extended Remix)
4 I Don't Wanna Get Hurt (Phil Harding 12″ Version)
5 Love's About To Change My Heart (Extended Remix)
6 When Love Takes Over You (Pete Hammond Original 12" Mix)
7 Work That Magic (ISA Extended Remix)
8 I'm A Fire (Craig C's Burning Club Mix)
9 Stamp Your Feet (Jason Nevins Extended Mix)
10 Fame (The Game) (Dave Audé Club)

CD30 & 31: REMIXES
Gatefold CD-sized wallet

1 I Feel Love [Patrick Cowley Mega Mix]
2 Love's About To Change My Heart [Clivillés & Cole 12" Mix]
3 I Don't Wanna Get Hurt [Pete Hammond Original 12″ Version]
4 When Love Takes Over You [Dave Ford Extended Remix]
5 Breakaway [Extended Power Mix]
6 State Of Independence [12″ Millennium Mix with Martin Luther King]
7 Breakaway [Remix – Full Version]
8 Work That Magic [ISA Full Length Remix]
9 I Feel Love (Masters At Work 86th Street Mix)

1 I Feel Love (Rollo/Sister Bliss Monster Mix)
2 State Of Independence [Creation Mix – Edit]
3 Love Is The Healer (Eric Kupper's I Feel Healed 7" Mix)
4 I Feel Love (Qattara 2004 Remix)
5 Working The Midnight Shift (Holy Ghost! Remix)
6 MacArthur Park (Laidback Luke Remix)
7 Hot Stuff (Frankie Knuckles & Eric Kupper As Director's Cut Signature Mix)
8 Bad Girls (Gigamesh Remix)
9 Dim All The Lights (Duke Dumont Remix)
10 Love To Love You Baby (Giorgio Moroder Feat. Chris Cox Remix)
11 I Feel Love (Almighty Mix)
12 Sunset People (Hot Chip Dub Edit)

CD32 & 33: NON-STUDIO ALBUM SINGLES & EXTENDED MIXES -
Gatefold CD-sized wallet

1 Wasserman (Aquarius) – [from "Haare" 1968 German Cast Version]
2 Oh, Segne Gott Mein' Seel/Bless The Lord (from German Cast Recording of 'Godspell')
3 Virgin Mary
4 Theme From "The Deep" (Down, Deep Inside) (A Love Song)
5 With Your Love
6 Sometimes Like Butterflies
7 Face The Music
8 Tearin' Down The Walls
9 La Vie En Rose [Album Version]
10 Any Way At All
11 Melody Of Love (Wanna Be Loved) (West End 7" Radio Mix)
12  Does He Love You? (Liza Minnelli and Donna Summer)
13 Whenever There Is Love (from "Daylight") (Soundtrack Version) (Bruce Roberts and Donna Summer)
14 I Will Go With You (Con Te Partiró)
15 You're So Beautiful (Tony Moran Radio Edit)
16 I Got Your Love (Radio Edit)
17 To Paris With Love (Mendy Radio Edit)
18  La Dolce Vita (Donna Summer & Giorgio Moroder)

1 Je T'Aime (Moi Non Plus)
2  Something's Missing (In My Life) (Paul Jabara feat Special Guest Donna Summer)
3 With Your Love
4 Last Dance
5 Carry On (Outta Control Extended) (Donna Summer & Giorgio Moroder)
6 That's The Way (Almighty Radio Edit)
7 Dream-A-Lot's Theme (I Will Live For Love) (Moroder/Cox 12″ Extended Remix)
8 Power Of Love (Hani's Mixshow Edit)
9 Last Dance (Masters At Work Remix-Short Version)
10 My Life [Junior Vasquez Private Collection Mix-Long Edit]