 News
Frank Zappa / Zappa in New York: 40th anniversary 5CD box & 3LP vinyl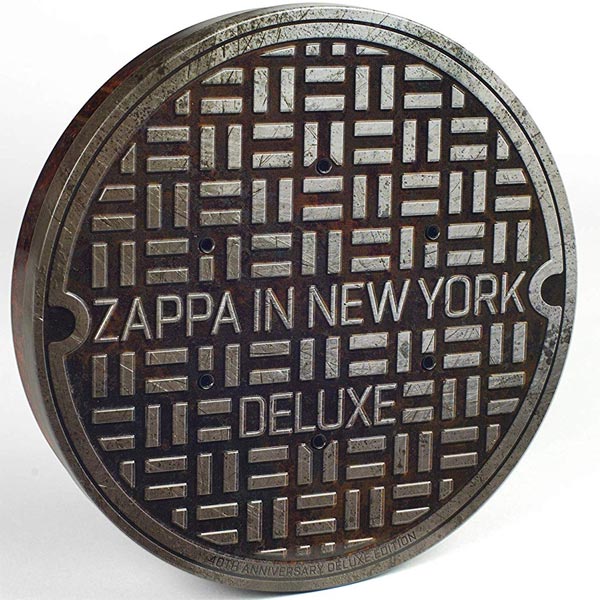 Limited 5CD set in an embossed tin • 3 hours of unreleased performances • newly remastered • Vault audio newly mixed • All-analogue vinyl
This March, Universal Music will issue a five-CD, 40th anniversary deluxe edition of Frank Zappa's 1978 live album Zappa in New York.

The album contained live performances recorded in the Palladium in New York in December 1976 and boasts 'freewheeling' lyrical content with songs like 'Titties & Beer,' and 'The Illinois Enema Bandit'. Even songs with no lyrical content are provocatively titled (see 'I Promise Not To Come In Your Mouth')
Warners were not happy with the inclusion of 'Punky's Whips' (the song concerned drummer Terry Bozzio's sexual fantasies about Punky Meadows, a guitarist for the band Angel) and insisted on that track being removed, although not before some unexpurgated versions slipped out the door. It wasn't until a CD reissue in 1991 that the song officially saw the light of day.
This new five-CD set is available "in limited quantities" and will come packaged in an embossed tin box (18cm x 2.5cm) that resembles a New York City manhole cover. It also contains a replica ticket from one of the shows and a 60-page book.
CD 1 features the main album in its original vinyl mix, newly remastered by Bob Ludwig in 2018 and available for the first time since its debut.
The other four discs in the CD edition feature three hours-plus of unreleased live performances from the Palladium shows. These represent every composition that was played during the concerts, and the best alternate performances of every tune that Zappa picked for the original album, all newly mixed in 2018 (the original two-inch 24-track multi-track master tapes were transferred, reel by reel, to create 96kHz 24-bit wavs).
A 3LP vinyl edition includes an all-analog mastering of the original vinyl edition over two records and a bonus LP of
These anniversary editions of Zappa in New York have been overseen by the Zappa Family Trust and produced by Ahmet Zappa and Joe Travers. It is released on 29 March 2019. Fans in the UK would be advised to pick this up from the USA where it's around £66 including shipping and all taxes – a saving of at least £14 on the UK price.
Compare prices and pre-order
Frank Zappa
Zappa in new york - 5CD deluxe in tin box
Compare prices and pre-order
Frank Zappa
Zappa in new york - 3LP vinyl
Zappa in New York Limited edition 5CD set in an embossed tin box
CD 1 – The Original 1977 vinyl mix
1 Titties & Beer 5:01
2 I Promise Not To Come In Your Mouth 3:31
3 Big Leg Emma 2:17
4 Sofa 3:16
5 Manx Needs Women 1:34
6 The Black Page Drum Solo/Black Page #1 4:06
7 Black Page #2 5:42
8 Honey, Don't You Want A Man Like Me? 4:16
9 The Illinois Enema Bandit 12:41
10 The Purple Lagoon 17:12
CD 2 – Bonus Concert Performances – Part One
1 "The Most Important Musical Event Of 1976"
2 Peaches En Regalia
3 The Torture Never Stops
4 Black Page #2
5 Punky's Whips intro
6 Punky's Whips
7 I Promise Not To Come In Your Mouth
8 Honey, Don't You Want A Man Like Me?
9 The Illinois Enema Bandit
10 "Two For The Price Of One"
11 Penis Dimension
12 Montana
CD 3 – Bonus Concert Performances – Part Two
1 America Drinks 4:52
2 "Irate Phone Calls" 1:37
3 Sofa #2 3:04
4 "The Moment You've All Been Waiting For" :58
5 I'm The Slime 5:38
6 Pound For A Brown 4:50
7 Terry's Solo 2:47
8 The Black Page Drum Solo/Black Page #1 3:53
9 Big Leg Emma 2:19
10 "Jazz Buffs and Buff-etts" 1:51
11 The Purple Lagoon 17:00
12 Find Her Finer 5:22
13 The Origin Of Manx 1:48
14 Manx Needs Women 1:37
15 Chrissy Puked Twice 6:40
16 Cruisin' For Burgers 9:56
CD 4 – Bonus Concert Performances – Part Three
1 The Purple Lagoon/Any Kind Of Pain 4:25
2 "The Greatest New Undiscovered Group In America" 2:18
3 Black Napkins 28:33
4 Dinah-Moe Humm 6:16
5 Finale 4:40
CD 5 – Bonus Vault Content
1 The Black Page #2 (Piano Version) 3:16
2 I Promise Not To Come In Your Mouth (Alternate Version) 3:55
3 Chrissy Puked Twice
4 Cruisin' For Burgers (1977 Mix) 9:08
5 Black Napkins (c)1976 10:56
6 Punky's Whips (Unused Version) 10:55
7 The Black Page #1 (Piano Version) . 2:13
Zappa in New York 3LP vinyl
Side A
1. Titties N Beer
2. I Promise Not To Come In Your Mouth
3. Big Leg Emma
Side B
1. Sofa
2. Manx Needs Women
3. The Black Page Drum Solo/Black Page #1
4. Black Page #2
LP 2
Side A
1. Honey, Dont You Want A Man Like Me?
2. The Illinois Enema Bandit
Side B
1. The Purple Lagoon (Side B)
LP 3
Side A
1. Black Napkins
2. Cruisin For Burgers (1977 Mix)
Side B
1. The Black Page #2 (Piano Version)
2. I Promise Not To Come In Your Mouth (Alt. Version)
3. Punkys Whips (Unused Version)
4. The Black Page #1 (Piano Version)