 News
Gene / The Albums: 8LP or 9CD box sets
8LP coloured vinyl SIGNED • 9CD set with bonus material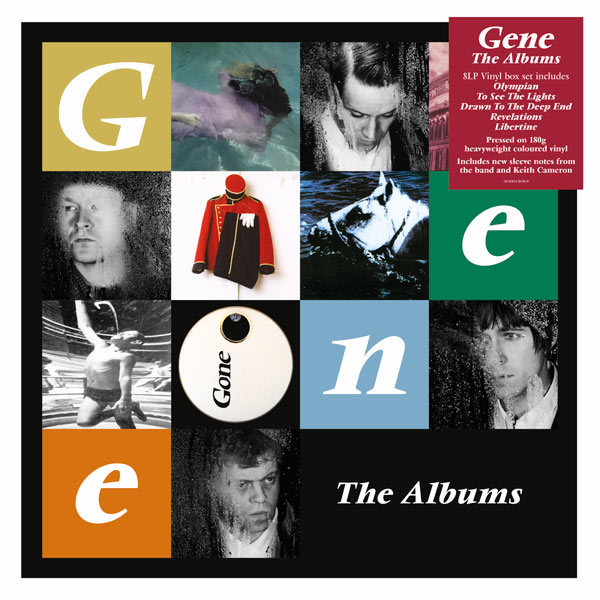 Nineties British group Gene see all their albums reissued in a limited 8LP coloured vinyl box set – with signed print – and via a nine-CD box set, which includes an extensive amount of bonus material.

The vinyl package features all four studio albums – Olympian (1995), Drawn To The Deep End (1997), Revelations (1999) and Libertine (2001). It also features the 1996 compilation To See The Lights. Three out of those five are double albums, so that gives us an 8LP vinyl set.

These sets are limited to 1000 units and come with a 12″ x 12″ print signed by the band. It also includes a booklet with notes written by each band member and a piece by journalist Keith Cameron, who signed the band to his Costermonger label back in 1994.

The albums are pressed on coloured vinyl and the colours are as follows: Olympian (white), Drawn To The Deep End (maroon), Revelations (green), Libertine (pink) and To See The Lights (gold).



The nine-CD box set offers all of the above and adds bonus CDs for the following albums: Drawn To The Deep End, Revelations and Libertine. Live album Rising For Sunset (due to be issued on yellow vinyl for Record Store Day this year) is the ninth and final disc in the CD box. The bonus material replicates most of the content from the 2014 individual deluxe CD editions, but not quite everything. For example, the Revelations-era BBC 'Live In Concert' is notable by its absence. Like the vinyl set, this CD box comes with the booklet with notes.

Both Gene: The Albums box sets will be released on 14 August 2020.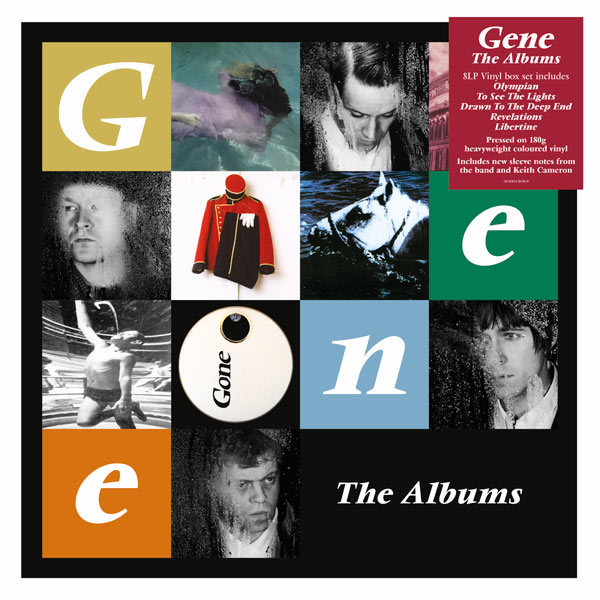 Gene: The Albums 8LP coloured vinyl box with signed print
Olympian
Side A
1.Haunted By You
2.Your Love, It Lies
3.Truth, Rest Your Head
4.A Car That Sped
5.Left-Handed
Side B
1.London Can You Wait?
2.To The City
3.Still Can't Find The Phone
4.Sleep Well Tonight
5.Olympian
6.We'll Find Our Own Way
To See The Lights
Side A
1.Be My Light, Be My Guide
2.Sick, Sober & Sorry
3.Her Fifteen Years
4.Haunted By You (Live -Helter Shelter 6/7/95)
5.I Can't Decide If She Really Loves Me
Side B
1.To See The Lights
2.I Can't Help Myself
3.A Car That Sped (Radio 1 Session 1/2/95)
4.For The Dead (Version)
5.Sleep Well Tonight (Live -Forum 31/3/95)
Side C
1.How Much For Love
2.London, Can You Wait? (Radio 1 Session 18/5/94)
3.I Can't Help Myself (Radio 1 Session 18/5/94)
4.Child's Body
5.Don't Let Me Down (Radio 1 Session 1/2/95)
Side D
1.I Say A Little Prayer (Live -Glastonbury 25/6/95)
2.Do You Want To Hear It From Me
3.This Is Not My Crim
4.Olympian (Live -Forum 31/3/95)
5.Child's Body (Live -Forum 31/3/95)
Drawn to the Deep End
Side A
1.New Amusements
2.Fighting Fit
3.Where Are They Now?
Side B
1.Speak To Me Someone
2.We Could Be Kings
3.Why I Was Born
Side C
1.Long Sleeves For The Summer
2.Save Me I'm Yours
3.Voice Of The Father
Side D
1.The Accidental
2.I Love You, What Are You?
3.Sub Rosa
Revelations
Side A
1.As Good As It Gets
2.In Love With Love
3.Love Won't Work
4.The British Disease
5.Fill Her Up
6.Something In The Water
7.Mayday
Side B
1.Angel
2.The Looker
3.Little Child
4.Stop
5.The Police Will Never Find You
6.You'll Never Walk Again
Libertine
Side A
1.Does He Have A Name
2.A Simple Request
3.Is It Over?
Side B
1.O Lover
2.Let Me Rest
Side C
1.We'll Get What We Deserve
2.Walking In The Shallows
3.Yours For The Taking
Side D
1.You
2.Spy In The Clubs
3.Somewhere In the World
Gene: The Albums 9CD box set
CD 1: Olympian
1.Haunted By You
2.Your Love, It Lies
3.Truth, Rest Your Head
4.A Car That Sped
5.Left-Handed
6.London Can You Wait?
7.To The City
8.Still Can't Find The Phone
9.Sleep Well Tonight
10.Olympian
11.We'll Find Our Own Way
CD 2: To See The Lights
1.Be My Light, Be My Guide
2.Sick, Sober & Sorry
3.Her Fifteen Years
4.Haunted By You (Live Helter Skelter6/7/95)
5.I Can't Decide If She Really Loves Me
6.To See The Lights
7.I Can't Help Myself
8.A Car That Sped (Radio 1 Session 1/2/95)
9.For The Dead (US Version / Remix)
10.Sleep Well Tonight (Live Forum 31/3/95)
11.How Much For Love
12.London Can You Wait? (Radio 1 Session 18/5/94)
13.I Can't Help Myself (Radio 1 Session 18/5/94)
14.Child's Body
15.Don't Let Me Down ( Radio 1 Session 01/02/95)
16.I Say A Little Prayer (Live Glastonbury 25/6/95)
17.Do You Want To Hear It From Me
18.This Is Not My Crime
19.Olympian (Live Forum 31/3/95)
20.Child's Body (Live Forum 31/3/95)
21.For The Dead (Hidden track, as per original release)
CD3: Drawn To The Deep End
1.New Amusements
2.Fighting Fit
3.Where Are They Now?
4.Speak To Me Someone
5.We Could Be Kings
6.Why I Was Born
7.Long Sleeves For The Summer
8.Save Me I'm Yours
9.Voice Of The Father
10.The Accidental
11.I Love You, What Are You?
12.Sub Rosa
CD 4: Drawn To The Deep End – Bonus Tracks
1.Drawn To The Deep End
2.Autumn Stone (Small Faces cover)
3.Cast Out In The Seventies
4. Nightswimming (REM cover)
5. We Could Be Kings
6.Dolce & Gabbana Or Nowt
7.Wasteland (The Jam cover)
8.As The Bruises Fade
9.The Ship Song (Nick Cave & The Bad
CD 5: Revelations
1.As Good As It Gets
2.In Love With Love
3.Love Won't Work
4.The British Disease
5.Fill Her Up
6.Something In The Water
7.Mayday
8.Angel
9.The Looker
10.Little Child
11.Stop
12.The Police Will Never Find You
13.You'll Never Walk Again
CD 6: Revelations -Single Edits & B Sides
1.Toasting The Union
2.Man On Earth
3.All Night
4.To All Who Sail On Her
5.Pass on To Me
6.Touched By The Hand Of Havoc
7.Common As Air
8.Slice
9.Town Called Malice
CD 7: Libertine
1. Does He Have A Name
2. A Simple Request
3. Is It Over?
4. O Lover
5. Let Me Rest
6. We'll Get What We Deserve
7. Walking In The Shallows
8. Yours For The Taking
9. You
10. Spy In The Clubs
11. Somewhere In the World
CD 8: Libertine Bonus Tracks
1.Let Me Move On (Long Version)
2.If I'm A Friend
3.Left For Dust
4.Supermarket Bombscare
5.Little Diamond
6.Rising for Sunset (Unreleased Studio Version)
7.Who Said This Was The End?
8.From Georgia to Osaka
9.With Love In Mind
10.Welcome to Dover
11.Baby I'm Sorry (Unreleased Studio Track)
12.Man Seeks Life (Unreleased Demo)
13.6 am (Unreleased Demo)
14.Skin Parade (Unreleased Demo)
15.You (Chapel Studio Version)
16.Does He Have A Name (Demo)
17.Simple Request (Demo)
18.Is it Over (Demo)
19.Spy in the Clubs (Demo)
20.Walking In The Shallows (Demo)
21.Let Me Move On (Demo)
22.O Lover (Demo)
CD 9: Rising For Sunset
1.Does He Have A Name? -Excerpt
2.Fill Her Up
3.The British Disease
4.Where Are They Now?
5.London, Can You Wait?
6.Mayday
7.As Good As It Gets
8.Your Love, It Lies
9.Rising For Sunset
10.For The Dead
11.Be My Light, Be My Guide
12.Speak To Me Someone
13.Olympian
14.You'll Never Walk Again
15.Somewhere In The World