 News
Groove Armada / Twenty One: 4CD deluxe edition & 2LP coloured vinyl
New band-curated 4CD compilation • Signed sets sold out.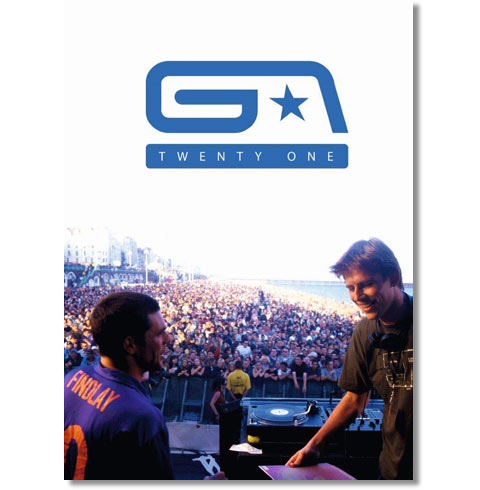 Electronic music duo Groove Armada are to release Twenty One, a four-CD deluxe compilation curated by Andy Cato and Tom Findley to celebrate their 21 years together.

Over the years Groove Armada have issued eight studio albums and this new set features all their hits via a themed approach across the four CDs (64 tracks in total).

CD 1 ('Club Mix') is a new continuous club mix featuring new 'GA21' version of 'Superstylin" while CD 2 ('Balearic') features similar fresh reinterpretations of 'Paper Romance,' 'Edge Hill,' and 'Little By Little'. The third disc ('Live') includes their live performance at Brixton while CD 4 ('Radio') covers radio edits and includes new versions of 'I'll Be Searching For You' and 'Superstylin".

This 4CD deluxe edition is presented in a 32-page 'media book' packaging with an introduction by Andy Cato, and sleeve notes by Bill Brewster.




A smart looking 16-track 2LP white vinyl edition will also be released at the same time. This is again curated by Groove Armada and is very much a 'highlights' package (no signed versions available of that).

Twenty One will be released on 18 October 2019 (was 27 September and previous to that was 23 August) via Edsel/Demon Records.






CD 1 – Club Mix 
1. Oh Tweak to Me
2. Luv 91
3. You Got To
4. Rescue Me
5. Time to Put Up?
6. Feel Free
7. Stevie Late Night
8. Activate My Heart
9. Always Take Me Higher
10. Walking On Sunshine (Tracker's Revenge)
11. Soho Disco…
12. Sweat
13. There Was Rhythm
14. Pull Up
15. Final Shakedown
16. Set Me Free (Balearic Mix)
17. Talk to You (Feat. DREWXHILL)
18. Pork Soda
19. The Pleasure Victim
20. RJ's Theme
21. Save My Soul
22. Love Sweet Sound (Kölsch Remix)
23. Superstylin' (GA21)

CD 2 – Baleric
1. Lazy Moon
2. Inside My Mind (Blue Skies)
3. What's Your Version?
4. Think Twice
5. From the Rooftops
6. Remember
7. Pillar 13
8. Edge Hill (GA21)
9. Burning Disaster (Bedtime Story Mix)
10. Little By Little (GA21)
11. Dusk You & Me
12. Hands of Time
13. Paper Romance
14. History (Love Mix)
15. Shameless

CD 3 – Live 
1. Suntoucher
2. The Girls Say
3. Look Me in the Eye Sister
4. Paris
5. Tuning In
6. Paper Romance ('Last Night in Brixton')
7. Groove Is On
8. Fall Silent
9. I Can Only Miss You
10. 1980 (White Light)
11. Cards to Your Heart

CD 4 – Radio
1. At the River
2. Purple Haze
3. My Friend
4. History
5. I Won't Kneel (White Light Version)
6. Song 4 Mutya (Out of Control)
7. If Everybody Looked the Same
8. Paper Romance
9. Feel the Same
10. Easy
11. I See You Baby (Feat. Gram'ma Funk)
12. Get Down (Feat. Stush & Red Rat)
13. I'll Be Searching (For You)
14. I See You Baby (Fatboy Slim Radio Edit)
15. Superstylin' (Set Closer)

Twenty One 2LP vinyl

LP 1
1. Cards to Your Heart
2. Just for Tonight
3. 1980 (White Light)
4. Paper Romance (Last Night in Brixton)
5. I Won't Kneel (White Light)
6. History
7. Easy
8. Feel the Same
9. Purple Haze

LP  2
1. At the River
2. Burning Disaster (Bedtime Story Mix)
3. What's Your Version?
4. Hands of Time
5. Going Back to My Roots
6. I Can Only Miss You
7. Paper Romance (Live Acoustic)