 News
Howard Jones / One to One reissue
Third album re-released but no big box set this time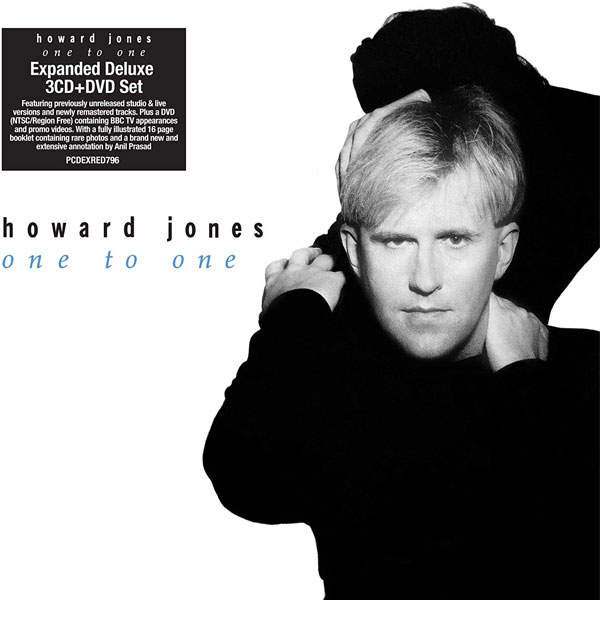 Howard Jones' third album One to One will be reissued across three physical formats in January next year.

The 1986 album saw Jones use the services of legendary producer Arif Mardin (Rupert Hine twiddled the knobs for the first two) but as with contemporaries like Paul Young and Nik Kershaw three was not the magic number and commercially One to One represented something of a downturn in fortunes, with no top 30 hits AT ALL in the UK (HoJo's first nine singles were all went top 20, six of them top ten!) although 'You Know I Love You…Don't You' did reach number 17 on the Billboard Hot 100 in America. Indeed, in the USA Howard continued to have hits from One to One follow-up Cross That Line, but in Britain, the situation would never recover and the golden years were over almost as soon as they'd begun.

There is no big £100 box set for this reissue. SDE wasn't overly impressed with the boxes for Human's Lib and Dream Into Action so this feels like a good decision, especially as the top-of-the-range 3CD+DVD package for One to One that is available is both well-spec'd and really good value in the UK. The other formats are 2CD and a limited 140g translucent blue vinyl LP.
3CD+DVD One to One is the 'top of the range' format

In terms of the 3CD+DVD set, disc one features the remastered album expanded with five extra tracks (the Phil Collins/Hugh Padgham version of 'No One Is To Blame' was on the original CD) while the second disc features a selection of extended versions, early mixes and live cuts, including five previously unreleased tracks.

ALL of CD 3 is previously unreleased, and this disc offers more 'ruff cuts' and about half the disc is instrumentals or instrumental demos. The package is finished off with a DVD (NTSC, region free) of TV appearances and promo videos. This comes with a 16-page booklet with a track-by-track annotation of One to One by Howard Jones (as told to writer Anil Prasad).




The 2CD set (there isn't a single CD edition) is the first two discs from the 3CD+DVD package and it's worth noting that there isn't a black vinyl edition, just the limited coloured vinyl (which looks pretty swish in blue).

One to One was reissued in 2012 as part of the One to One / Cross That Line / In The Running box set (put out on HoJo's own Dtox label). That set came with two bonus discs of rarities (covering the three albums). In case you are wondering, the only thing related to One to One in the previous set not included in the new 3CD+DVD package appears to be You Know I Love You…Don't You? 2011.

All three formats of One to One are released on 31 January 2020, via Cherry Red.








One to One 3CD+DVD

DISC ONE: CD
1. YOU KNOW I LOVE YOU… DON'T YOU?
2. THE BALANCE OF LOVE (GIVE AND TAKE)
3. ALL I WANT
4. WHERE ARE WE GOING?
5. DON'T WANT TO FIGHT ANYMORE
6. STEP INTO THESE SHOES
7. WILL YOU STILL BE THERE?
8. GOOD LUCK, BAD LUCK
9. GIVE ME STRENGTH
10. LITTLE BIT OF SNOW
11. NO ONE IS TO BLAME (SINGLE MIX)
12. ROLL RIGHT UP
13. DIG THIS WELL DEEP
14. LET IT FLOW
15. WILL YOU STILL BE THERE? (NEW VERSION)
16. DON'T WANT TO FIGHT ANYMORE (12″ MIX) *

* PREVIOUSLY UNRELEASED

DISC TWO: CD

1. ALL I WANT (EXTENDED VERSION)
2. YOU KNOW I LOVE YOU… DON'T YOU? (DANCE IN
THE FIELDS MIX)
3. HUNGER FOR THE FLESH (ORCHESTRAL VERSION)
4. HIDE & SEEK (ORCHESTRAL VERSION)
5. ASSAULT & BATTERY (LIVE AT THE TOWER
THEATRE, PHILADELPHIA) *
6. CONDITIONING (LIVE AT THE TOWER THEATRE,
PHILADELPHIA)
7. YOU KNOW I LOVE YOU… DON'T YOU? (LIVE AT
THE NEC, BIRMINGHAM) **
8. ALL I WANT (EDIT OF LP VERSION) **
9. LITTLE BIT OF SNOW (PIANO AND VOCAL
VERSION) *
10. WILL YOU STILL BE THERE? (ALTERNATIVE
SHORT VERSION)*
11. THE BALANCE OF LOVE (GIVE & TAKE) (RUFF
MIX) *
12. DON'T WANT TO FIGHT ANYMORE (EARLY MIX) *
13. GOOD LUCK, BAD LUCK (EARLY VERSION) *
14. YOU KNOW I LOVE YOU… DON'T YOU?
(INSTRUMENTAL)

* PREVIOUSLY UNRELEASED
** PREVIOUSLY UNRELEASED DIGITALLY

DISC THREE: CD

1. YOU KNOW I LOVE YOU…DON'T YOU? (INSTRUMENTAL DEMO) *
2. THE BALANCE OF LOVE (GIVE & TAKE) (INSTRUMENTAL) *
3. ALL I WANT (DEMO) *
4. WHERE ARE WE GOING? (EARLY INSTRUMENTAL VERSION) *
5. DON'T WANT TO FIGHT ANYMORE (RUFF MIX) *
6. STEP INTO THESE SHOES (EARLY VERSION) *
7. WILL YOU STILL BE THERE? (ALTERNATIVE LONG VERSION) *
8. GOOD LUCK, BAD LUCK (DEMO) *
9. GIVE ME STRENGTH (EARLY VOCAL VERSION) *
10. ROLL RIGHT UP (EARLY VERSION) *
11. WILL YOU STILL BE THERE? (INSTRUMENTAL) *
12. ALL I WANT (INSTRUMENTAL) *
13. STEP INTO THESE SHOES (INSTRUMENTAL) *
14. GOOD LUCK, BAD LUCK (INSTRUMENTAL DEMO) *

* PREVIOUSLY UNRELEASED

DISC FOUR: DVD
1. ALL I WANT (WOGAN 24/09/1986)
2. ALL I WANT (TOP OF THE POPS 09/10/1986)
3. INTERVIEW PART 1 INCLUDING YOU KNOW I LOVE… DON'T YOU? PROMO VIDEO (SATURDAY SUPERSTORE 18/10/1986)
4. INTERVIEW PART 2 (SATURDAY SUPERSTORE 18/10/1986)
5. ALL I WANT (ROLAND RAT SHOW 18/10/1986)
6. ALL I WANT (SHORT VERSION) (PROMO VIDEO)
7. ALL I WANT (LONG VERSION) (PROMO VIDEO)
8. YOU KNOW I LOVE… DON'T YOU? (PROMO VIDEO)

One to One 2CD edition

DISC ONE
1. YOU KNOW I LOVE YOU… DON'T YOU?
2. THE BALANCE OF LOVE (GIVE AND TAKE)
3. ALL I WANT
4. WHERE ARE WE GOING?
5. DON'T WANT TO FIGHT ANYMORE
6. STEP INTO THESE SHOES
7. WILL YOU STILL BE THERE?
8. GOOD LUCK, BAD LUCK
9. GIVE ME STRENGTH
10. LITTLE BIT OF SNOW
11. NO ONE IS TO BLAME (SINGLE MIX)
12. ROLL RIGHT UP
13. DIG THIS WELL DEEP
14. LET IT FLOW
15. WILL YOU STILL BE THERE? (NEW VERSION)
16. DON'T WANT TO FIGHT ANYMORE (12″ MIX) *

* PREVIOUSLY UNRELEASED

DISC TWO
1. ALL I WANT (EXTENDED VERSION)
2. YOU KNOW I LOVE YOU… DON'T YOU? (DANCE IN
THE FIELDS MIX)
3. HUNGER FOR THE FLESH (ORCHESTRAL VERSION)
4. HIDE & SEEK (ORCHESTRAL VERSION)
5. ASSAULT & BATTERY (LIVE AT THE TOWER
THEATRE, PHILADELPHIA) *
6. CONDITIONING (LIVE AT THE TOWER THEATRE,
PHILADELPHIA)
7. YOU KNOW I LOVE YOU… DON'T YOU? (LIVE AT
THE NEC, BIRMINGHAM) **
8. ALL I WANT (EDIT OF LP VERSION) **
9. LITTLE BIT OF SNOW (PIANO AND VOCAL
VERSION) *
10. WILL YOU STILL BE THERE? (ALTERNATIVE
SHORT VERSION)*
11. THE BALANCE OF LOVE (GIVE & TAKE) (RUFF
MIX) *
12. DON'T WANT TO FIGHT ANYMORE (EARLY MIX) *
13. GOOD LUCK, BAD LUCK (EARLY VERSION) *
14. YOU KNOW I LOVE YOU… DON'T YOU?
(INSTRUMENTAL)

* PREVIOUSLY UNRELEASED
** PREVIOUSLY UNRELEASED DIGITALLY