 News
Janet Jackson / Control: The Remixes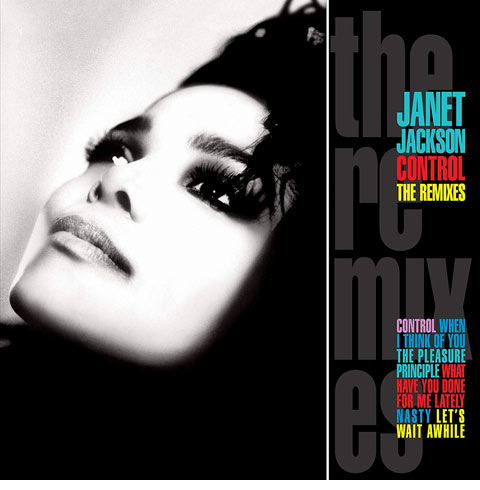 About a year after the original 1986 release Janet Jackson released a remix album called Control: The Remixes. This collection of re-workings is now being reissued on vinyl and CD.

This album features dub mixes, dance mixes, extended mixes, 'extra beat' versions of the hit singles, including 'When I Think Of You', 'What Have You Done For Me Lately' and 'Let's Wait Awhile'. Originally, there were a confusing amount of variations across formats and territories, but this new CD edition appears to include everything on the original UK CD release – except for the 'dub edit' of the Shep Pettibone Mix of 'The Pleasure Principle' – and then adds five further mixes:
'When I Think Of You' (Extra Beats)
'Control' (Extended Version)
'Nasty' (Extended Mix)
'What Have You Done For Me Lately' (Dub Version)
'Control' (Acapella)
This makes the new CD a 12-track affair. A 2LP gatefold vinyl set features the very same selection across four sides. It's not clear yet if these have all been remastered, although one assumes they probably have.
Control: The Remixes will be released on 26 July 2019
Compare prices and pre-order
Janet Jackson
Control: The Remixes - CD
Compare prices and pre-order
Janet Jackson
Control: The Remixes 2LP vinyl
CD edition
1. Control (Video Mix)
2. When I Think of You (Dance Mix)
3. The Pleasure Principle (Long Vocal Remix – Shep Pettibone Mix)
4. What Have You Done For Me Lately (Extended Mix)
5. Nasty (Cool Summer Mix Pt. 2)
6. When I Think of You (Extra Beats)
7. Control (Extended Version)
8. Nasty (Extended Mix)
9. Let's Wait Awhile (Remix)
10. Nasty (Cool Summer Mix Pt. 1)
11. What Have You Done For Me Lately (Dub Version)
12. Control (Acapella)
2LP vinyl
Side A
1. Control – The Video Mix
2. When I Think of You – Dance Remix
3. The Pleasure Principle – Long Vocal Remix (The Step Pettibone Mix)
Side B
1. What Have You Done For Me Lately – Extended Mix
2. Nasty – Cool Summer Mix Part 2
3. When I Think of You – Extra Beats
Side C
1. Control – Extended Version
2. Nasty – Extended Mix
3. Let's Wait Awhile – Remix
Side D
1. Nasty – Cool Summer Mix Part 1
2. The Pleasure Principle – Dub Edit (The Step Pettibone Mix) [Side D]
3. Control – Acapella [Side D]