 News
John Lennon / Plastic Ono Band box set
6CD+2blu-ray deluxe • Remixed for stereo and surround sound • 159 mixes and over 11 hours of audio • Dolby Atmos included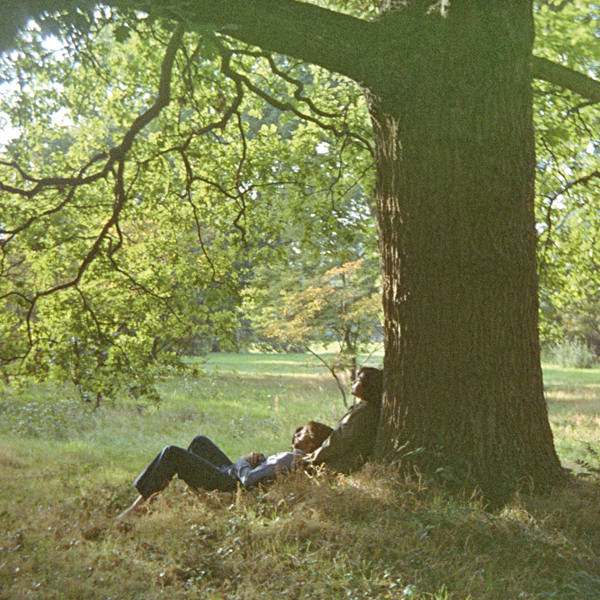 John Lennon's 1970 album John Lennon/Plastic Ono Band will be reissued as a 6CD+2blu-ray box set in April and will feature over 11 hours of audio newly remixed for stereo, 5.1 surround and Dolby Atmos.

Lennon's first 'proper' solo album was issued in December 1970 and is a raw, stripped-back delve into the psyche of the ex-Beatle. The lyrics of songs like 'Isolation', 'Mother', 'Working Class Hero' and 'Hold On' are Lennon exploring (and exposing) his personal issues, including the pain of losing his mother, twice – once when she abandoned him, leaving him in the care of his Aunt 'Mimi' Smith, and then when she was killed in a road traffic accident (in 1958).
John undertook Arthur Janov's 'Primal Therapy' earlier in 1970 as a way to deal with this repressed pain and clearly the issues – and in the case of 'Mother', the actual therapy itself – carried over into the album.
The album was recorded at Abbey Road Studios in September and October of 1970 and was co-produced by Lennon, Yoko Ono and Phil Spector. The core band was just John, Ringo Starr and Klaus Voorman (on bass), although Yoko is credited with 'Wind' and Billy Preston and Phil Spector both played piano on a track each ('God' and 'Love', respectively).
As with the Imagine reissue of 2018 and last year's Gimme Some Truth 'best of', the audio for this reissue of Plastic Ono Band has been completely remixed from the original multi-track tapes, led by engineer Paul Hicks.
Mixes are broken into different categories. Ultimate Mixes are the most faithful to the originals but are generally "sonically clearer" and also focus on increasing the clarify of John's vocals. Outtakes are presented in the style of a 'rough listening mix' and Elements mixes are designed to bring out aspects previously buried in a mix. Evolution Documentary mixes are an 'audio montage' that takes you through the development of each song from demo to master recording via "instructions, rehearsals, recordings, multitrack exploration and studio chatter". As if that wasn't enough there's demos – both home and studio – plus jams, some of which take in old rock 'n' roll numbers once covered by The Beatles ('Honey Don't', 'Matchbox') and even a couple of Fab songs themselves in 'Get Back' and 'I've Got A Feeling'. On blu-ray there are some lengthy Yoko live sessions.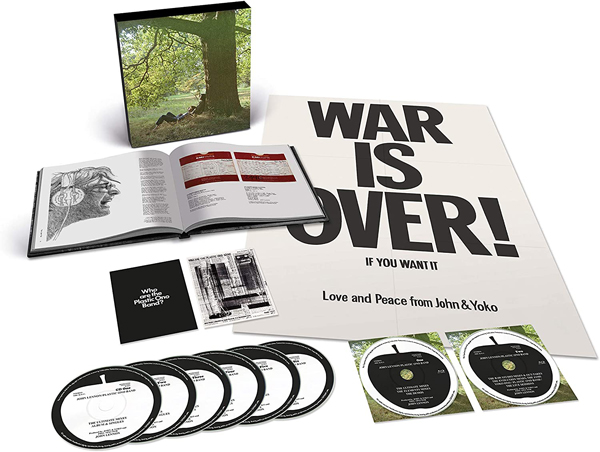 John Lennon/Plastic Ono Band 6CD+2blu-ray box set (click image to enlarge)
The album is presented in 5.1 surround sound on one of the blu-rays but Plastic Ono Band goes a step further than Imagine and offers the audio in Dolby Atmos. Hi-res  192/24 stereo is also available.
Amazingly, their are 159 new mixes of this 11-track album, across the two blu-rays, although that includes versions of non-album tracks 'Give Peace A Chance', 'Instant Karma' and 'Cold Turkey'. This adds up to more than 11 hours of audio. The six CDs cover 102 mixes (which are also on the blu-ray discs) and offers more than six hours of audio.
This new eight-disc deluxe edition of Plastic Ono Band comes with a 132-page hardcover book with detailed notes and photos. It will almost certainly be the same dimensions as both the Imagine and Gimme Some Truth deluxe editions and comes with a 'War Is Over!' poster and two post cards. The normally faded cover art looks to have been adjusted for more hue and contrast.
There will also be a 2LP vinyl set of Plastic Ono Band, a two-CD set and a single CD edition. Update: UMC have just informed us that the vinyl isn't half-speed mastered.
The John Lennon/Plastic Ono Band deluxe set and associated physical formats will be released on 16 April 2021.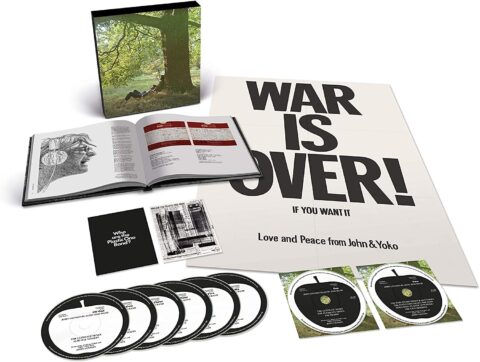 John Lennon/Plastic Ono Band 6CD+2blu-ray box set
CD1: THE ULTIMATE MIXES
1 Mother
2 Hold On
3 I Found Out
4 Working Class Hero
5 Isolation
6 Remember
7 Love
8 Well Well Well
9 Look At Me
10 God
11 My Mummy's Dead
12 Give Peace A Chance
13 Cold Turkey
14 Instant Karma! (We All Shine On)
CD2: THE ULTIMATE MIXES/
THE OUT-TAKES
1 Mother/Take 61
2 Hold On/Take 2
3 I Found Out/Take 1
4 Working Class Hero/Take 1
5 Isolation/Take 23
6 Remember/Rehearsal 1
7 Love/Take 6
8 Well Well Well/Take 2
9 Look At Me/Take 2
10 God/Take 27
11 My Mummy's Dead/Take 2
12 Give Peace A Chance/Take 2
13 Cold Turkey/Take 1
14 Instant Karma! (We All Shine On)/Take 5
CD3: THE ELEMENTS MIXES
1 Mother
2 Hold On
3 I Found Out
4 Working Class Hero
5 Isolation
6 Remember
7 Love
8 Well Well Well
9 Look At Me
10 God
11 My Mummy's Dead
12 Give Peace A Chance
13 Cold Turkey
14 Instant Karma! (We All Shine On)
CD4: THE RAW STUDIO MIXES
1 Mother/Take 64
2 Hold On/Take 32
3 I Found Out/Take 3 Extended
4 Working Class Hero/Take 9
5 Isolation/Take 29
6 Remember/Take 13
7 Love/Take 37
8 Well Well Well/Take 4 Extended
9 Look At Me/Take 9
10 God/Take 42
11 My Mummy's Dead/Take 1
12 Give Peace A Chance/Take 4 Extended
13 Cold Turkey/Take 2
14 Instant Karma! (We All Shine On)/Take 10
15 Mother/Take 91
16 I Found Out/Take 7
17 God/Take 1
CD5: THE EVOLUTION DOCUMENTARY
1 Mother
2 Hold On
3 I Found Out
4 Working Class Hero
5 Isolation
6 Remember
7 Love
8 Well Well Well
9 Look At Me
10 God
11 My Mummy's Dead
CD6: THE JAMS & THE DEMOS
1 Johnny B. Goode (Jam)
2 Ain't That A Shame (Jam)
3 Hold On (1) (Jam)
4 Hold On (2) (Jam)
5 Glad All Over (Jam)
6 Be Faithful To Me (Jam)
7 Send Me Some Lovin' (Jam)
8 Get Back (Jam)
9 Lost John (1) (Jam)
10 Goodnight Irene (Jam)
11 You'll Never Walk Alone (Parody) (Jam)
12 I Don't Want To A Soldier Mama I Don't Wanna Die (1) (Jam)
13 It'll Be Me (Jam)
14 Honey Don't (Jam)
15 Elvis Parody (Don't Be Cruel/Hound Dog/When I'm Over You) (Jam)
16 Matchbox (Jam)
17 I've Got A Feeling (Jam)
18 Mystery Train (Jam)
19 You're So Square (Jam)
20 I Don't Want To Be A Soldier Mama I Don't Wanna Die (2) (Jam)
21 Lost John (2) (Jam)
22 Don't Worry Kyoko (Mummy's Only Looking For A Hand In The Snow) (Jam)
23 Mother (Home Demo)
24 Hold On (Studio Demo)
25 I Found Out (Home Demo)
26 Working Class Hero (Studio Demo)
27 Isolation (Studio Demo)
28 Remember (Studio Demo)
29 Love (Home Demo)
30 Well Well Well (Home Demo)
31 Look At Me (Home Demo)
32 God (Home Demo)
33 My Mummy's Dead (Home Demo)
Blu-Ray 1: All tracks in Stereo 24/192, Dolby Atmos and 5.1 Surround Sound
The Ultimate Mixes Album And Singles
The Ultimate Mixes Outtakes
The Elements Mixes Album And Singles
The Demos Album And Singles
Blu-Ray 2: All tracks in Stereo 24/192, Dolby Atmos and 5.1 Surround Sound
The Raw Studio Mixes Album And Singles
The Raw Studio Mixes Outtakes
The Evolution Mixes Album And Singles
The Jams Live And Improvised
Yoko Ono/Plastic Ono Band The Live Sessions
Why (Live Sessions)
Why Not (Live Sessions)
Greenfield Morning I Pushed An Empty Baby Carriage All Over The City (Live Sessions)
Touch Me (Live Sessions)
Paper Shoes (Live Sessions)
Life (Live Sessions)
Omae No Okaa We (Live Sessions)
I Lost Myself Somewhere In The Sky (Live Sessions)
Remember Love (Live Sessions)
Don't Worry Kyoko (Mummy's Only Looking For A Hand In The Snow) (Live Sessions)
Who Has Seen The Wind? (Live Sessions)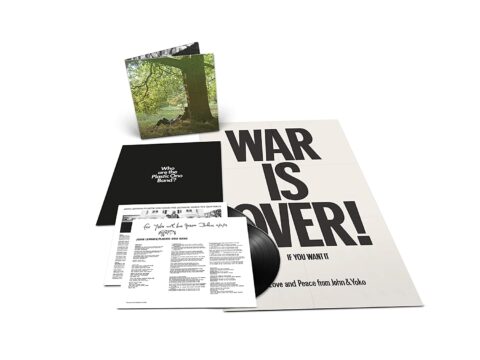 John Lennon/Plastic Ono Band 2LP vinyl (half-speed mastered)
SIDE A: THE ULTIMATE MIXES
1 Mother
2 Hold On
3 I Found Out
4 Working Class Hero
5 Isolation
SIDE B: THE ULTIMATE MIXES
1 Remember
2 Love
3 Well Well Well
4 Look At Me
5 God
6 My Mummy's Dead
SIDE C: THE ULTIMATE MIXES/OUT-TAKES
1 Mother/Take 61
2 Hold On/Take 2
3 I Found Out/Take 1
4 Working Class Hero/Take 1
5 Isolation/Take 23
SIDE D: THE ULTIMATE MIXES/OUT-TAKES
1 Remember/Rehearsal 1
2 Love/Take 8
3 Well Well Well/Take 2
4 Look At Me/Take 2
5 God/Take 27
6 My Mummy's Dead/Take 2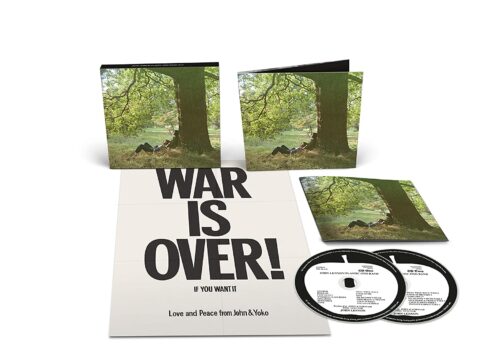 John Lennon/Plastic Ono Band 2CD set
CD1
1 Mother
2 Hold On
3 I Found Out
4 Working Class Hero
5 Isolation
6 Remember
7 Love
8 Well Well Well
9 Look At Me
10 God
11 My Mummy's Dead
12 Give Peace A Chance
13 Cold Turkey
14 Instant Karma! (We All Shine On)
CD2
1 Mother/Take 61
2 Hold On/Take 2
3 I Found Out/Take 1
4 Working Class Hero/Take 1
5 Isolation/Take 23
6 Remember/Rehearsal 1
7 Love/Take 8
8 Well Well Well/Take 2
9 Look At Me/Take 2
10 God/Take 27
11 My Mummy's Dead/Take 2
12 Give Peace A Chance/Take 2
13 Cold Turkey Take 1
14 Instant Karma! (We All Shine On)/Take 1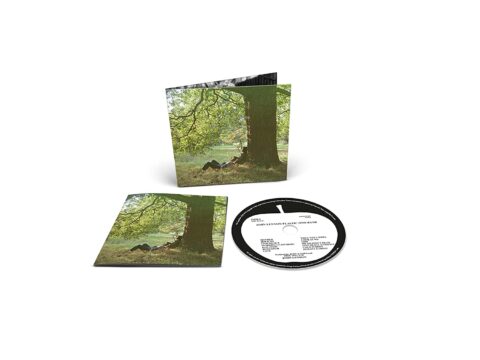 John Lennon/Plastic Ono Band singleCD
1 Mother
2 Hold On
3 I Found Out
4 Working Class Hero
5 Isolation
6 Remember
7 Love
8 Well Well Well
9 Look At Me
10 God
11 My Mummy's Dead
12 Give Peace A Chance
13 Cold Turkey
14 Instant Karma! (We All Shine On)