 News
Johnny Cash / The Complete Mercury Albums 1986-1991 box set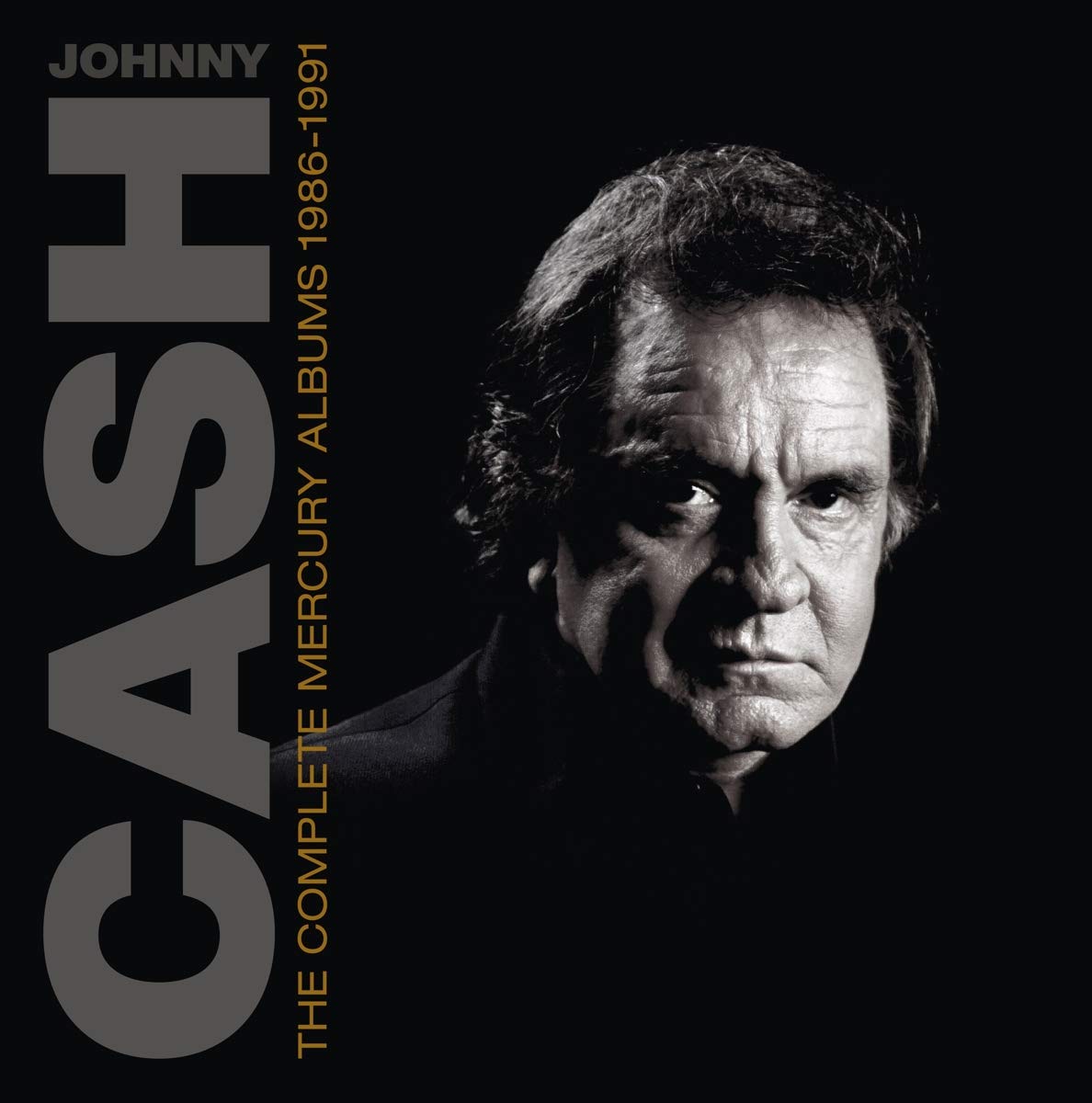 Mercury albums remastered in 7CD or 7LP box set
Johnny Cash's five year tenure on Mercury Records in the late 1980s is marked by Johnny Cash: The Complete Mercury Studio Albums (1986-1991) a forthcoming box set available on CD and vinyl.

The 7CD and 7LP vinyl boxes feature six studio albums including 1986's Class of '55 recorded with Roy Orbison, Jerry Lee Lewis and Carl Perkins and Water from the Wells of Home which includes collaborations with artists such as Paul McCartney, Emmylou Harris and the Everly Brothers.

Vinyl edition of The Complete Mercury Studios Albums (1986-1991)
1988's Classic Cash: Hall Of Fame Series also features and in the CD box set comes with a bonus disc featuring Cash's early mix of the album ('newly discovered' from the archive). In the vinyl set the album is a double, but it doesn't include the early mixes, because that is being released as a standalone release for this year's Record Store Day. The final album in this box set – 1991's Mystery of Life features – The Wanderer with U2.
All audio in the CD and vinyl box sets is newly remastered for the first time and new sleeve notes come courtesy of Scott Schinder. You can also buy the remastered vinyl separately – but not the CDs. Finally, a 'best of' compilation called Easy Rider: The  Best of the Mercury Years is also being issued on CD and 2LP vinyl, if you don't want to go for the box sets.
These will all be released on 26 June 2020 (originally 24 April) via UMe/Mercury.
CD1: Carl Perkins / Jerry Lee Lewis / Roy Orbison / Johnny Cash – Class Of '55: Memphis Rock & Roll Homecoming (1986)
1 Birth Of Rock And Roll
2 Sixteen Candles
3 Class Of '55
4 Waymore's Blues
5 We Remember The King
6 Coming Home
7 Rock And Roll (Fais-Do-Do)
8 Keep My Motor Running
9 I Will Rock And Roll With You
10 Big Train (From Memphis)
CD2: Johnny Cash Is Coming To Town (1987)
1 The Big Light
2 The Ballad Of Barbara
3 I'd Rather Have You
4 Let Him Roll
5 The Night Hank Williams Came To Town
6 Sixteen Tons
7 Letters From Home
8 W. Lee O'Daniel (And The Light Crust Dough Boys)
9 Heavy Metal (Don't Mean Rock And Roll To Me)
10 My Ship Will Sail
CD3: Water From The Wells Of Home (1988)
1 Ballad Of A Teenage Queen (With Roseanne Cash & The Everly Brothers)
2 As Long As I Live (With Emmylou Harris)
3 Where Did We Go Right (With June Carter Cash and The Carter Family)
4 The Last Of The Drifters (With Tom T. Hall)
5 Call Me The Breeze (With John Carter Cash)
6 That Old Wheel (With Hank Williams, Jr.)
7 Sweeter Than The Flowers (With Waylon Jennings)
8 A Croft In Clachan (The Ballad Of Rob MacDunn) (With Glen Campbell)
9 New Moon Over Jamaica (With Paul McCartney)
10 Water From The Wells Of Home (With John Carter Cash)
CD4: Classic Cash: Hall Of Fame Series (1988)
1 Get Rhythm
2 Tennessee Flat Top Box
3 Long Black Veil
4 A Thing Called Love
5 I Still Miss Someone
6 Cry, Cry, Cry
7 Blue Train
8 Sunday Morning Coming Down
9 Five Feet High And Rising
10 Peace In The Valley
11 Don't Take Your Guns To Town
12 Home Of The Blues
13 Guess Things Happen That Way
14 I Got Stripes
15 I Walk The Line
16 Ring Of Fire
17 Ballad Of Ira Hayes
18 The Ways Of A Woman In Love
19 Folsom Prison Blues
20 Supper Time
CD5: Classic Cash: Hall Of Fame Series (Early Mixes) (1987)
1 Sunday Morning Coming Down (early mix)
2 Get Rhythm (early mix)
3 I Walk The Line (early mix)
4 Long Black Veil (early mix)
5 I Still Miss Someone (early mix)
6 Blue Train (early mix)
7 I Got Stripes (early mix)
8 Peace In The Valley (early mix)
9 Five Feet High And Rising (early mix)
10 Folsom Prison Blues (early mix)
11 Cry, Cry, Cry (early mix)
12 Don't Take Your Guns To Town (early mix)
13 Tennessee Flat Top Box (early mix)
14 A Thing Called Love (early mix)
15 The Ways Of A Woman In Love (early mix)
16 Ballad Of Ira Hayes (early mix)
17 Guess Things Happen That Way (early mix)
18 Home Of The Blues (early mix)
19 Supper Time (early mix)
20 Ring Of Fire (early mix)
CD6: Boom Chicka Boom (1990)
1 A Backstage Pass
2 Cat's In The Cradle
3 Farmer's Almanac
4 Don't Go Near The Water
5 Family Bible
6 Harley
7 I Love You, Love You
8 Hidden Shame
9 Monteagle Mountain
10 That's One You Owe Me
11 Veteran's Day (b-side of of The Mystery Of Life)
12 I Shall Be Free (b-side of of Farmer's Almanac)
13 I Draw The Line (previously unreleased)
14 A Backstage Pass (early version)
15 Harley (early version)
16 That's One You Owe Me (early version)
17 Veteran's Day (early version)
CD7: The Mystery Of Life (1991)
1 The Greatest Cowboy Of Them All
2 I'm An Easy Rider
3 The Mystery Of Life
4 Hey Porter
5 Beans For Breakfast
6 Goin' By The Book
7 Wanted Man
8 I'll Go Somewhere And Sing My Songs Again (with Tom T. Hall)
9 The Hobo Song
10 Angel And The Badman
11 The Wanderer (with U2) [Long version from the Faraway, So Close! soundtrack album]