 News
Kiki Dee / The Fontana & Motown Years
Signed 3CD set limited to 500 units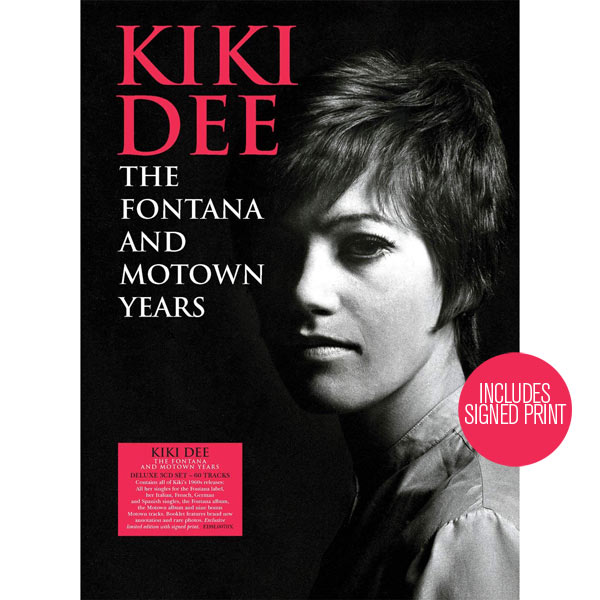 Having last year released an anthology of Kiki Dee's time on Rocket Records, Edsel now turn their gaze to the 1960s with The Fontana and Motown Years, a new three-CD set available in limited quantities (500 units) with a signed print.

Dee was signed to the Fontana label aged just 16, and released her first single, 'Early Night', (penned by Mitch Murray) in May 1963. Many singles followed along with an album I'm Kiki Dee. CD 1 in The Fontana and Motown Years collects this content together and indeed presents all twelve album tracks in stereo on CD for first time.

More singles for Fontana followed including ten European singles were a game Dee sings in Italian, French, German and Spanish! These are presented on the second disc and seven of these ten tracks are new to CD.
The Fontana and Motown Years comes in 'media book' packaging (500 copies including a signed print)

Finally, CD 3 features her recordings for Motown. The album Great Expectations features covers of classics like 'For Once In My Life', 'You Don't Have To Say You Love Me', and 'Put a Little Love in Your Heart'. Nine bonus tracks are appended, with two on CD for the first time and one mix ('Walk On By') previously unreleased.

The 28-page book features new notes by Alan Robinson (based on a 2020 interview with Kiki, as well as rare photos from Dee's own collection.

The Fontana and Motown Years will be released on 16 October 2020.




Kiki signing the prints!
CD 1

EARLY SINGLES
1. Early Night
2. Lucky High Heels
3. Don't Put Your Heart In His Hands
4. I Was Only Kidding
5. Miracles
6. That's Right, Walk On By
7. (You Don't Know) How Glad I Am
8. Baby I Don't Care
9. Runnin' Out Of Fools
10. There He Goes
I'M KIKI DEE
11. Excuse Me
12. Sunshine
13. Patterns
14. With A Kiss
15. When We Get There
16. Why Don't I Run Away From You?
17. I
18. We've Got Everything Going For Us
19. I Dig You Baby
20. Stop And Think
21. Don't Destroy Me
22. I'm Going Out (The Same Way I Came In)

CD 2
LATER SINGLES
1. Small Town
2. Doctor In Clover
3. Take A Look At Me
4. Can't Take My Eyes Off You
5. Hungry Heart
6. Now The Flowers Cry
7. On A Magic Carpet Ride
EUROPEAN SINGLES
8. Aspetta Domani
9. SenzaTe[Baby I Don't Care]
10. Come TiAmo [(You Don't Know) How Glad I Am]
11. Favole [Miracles]
12. WarteBisMorgen [Aspetta Domani]
13. Johnny's Kuss[With A Kiss]
14. Nein, IchWeiss NichtMehrWas IchTu'! [Why Don't I Run Away From You]
15. Je VaisPartirLoin De Toi [Why Don't I Run Away From You]
16. C'estBien Mieux, Baby [I Dig You Baby]
17. EsperaA Manana [Aspetta Domani]
CD 3
GREAT EXPECTATIONS
1. The Day Will Come Between Sunday And Monday
2. Johnny Raven
3. Ain't Nothing Like The Real Thing
4. Jimmy
5. I Can't Give Back The Love I Feel For You
6. More Today Than Yesterday
7. Love Makes The World Go Round
8. You Don't Have To Say You Love Me
9. Love Is A Warm Kind Of Sorrow
10. For Once In My Life
11. My Whole World Ended (The Moment You Left Me)
12. I Second That Emotion
BONUS TRACKS
13. Oh Be My Love
14. I'll Try Something New
15. Walk On By
16. Mr Loneliness
17. I'll Have You, You'll Have Me
18. Put A Little Love In Your Heart
19. While They Watch
20. You're My World
21. Walk On By [mix 2]