 News
Killing Joke / The Singles Collection: 1979 – 2012 / 4LP coloured vinyl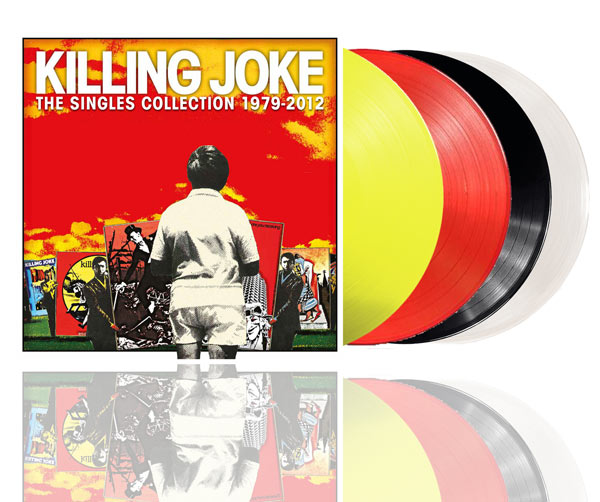 First time on vinyl for this 33-track collection + album reissues
Killing Joke's 2013 compilation The Singles Collection: 1979 – 2012 is being issued on vinyl for the first time with black and coloured vinyl 4LP packages available.

The chronological collection of the band's singles features 33 tracks, including 'Wardance', 'Eighties', 'Love Like Blood', 'Millennium' & 'Pandemonium'.
The four-LP set is described as "a deluxe gatefold package" so this is not actually a box set, per se. Seven years ago this same collection was issued as a two-CD set, a three-CD package and a limited 33CD box.
In addition to The Singles Collection coming out again, Killing Joke (1980) and the Pandemonium (1994) albums are also being reissued on black and coloured vinyl. The latter on CD, too.
The classic debut album has gatefold artwork recreated by original designer Mike Coles, the sole addition being the use of silver pantone 'spot' colour on the sleeve. Pandemonium is Killing Joke's biggest-selling album to date and the reissued double LP version features new cover artwork from designer Mike Coles and stays true to the original track-listing.
All of the above will be released on 11 December 2020, via Spinefarm Records.
The Singles Collection 1979 – 2012 4LP vinyl
SIDE A:
1, Nervous System
2, Wardance
3, Requiem
4, Follow The Leaders
SIDE B:
1, Empire Song
2, Chop-Chop
3, Birds of a Feather
4, Let's All Go (To The Fire Dances)
5, Me or You?
SIDE C
1, Eighties
2, A New Day
3, Love Like Blood
4, Kings and Queens
SIDE D
1, Adorations
2, Sanity
3, America
4, My Love Of This Land
SIDE E
1, The Beautiful Dead (Flexi-disc version)
2, Money Is Not Out God
3, Exorcism (Live in the King's Chamber, Cairo, August 1993 Mix Edit) 4, Millennium (Cybersank Edit)
SIDE F
1, Pandemonium (Cybersank Edit)
2, Jana
3, Democracy (Album Mix)
4, Loose Canon
SIDE G
1, Seeing Red (Edit)
2, Hosannas From The Basements Of Hell (Radio Edit)
3, In Excelsis
4,Fresh Fever From The Skies (Record Store Day Exclusive)
SIDE H
1, European Super State (Edit)
2, Ghosts of Ladbroke Grove (Dub Edit)
3, In Cythera (Edit)
4, Corporate Elect
Killing Joke vinyl LP
SIDE A:
1, Requiem
2, Wardance
3, Tomorrow's World
4, Bloodsport
SIDE B:
1, The Wait
2, Complications,
3, S.O.36
4, Primitive
Pandemonium 2LP vinyl
SIDE A:
1, Pandemonium Remix – Cybersank
2, Exorcism
SIDE B:
1, Millennium Remix – Cybersank
2, Communion
3, Black Moon
SIDE C
1, Labyrinth
2, Jana
3, Whiteout
SIDE D
1, Pleasures Of The Flesh
2, Mathematics Of Chaos Remix – Greg Hunter, Youth