 News
Lack of 'Happy Ending' contributed to Tears For Fears management split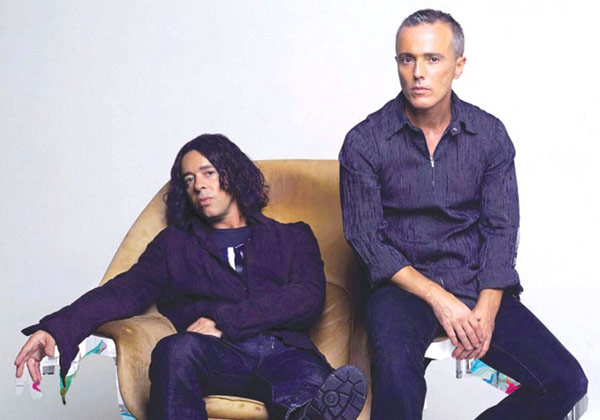 Tears for Fears in 2004 promoting Everybody Loves A Happy Ending
Tears For Fears have told SuperDeluxeEdition how the failure to release their 2005 album Everybody Loves A Happy Ending on streaming services was partially behind the duo's decision to change their management.

Roland Orzabal and Curt Smith recently joined the father-and-son management team Irving and Jeff Azoff, whose firm Full Stop also manage Harry Styles, Mark Ronson and the Eagles.
Everybody Loves A Happy Ending suddenly appeared on streaming services last weekend (November 20). Orzabal revealed how the album's previous inaccessibility on streaming services was a source of frustration for the band.
Orzabal and Smith are working on a new album together in New York, where Smith lives. Of the duo's plans, Orzabal said: "There was a plan to start releasing new tracks this year. But that didn't emerge, as it felt like it was one too many tasks for our then-management to actually put out. Everybody Loves A Happy Ending wasn't even on Spotify – that was another task we asked them to do, which was apparently one task too many. We asked them to get …Happy Ending on streaming, but it wasn't there. So we've changed management."
The appearance of Everybody Loves A Happy Ending on streaming services is a positive sign and fans will hope that an expanded deluxe edition of the album might form part of the band's long-running reissue campaign. The Hurting and Songs From The Big Chair were re-released in 2013 and 2014 respectively and were followed this October by the long-delayed reissue of 1989's The Seeds Of Love. The first release under Full Stop's management, the five-disc edition reached number 13 in the UK album chart. Orzabal said: "Changing management was a big deal, of course. It felt like getting the box set for The Seeds Of Love finally done was the first thing that needed to happen."
Smith and Orzabal own the copyright on Everybody Loves A Happy Ending, which is credited to "TFF UK" on Spotify. The album's British release in March 2005 on Gut Records was six months after it came out in the US on New Door in September 2004. It had been recorded for Arista, who dropped the duo before its release. The album has never been released on vinyl, bar promo copies pressed on red vinyl for Arista, which are so rare it's never come up for sale on Discogs. That should now change, though it's thought that Tears For Fears' new album – their first since Everybody Loves A Happy Ending – will be released first in 2021.
Orzabal and Smith are writing the new album together. Writing sessions with a new generation of songwriters, including Bastille singer Dan Smith, resulted in two new songs on 2017 compilation Rule The World: The Greatest Hits. Orzabal told the current issue of Classic Pop: "We were trying to get a hit single by working in the modern sense – writing with a lot of young hit songwriters. It led to us making an album which didn't really sound like a Tears For Fears album. I'd say about half it will see the light of day. It sounded like a lot of other people, but not us. So having got a lot of uptempo short songs, we're going back and putting the art back into it. We'll end up with more of a balanced album than we'd initially delivered, that's for sure."
Listen to Everybody Loves A Happy Ending on Spotify
The Seeds of Love box set is now all but out of print. We have sold out on the SDE shop and it's mostly unavailable elsewhere. Grab one if you see some availability.

The Seeds of Love – 4CD+blu-ray box set
CD 1 – ORIGINAL ALBUM
NEW REMASTER BY ANDREW WALTER AT ABBEY ROAD
01. Woman In Chains: 6:31
02. Badman's Song: 8:32
03. Sowing The Seeds Of Love: 6:19
04. Advice For The Young At Heart: 4:50
05. Standing On The Corner Of The Third World: 5:33
06. Swords And Knives: 6:12
07. Year Of The Knife: 7:08
08. Famous Last Words: 4:26
CD 2 – THE SUN
45's AND B-SIDES
01. Sowing The Seeds Of Love – 7″ Version: 5:43
02. Tears Roll Down: 3:16
03. Woman In Chains – 7" Version: 5:28
04. Always In The Past: 4:38
05. My Life In The Suicide Ranks: 4:32
06. Woman In Chains – Instrumental: 6:30
07. Advice For The Young At Heart – 7" Version: 4:49
08. Johnny Panic And The Bible Of Dreams Instrumental: 4:18
09. Music For Tables: 3:32
10. Johnny Panic And The Bible Of Dreams Mix One: 6:22
11. Johnny Panic And The Bible Of Dreams Mix Two: 5:55
12. Sowing The Seeds Of Love – US Radio Edit: 4:04
13. Woman In Chains – US Radio Edit 1: 4:42
14. Advice For The Young At Heart – Italian Radio Edit: 3:40
15. Year Of The Knife – Canadian Single Version: 5:40
16. Johnny Panic And The Bible Of Dreams: 4:17
CD 3 – THE MOON
RADIO EDITS AND EARLY MIXES
01. Year Of The Knife – Overture: 1:47
02. Year Of The Knife – Early Mix – Instrumental: 8:50
03. Sowing The Seeds Of Love – Alternate Mix: 7:22
04. Tears Roll Down – Alternate Mix: 4:07
05. Year Of The Knife – Steve Chase 7″ Remix: 4.29
06. Badman's Song – Early Mix: 7:56
07. Advice For The Young At Heart – Instrumental: 4:56
08. Year Of The Knife – The Mix: 06:55
09. Johnny Panic And The Bible Of Dreams – Mix One Edit: 3:43
10. Sowing The Seeds Of Love – Early Mix – Instrumental: 5.55
11. Woman In Chains – US Radio Edit 2: 4:19
12. Year Of The Knife – Canadian Single Version – Instrumental: 5:40
13. Famous Last Words – French Radio Edit: 3:07
14. Woman In Chains – Reprise: 6:39
CD 4 – THE WIND
DEMOS, DIVERSIONS AND JAMS
01. Rhythm Of Life – Demo: 5:12
02. Advice For The Young At Heart – Demo: 4:52
03. Swords And Knives – Demo: 3:51
04. Famous Last Words – Demo: 4:12
05. Sowing The Seeds Of Love – Demo – Instrumental: 6:06
06. Badman's Song – Langer / Winstanley Version – Instrumental: 7:30
07. Woman In Chains – Townhouse Jam: 7:06
08. Broken – Townhouse Jam: 1:37 Tears For Fears
09. Rhythm Of Life – Townhouse Jam: 3:09
10. Badman's Song – Townhouse Jam: 8:17
11. Badman's Song – Reprise – Townhouse Jam: 2:50
12. Standing On The Corner Of The Third World – Townhouse Jam: 9:09
BLU RAY – THE RAIN
STEVEN WILSON 5.1 MIX, ORIGINAL ALBUM MIX &  NEW REMASTER
Steven Wilson 5.1 MIX
01. Woman In Chains: 6:30
02. Badman's Song: 8:32
03. Sowing The Seeds Of Love: 6:19
04. Advice For The Young At Heart: 4:55
05. Standing On The Corner Of The Third World: 5:33
06. Swords And Knives: 6:20
07. Year Of The Knife: 6:55
08. Famous Last Words: 4:11
Original Album Mix (Bob Ludwig 1989 mastering)
01. Woman In Chains: 6:31 (Original album master)
02. Badman's Song: 8:32 (Original album master)
03. Sowing The Seeds Of Love: 6:19 (Original album master)
04. Advice For The Young At Heart: 4:50 (Original album master)
05. Standing On The Corner Of The Third World: 5:33 (Original album master)
06. Swords And Knives: 6:12 (Original album master)
07. Year Of The Knife: 7:08 (Original album master)
08. Famous Last Words: 4:26 (Original album master)
New remaster (by Andrew Walter at Abbey Road)
01. Woman In Chains: 6:30 (New remaster)
02. Badman's Song: 8:32 (New remaster)
03. Sowing The Seeds Of Love: 6:19  (New remaster)
04. Advice For The Young At Heart: 4:55 (New remaster)
05. Standing On The Corner Of The Third World: 5:33 (New remaster)
06. Swords And Knives: 6:20 (New remaster)
07. Year Of The Knife: 6:55  (New remaster)
08. Famous Last Words: 4:11 (New remaster)
The Seeds of Love vinyl LP remaster (same tracks on picture disc)
Side 1
01. Woman In Chains: 6:31
02. Badman's Song: 8:32
03. Sowing The Seeds Of Love: 6:19
04. Advice For The Young At Heart: 4:50
Side 2
01. Standing On The Corner Of The Third World: 5:33
02. Swords And Knives: 6:12
03. Year Of The Knife: 7:08
04. Famous Last Words: 4:26
The Seeds of Love 2CD deluxe
CD 1 – ORIGINAL ALBUM
NEW REMASTER BY ANDREW WALTER AT ABBEY ROAD
01. Woman In Chains: 6:31
02. Badman's Song: 8:32
03. Sowing The Seeds Of Love: 6:19
04. Advice For The Young At Heart: 4:50
05. Standing On The Corner Of The Third World: 5:33
06. Swords And Knives: 6:12
07. Year Of The Knife: 7:08
08. Famous Last Words: 4:26
CD 2 – THE SUN
45's AND B-SIDES
01. Sowing The Seeds Of Love – 7" Version: 5:43
02. Tears Roll Down: 3:16
03. Woman In Chains – 7" Version: 5:28
04. Always In The Past: 4:38
05. My Life In The Suicide Ranks: 4:32
06. Woman In Chains – Instrumental: 6:30
07. Advice For The Young At Heart – 7" Version: 4:49
08. Johnny Panic And The Bible Of Dreams Instrumental: 4:18
09. Music For Tables: 3:32
10. Johnny Panic And The Bible Of Dreams Mix One: 6:22
11. Johnny Panic And The Bible Of Dreams Mix Two: 5:55
12. Sowing The Seeds Of Love – US Radio Edit: 4:04
13. Woman In Chains – US Radio Edit 1: 4:42
14. Advice For The Young At Heart – Italian Radio Edit: 3:40
15. Year Of The Knife – Canadian Single Version: 5:40
16. Johnny Panic And The Bible Of Dreams: 4:17
The Seeds of Love single CD remaster
NEW REMASTER BY ANDREW WALTER AT ABBEY ROAD
01. Woman In Chains: 6:31
02. Badman's Song: 8:32
03. Sowing The Seeds Of Love: 6:19
04. Advice For The Young At Heart: 4:50
05. Standing On The Corner Of The Third World: 5:33
06. Swords And Knives: 6:12
07. Year Of The Knife: 7:08
08. Famous Last Words: 4:26