 News
Maria McKee / La Vita Nuova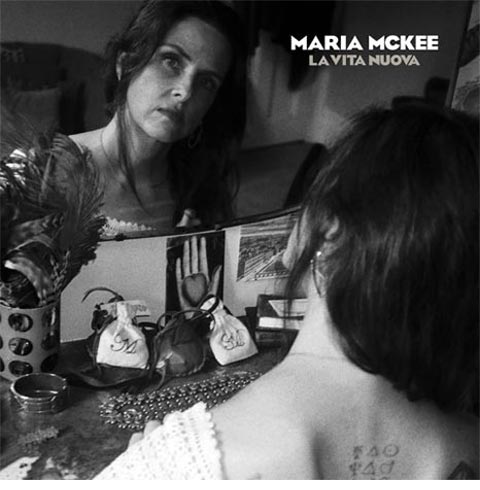 Limited 2LP 'indies-only' white vinyl • Hardcover book CD edition
Maria McKee returns early next year with a new album La Vita Nuova.

Mckee is remembered for her role in American country-rock band Lone Justice and for issuing some amazing solo records, including 1993's You Gotta Sin To Be Saved (which includes the exquisite 'I'm Gonna Soothe You') and Life Is Sweet ( from 1996). Of course, she best known for UK number one single 'Show Me Heaven' which was featured in the Tony Scott film Days of Thunder.
Mckee's last studio long-player, Late December, was released way back in 2007 and in the intervening years, Maria was working alongside her husband in independent film – casting, producing, scoring and acting in them.
However change was afoot. She is no longer with her husband and has recently come out as gay. She said: "Much of queer liberation is finding a way to live beyond hetero ruminative models we're conditioned to live with. This album is, in a way, an exorcism, a sort of purging of those ideas and expectations"
Expanding on her feelings on what is "a really personal record", Mckee said:
"I guess I was at that mid-point in life, looking at death, like a 'Death In Venice' moment where you have that vision of youth and beauty and it possesses you and you start to grieve for the loss of all the things that youth and beauty allow you to experience; I was grieving at not having had a child and also witnessing young lovers in a relationship that became a friendship and not knowing how to take a step beyond that."
La Vita Nuova isn't out until 13 March next year but you can secure a special limited  'indies-only' double white vinyl edition or a 'bookback' (hardcover book) CD edition by pre-ordering below.
Compare prices and pre-order
La Vita Nuova - 2LP vinyl
Compare prices and pre-order
La Vita Nuova - hardcover book CD edition
La Vita Nuova 'indies-only' 2LP white vinyl
Side A:
A1 Effigy of Salt
A2 Page of Cups
A3 Let Me Forget
A4 I Should Have Looked Away
Side B:
B1 Right Down to the Heart of London
B2 La Vita Nuova
B3 Little Beast
Side C:
C1 Courage
C2 Ceann Bró
C3 The Last Boy
Side D:
D1 I Never Asked
D2 I Just Want to Know That You're Alright
D3 Weatherspace
D4 However Worn
La Vita Nuova hardcover CD edition
1 Effigy of Salt
2 Page of Cups
3 Let Me Forget
4 I Should Have Looked Away
5 Right Down to the Heart of London
6 La Vita Nuova
7 Little Beast
8 Courage
9 Ceann Bró
10 The Last Boy
11 I Never Asked
12 I Just Want to Know That You're Alright
13 Weatherspace
14 However Worn