 News
Mick Jagger's solo albums to be reissued on half-speed mastered vinyl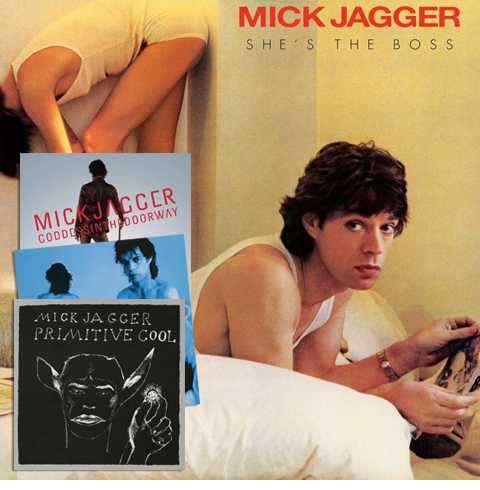 Universal Music are to reissue all four of Mick Jagger's solo albums on vinyl, in December.

She's The Boss (1985), Primitive Cool (1987), Wandering Spirit (1993) and Goddess in the Doorway are the four albums in question, with the last two being 2LP sets (Wandering Spirit was previously a single vinyl LP).
While there's nothing new audio-wise, these are at least half-speed mastered by Miles Showell and we are promised "beautifully presented replicas of the original LP packaging" with printed inner sleeves. These also all come with download cards.
The four albums will be issued on 6 December 2019.
She's The Boss
Side A
Lonely At The Top
1/2 A Loaf
Running Out Of Luck
Turn The Girl Loose
Hard Woman
Side B
Just Another Night
Lucky In Love
Secrets
She's The Boss
Primitive Cool 
Side A
Throwaway
Let's Work
Radio Control
Say You Will
Primitive Cool
Side B
Kow Tow
Shoot Off Your Mouth
Peace For The Wicked
Party Doll
War Baby
Wandering Spirit  [2LP]                                                         
Side A
Wired All Night
Sweet Thing
Out Of Focus
Side B
Don't Tear Me Up
Put Me In The Trash
Use Me
Evening Gown
Side C
Mother Of A Man
Think
Wandering Spirit
Side D
Hang On To Me Tonight
I've Been Lonely For So Long
Angel In My Heart
Handsome Molly
Goddess In The Doorway  [2LP]
Side A
Visions Of Paradise
Joy
Dancing In The Starlight
Side B
God Gave Me Everything
Hide Away
Don't Call Me Up
Side C
Goddess In The Doorway
Lucky Day
Everybody Getting High
Side D
Gun
Too Far Gone
Brand New Set Of Rules
Goddess in the Doorway (Cocktail Version)