 News
Rolling Stones vinyl reissues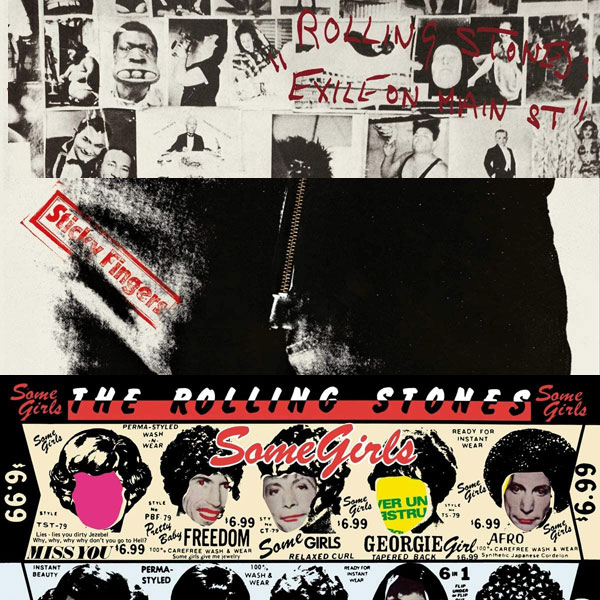 Sticky Fingers, Exile On Main St. and Some Girls half-speed mastered 
When The Rolling Stones announced standalone half-speed mastered vinyl reissues of some of their albums back in March, a few titles were notable by their absence, such as Sticky Fingers, Exile On Main St. and Some Girls. All three are now available to pre-order individually and will be released alongside the other ten album in June.

Sticky Fingers was issued in 1971 and features the singles 'Brown Sugar' and 'Wild Horses'. It was the first record on the band's new Rolling Stones Records label. Exile On Main St (the single was 'Tumblin' Dice') was a double album and issued the following year in 1972. Some Girls is from 1978 and features 'Miss You' and 'Beast of Burden'.
For some reason, 1973's Goats Head Soup isn't being reissued separately, so at the time of writing is the only album that you still have to buy the box set to acquire a half-speed mastered pressing. Rather strange.
Sticky Fingers, Exile On Main St. and Some Girls will all be reissued on half-speed mastered vinyl on 26 June, along with the ten other previously announced titles.
Sticky Fingers – half speed mastered vinyl
Side A
1 Brown Sugar
2 Sway
3 Wild Horses
4 Can't You Hear Me Knocking
5 You Gotta Move
Side B
1 Bitch
2 I Got The Blues
3 Sister Morphine
4 Dead Flowers
5 Moonlight Mile
Exile On Main St – half-speed mastered vinyl
Side 1
1. Rocks Off
2. Rip This Joint
3. Shake Your Hips
4. Casino Boogie
5. Tumbling Dice
Side 2
1. Sweet Virginia
2. Torn and Frayed
3. Sweet Black Angel
4. Loving Cup
Side 3
1. Happy
2. Turd on the Run
3. Ventilator Blues
4. I Just Want to See His Face
5. Let It Loose
Side 4
1. All Down the Line
2. Stop Breaking Down
3. Shine a Light
4. Soul Survivor
Some Girls – half speed mastered vinyl
Side A
1 Miss You
2 When The Whip Comes Down
3 Just My Imagination (Running Away With Me)
4 Some Girls
5 Lies
Side B
1 Far Away Eyes
2 Respectable
3 Before They Make Me Run
4 Beast Of Burden
5 Shattered