 News
Nina Simone / The Complete RCA Albums Collection
9CD box set • Remastered audio • Bonus tracks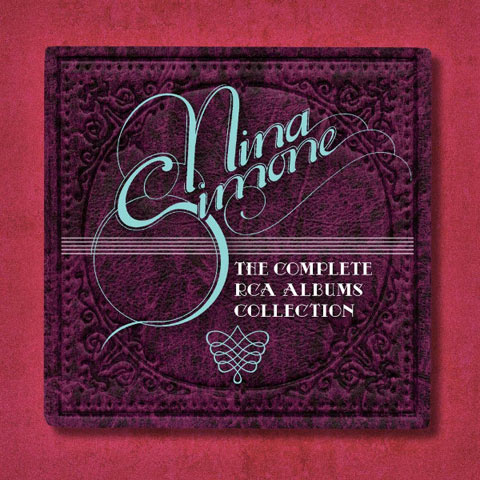 The Nina Simone Complete RCA Albums Collection box set is being made available again from September.

This nine-CD box set was first released back in 2011 via Sony's Legacy Recordings imprint and collects remastered versions of all nine original albums that Simone cut for RCA (between 1967 and 1974) and presents them in vinyl replica sleeves.
This set features expanded versions of each album, with a total of 35 bonus tracks, including additional songs/session material relevant to time period. The included 34-page booklet offers details on all the sessions and sources.

The Complete RCA Albums Collection is reissued by Music On CD and offers tremendous value at less than £30.




CD 1 Nina Simone Sings The Blues
1. Do I Move You?
2. Day And Night
3. In The Dark
4. Real, Real
5. My Man's Gone Now
6. Backlash Blues
7. I Want A Little Sugar In My Bowl
8. Buck
9. Since I Fell For You
10. The House Of The Rising Sun
11. Blues For Mama
12. Do I Move You? (Second Version)
13. Whatever I Am You Made Me (Single)

CD 2 Silk & Soul
1. It Be That Way Sometimes
2. The Look Of Love
3. Go To Hell
4. Love O' Love
5. Cherish
6. I Wish I Knew How It Would Feel To Be Free
7. Turn Me On
8. Turning Point
9. Some Say
10. Consummation
11. Why Must Your Love Well Be So Dry (Single)
12. Save Me (Single)

CD 3 'Nuff Said!
1. In The Morning
2. Sunday In Savannah
3. The Backlash Blues
4. Please Read Me
5. Gin House Blues
6. Why? (The King Of Love Is Dead)
7. Peace Of Mind
8. Ain't Got No – I Got Life
9. I Loves You Porgy
10. Take My Hand Precious Lord
11. Do What You Gotta Do
12. Mississippi Goddam
13. Don't Let Me Be Misunderstood
14. Come Ye
15. Ain't Got No – I Got Life (Single)
16. Peace Of Mind (Single)

CD 4 Nina Simone And Piano!
1. Seems I'm Never Tired Lovin' You
2. Nobody's Fault But Mine
3. I Think It's Going To Rain Today
4. Everyone's Gone To The Moon
5. Compensation
6. Who Am I
7. Another Spring
8. The Human Touch
9. I Get Along Without You Very Well (Except
Sometimes)
10. The Desperate Ones
11. Music For Lovers
12. In Love In Vain
13. I'll Look Around
14. The Man With The Horn
15. I Think It's Going To Rain Today (Live)

CD 5 To Love Somebody
1. Suzanne
2. Turn, Turn, Turn (To Everything There Is A Season)
3. Revolution (Part 1)
4. Revolution (Part 2)
5. To Love Somebody
6. I Shall Be Released
7. I Can't See Nobody
8. Just Like Tom Thumb's Blues
9. The Times They Are A Changin'
10. Suzanne (Alternate Version)
11. Turn, Turn, Turn (To Everything There Is A
Season) (Alternate version)
12. Revolution (Live)
13. Save Me (Live)
14. The Glory Of Love
15. Cosi Ti Amo (To Love Somebody) (Italian Version)

CD 6 Black Gold
1. Introduction
2. Black Is The Colour Of My True Love's Hair
3. Ain't Got No – I Got Life
4. Westwind
5. Who Knows Where The Time Goes
6. The Assignment Sequence
7. To Be Young, Gifted And Black
8. Suzanne
9. No Opportunity Necessary, No Experience
Needed
10. The Other Woman (Live)
11. Turn, Turn, Turn (To Everything There Is A
Season) (Live)
12. To Be Young, Gifted And Black (Single)

CD 7 Here Comes The Sun
1. Here Comes The Sun
2. Just Like A Woman
3. O-O-H Child
4. Mr. Bojangles
5. New World Coming
6. Angel Of The Morning
7. How Long Must I Wonder
8. My Way
9. Tanywey
10. My Father
11. Jelly Roll
12. Tell It Like It Is
13. 22nd Century
14. What Have They Done To My Song, Ma

CD 8 Emergency Ward
1. My Sweet Lord/Today Is A Killer
2. Poppies
3. Isn't It A Pity
4. Let It Be Me

CD 9 It Is Finished
1. The Pusher
2. Com' By H'yere Good Lord
3. Funkier Than A Mosquito's Tweeter
4. Mr. Bojangles
5. I Want A Little Sugar In My Bowl
6. Dambala
7. Let It Be Me
8. Obeah Woman
9. Nina
10. Zungo
11. Thandewye a.k.a. A Charge To Keep