 News
Oasis / (What's The Story) Morning Glory? 25th anniversary picture disc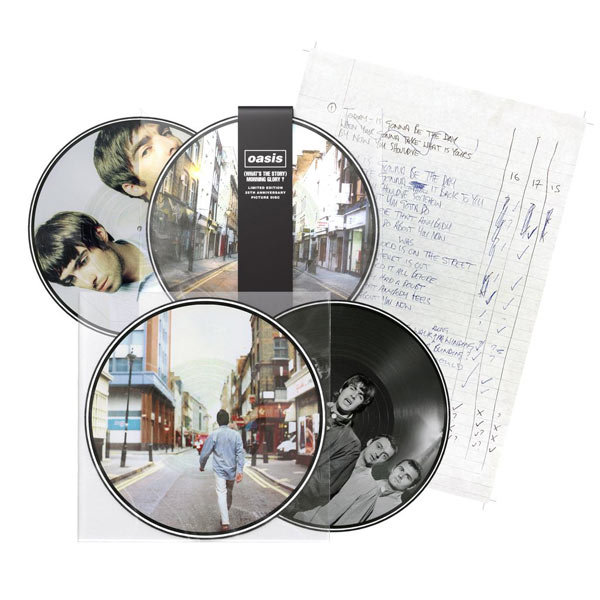 Exclusive vinyl picture disc, 2LP silver vinyl and cassette tape
Oasis will issue a limited edition 2LP vinyl picture disc edition of their 1995 album (What's The Story) Morning Glory? to mark its 25th anniversary.

The band's second album was recorded at Rockfield Studios in Monmouth, Wales and completed in a productive two-week period during May and June 1995.
With a bunch of mega-singles – 'Wonderwall', 'Don't Look Back In Anger', 'Some Might Say'… and er, 'Roll With It', the album became the best-selling long-player of the 1990s and at the time of writing is the UK's fifth best-selling album of all time.
The picture disc is exclusive to the Oasis official store with initial quantities coming with a replica of Noel's handwritten lyrics for 'Wonderwall' (it's an A4 double sided sheet). A 25th anniversary cassette tape is also available.
If you don't like the idea of a picture disc, then you can opt for a 2LP silver-coloured vinyl version which is being released on the same day. This is more widely available (see widget below).
The (What's The Story) Morning Glory? picture disc will be released on 2 October 2020.
Pre-order exclusives at the Oasis store
Compare prices and pre-order
Oasis
What's The Story Morning Glory? - silver vinyl
2LP vinyl picture disc / silver vinyl
A1. Hello (Remastered)
A2. Roll With It (Remastered)
A3. Wonderwall (Remastered)
B1. Don't Look Back In Anger (Remastered)
B2. Hey Now! (Remastered)
B3. [Untitled] (Remastered)
B4. Bonehead's Bank Holiday (Remastered)
C1. Some Might Say (Remastered)
C2. Cast No Shadow (Remastered)
C3. She's Electric (Remastered)
D1. Morning Glory (Remastered)
D2. [Untitled] (Remastered)
D3. Champagne Supernova (Remastered)
Cassette
Side 1
1. Hello (Remastered)
2. Roll With It (Remastered)
3. Wonderwall (Remastered)
4. Don't Look Back In Anger (Remastered)
5. Hey Now! (Remastered)
6. [Untitled] (Remastered)
Side 2
1. Some Might Say (Remastered)
2. Cast No Shadow (Remastered)
3. She's Electric (Remastered)
4. Morning Glory (Remastered)
5. [Untitled] (Remastered)
6. Champagne Supernova (Remastered)