 News
Paul McCartney to release Egypt Station 'Explorer's Edition'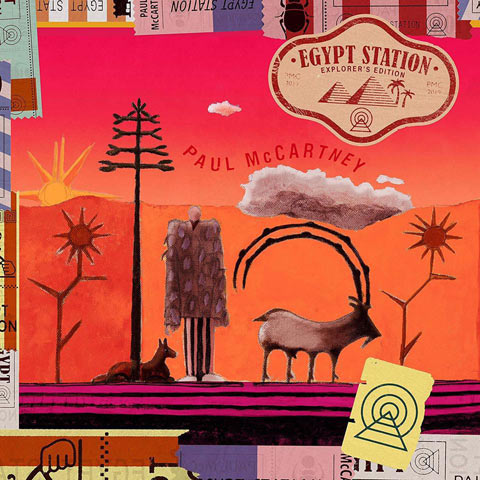 New 2CD and 3LP sets feature bonus audio from the big box
Paul McCartney will re-release his 2018 album Egypt Station on vinyl and CD next month as an 'Explorer's Edition' that offers all the extra audio contained within the expensive 'Traveller's Edition' without all the gubbins.

This edition will be available as a two-CD set or 3LP vinyl package and offers seven previously unavailable tracks including unheard studio cuts 'Frank Sinatra's Party'
and 'Sixty Second Street' as well as a gathering of live performances, a longer version of album track 'Who Cares' and the song 'Get Enough' which McCartney made available on streaming platforms on New Year's Day but hasn't been issued physically. The ten bonus tracks feature on both the double CD and the 3LP black vinyl edition.
With this release confirmed, it's even harder now to see the appeal of the gimmicky and extremely expensive 'Traveller's Edition'.
Egypt Station Explorer's Edition will be issued on CD and vinyl on 17 May 2019. The coloured vinyl is two weeks later on 31 May.
Compare prices and pre-order
Paul McCartney
Egypt Station Explorer's Edition 2CD edition
Compare prices and pre-order
Paul McCartney
Egypt Station Explorer's Edition 3LP vinyl
Compare prices and pre-order
Paul McCartney ?– Egypt Station (Explorer's Edition)
Egypt Station Explorer's Edition 3LP coloured vinyl
Egypt Station Explorer's Edition 2CD edition
CD 1
1. Opening Station
2. I Don't Know
3. Come On To Me
4. Happy With You
5. Who Cares
6. Fuh You
7. Confidante
8. People Want Peace
9. Hand In Hand
10. Dominoes
11. Back In Brazil
12. Do It Now
13. Caesar Rock
14. Despite Repeated Warnings
15. Station II
16. Hunt You Down/Naked/C-Link
CD 2
1. Get Started (Previously available on the 18-track deluxe)
2. Nothing For Free (Previously on the 18-track deluxe)
3. Frank Sinatra's Party*
4. Sixty Second Street*
5. Who Cares (Full length version)*
6. Get Enough (previously digital only)
7. Come On To Me (Live At Abbey Road Studios)*
8. Fuh You (Live At The Cavern Club)*
9. Confidante (Live At LIPA)*
10. Who Cares (Live At Grand Central Station)*
*Previously unreleased
Egypt Station Explorer's Edition 3LP vinyl
Side 1
1. Opening Station
2. I do not know
3. Come On To Me
4. Happy With You
Side 2
1. Who Cares
2. Fuh You
3. Confidante
4. People Want Peace
5. Hand In Hand
Side 3
1. Dominoes
2. Back In Brazil
3. Do It Now
4. Caesar Rock
Side 4
1. Despite Repeated Warnings
2. Station II
3. Hunt You Down / Naked / C-Link
Side 5
1. Get Started
2. Nothing For Free
3. Frank Sinatra's Party
4. Sixty Second Street
5. Who Cares
Side 6
1. Get Enough
2. Come On To Me
3. Fuh You
4. Confidante
5. Who Cares