 News
Pre-order Ronnie Wood's new box set with signed set list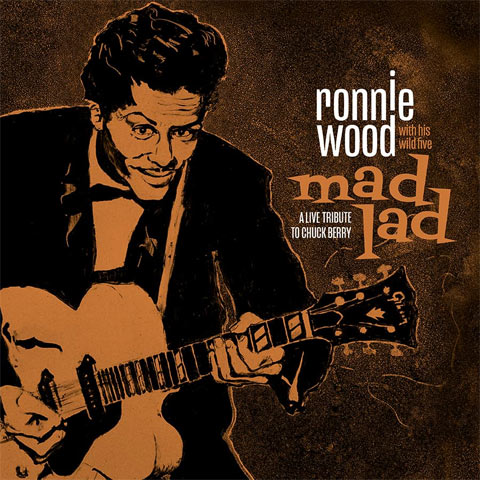 Only 300 units available • New Chuck Berry tribute album
Ronnie Wood releases a new album Mad Lad: A Live Tribute to Chuck Berry in November and the super deluxe edition box offers a rare opportunity to secure an item signed by the Faces and Rolling Stones legend.

The album was recorded live at Wimborne's Tivoli Theatre last year and features guest appearances from singer Imelda May and pianist Ben Waters.
The box set edition includes the new album on vinyl and CD, a 12″ x 12″ artwork print (the album artwork was hand-painted by Ronnie himself), an exclusive T-shirt and the signed and hand-numbered setlist print by Ronnie Wood.
This set is available via the official store, which also offers pre-sale access to tickets to Ronnie's forthcoming London show.
Mad Lad: A Live Tribute to Chuck Berry will be released on 15 November 2019
Pre-order the limited signed box which is exclusive to the official store
Pre-order a non-signed super deluxe box set via the official store
CD Tracklist:
1. Tribute to Chuck Berry
2. Talking About You
3. Mad Lad
4. Wee Wee Hours feat. Imelda May
5. Almost Grown feat. Imelda May
6. Back in the USA
7. Blue Feeling
8. Worried Life Blues
9. Little Queenie
10. Rock 'N' Roll Music feat. Imelda May
11. Johnny B Goode
Vinyl Tracklist:
SIDE 1
1. Tribute to Chuck Berry
2. Talking About You
3. Mad Lad
4. Wee Wee Hours feat. Imelda May
5. Almost Grown feat. Imelda May
SIDE 2
6. Back in the USA
7. Blue Feeling
8. Worried Life Blues
9. Little Queenie
10. Rock 'N' Roll Music feat. Imelda May
11. Johnny B Goode