 News
Ramones Road to Ruin super deluxe edition now available in the UK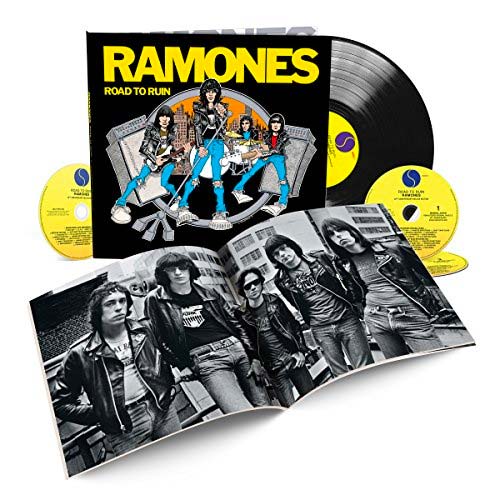 The forthcoming Ramones Road to Ruin super deluxe edition looks to be one of the best Ramones 40th anniversary sets to date, with an incredible amount of bonus material in the 3CD+LP package. While it was announced almost two weeks ago, for some reason it has been unavailable for pre-order in the UK, until now.

Not only has that now changed, but this set – which features a new 40th anniversary 'Road Revisited Mix' of the album; a full disc of unreleased rough mixes; and the complete audio New Year's Eve concert from New York in 1979 – is cheaper in the UK than anywhere else.
It can be pre-ordered in the UK for £39 at the time of writing (the Canadian price is not far off this).
The Road to Ruin super deluxe edition will be released on 21 September 2018.
Compare prices and pre-order
Ramones
Road to Ruin - 4-disc deluxe edition
Compare prices and pre-order
Ramones
Road to Ruin - single CD
CD One
Original Mix Remastered
"I Just Want To Have Something To Do"
"I Wanted Everything"
"Don't Come Close"
"I Don't Want You"
"Needles And Pins"
"I'm Against It"
"I Wanna Be Sedated"
"Go Mental"
"Questioningly"
"She's The One"
"Bad Brain"
"It's A Long Way Back"
40th Anniversary Road Revisited Mix
"I Just Want To Have Something To Do"
"I Wanted Everything"
"Don't Come Close"
"I Don't Want You"
"Needles And Pins"
"I'm Against It"
"I Wanna Be Sedated"
"Go Mental"
"Questioningly"
"She's The One"
"Bad Brain"
"It's A Long Way Back"
Disc Two: Rough Mixes & 40th Anniversary Extras
"I Walk Out" (2018 Mix) *
"S.L.U.G." (2018 Mix) *
"Don't Come Close" (Single Mix)
"Needles And Pins" (Single Mix)
"I Just Want To Have Something To Do" (Basic Rough Mix) *
"I Don't Want You" (Basic Rough Mix) *
"I'm Against It" (Basic Rough Mix) *
"It's A Long Way Back" (Basic Rough Mix) *
"I Walk Out" (Basic Rough Mix) *
"Bad Brain" (Basic Rough Mix) *
"Needles And Pins" (Basic Rough Mix) *
"I Wanna Be Sedated" Take 2 (Basic Rough Mix) *
"I Wanted Everything" (Basic Rough Mix) *
"Go Mental" (Basic Rough Mix) *
"She's The One" (Basic Rough Mix) *
"Questioningly" Take 2 (Basic Rough Mix) *
"S.L.U.G." (Basic Rough Mix) *
"Don't Come Close" (Basic Rough Mix) *
"I Wanna Be Sedated" (Backing Track) *
"I Don't Want You" (Brit Pop Mix) *
"Questioningly" (Acoustic Version) *
"Needles And Pins" (Acoustic Version) *
"Don't Come Close" (Acoustic Version) *
"I Wanna Be Sedated" ("Ramones-On-45 Mega-Mix!")
Disc Three: Live At The Palladium, New York, NY, December 31 1979
"Blitzkrieg Bop" *
"Teenage Lobotomy" *
"Rockaway Beach" *
"I Don't Want You" *
"Go Mental" *
"Gimme Gimme Shock Treatment" *
"I Wanna Be Sedated" *
"I Just Want To Have Something To Do" *
"She's The One" *
"This Ain't Havana" *
"I'm Against It" *
"Sheena Is A Punk Rocker" *
"Havana Affair" *
"Commando" *
"Needles And Pins" *
"I Wanna Be Your Boyfriend" *
"Surfin' Bird" *
"Cretin Hop" *
"All The Way" *
"Judy Is A Punk" *
"California Sun" *
"I Don't Wanna Walk Around With You" *
"Today Your Love, Tomorrow The World" *
"Pinhead" *
"Do You Wanna Dance?" *
"Suzy Is A Headbanger" *
"Let's Dance" *
"Chinese Rock" *
"Beat On The Brat" *
"We're A Happy Family" *
"Bad Brain"
"I Wanted Everything" *
* previously unreleased
LP: 40th Anniversary Road Revisited Mix
Side One
"I Just Want To Have Something To Do"
"I Wanted Everything"
"Don't Come Close"
"I Don't Want You"
"Needles And Pins"
"I'm Against It"
Side Two
"I Wanna Be Sedated"
"Go Mental"
"Questioningly"
"She's The One"
"Bad Brain"
"It's A Long Way Back"