 News
Roxette / Bag of Trix: Music from the Roxette Vaults
Rarities package on 4LP vinyl and 3CD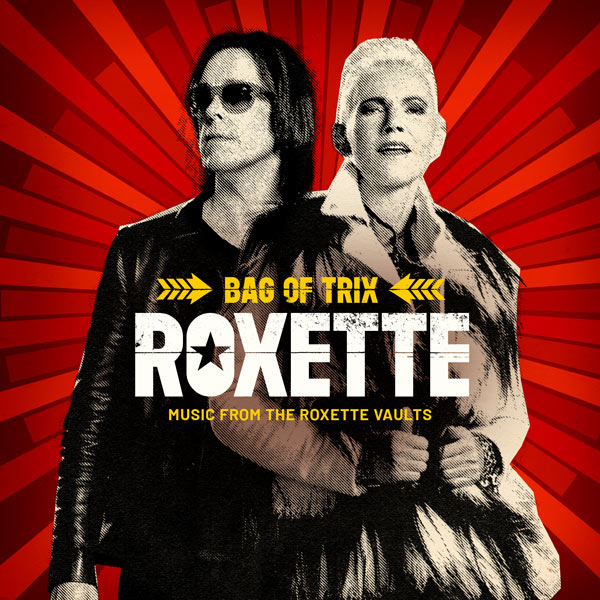 Bag of Trix: Music From The Roxette Vaults is a new Roxette rarities package available as a 4LP or 3CD set.

There are actually four volumes of Bag of Trix which neatly coincide with a four-LP vinyl box set, with 47 tracks in total, 29 of which are previously unreleased. The same tracks are split across three CDs.

Bag of Trix 4LP vinyl box set (click to enlarge)
The audio include demos, alternative mixes, Spanish-language versions, bonus tracks and more from a 30-year career (1986-2016). Highlights include Brian Malouf's US single mix of 'Joyride', an acoustic demo  of 'Hotblooded', an unplugged version of 'Listen to Your Heart' and three three home-recorded demo versions of Marie's own songs 'Pocketful Of Rain', 'Beautiful Boy' and 'Waiting For The Rain' (only the last one ended up on a Roxette album).
Bag of Trix will be released on 11 December 2020 via Parlophone.
Compare prices and pre-order
Roxette
Bag of Trix - 4LP vinyl box set
Compare prices and pre-order
Roxette
Bag of Trix - 3CD set
Bag of Trix 4LP vinyl box
LP1
Side One:
1 Help! (Abbey Road Sessions – Nov 15, 1995)
2 Listen To Your Heart (Abbey Road Sessions – Nov 15, 1995)
3 Let Your Heart Dance With Me (Good Karma Outtake 2016) ***
4 Waiting For The Rain (Studio Vinden Demo 1997)
5 Joyride (Brian Malouf US Single Mix 1991)
6 Like Lovers Do (Montezuma Demo – Jul 25-26, 1986) ***
Side Two:
1 Pocketful Of Rain (Skinnarviksringen Demo – Feb 1993) ***
2 Wish I Could Fly (Live EMP Sky Church, Seattle Oct 7, 2000) ***
3 Happy Together (T&A Demo – Jul 1-2, 1998)
4 Beautiful Boy (Studio Vinden Demo – Mar 2000) ***
5 You Don't Understand Me (T&A Demo – Jul 30, 1995) ***
6 Hotblooded (T&A Demo – Dec 13, 1990) ***
LP2
Side One:
1 The Look (Abbey Road Sessions – Nov 15, 1995)
2 Tu No Me Comprendes (Spanish version of You Don't Understand Me) ***
3 Soul Deep (Tom Lord-Alge Mix)
4 Always The Last To Know (Studio Vinden Demo 1998) ***
5 Sleeping In My Car (The Stockholm Demo Version 1993)
6 Watercolours In The Rain (T&A Demo – Jan 24, 1990) ***
Side Two:
1 From One Heart To Another (Montezuma Demo – Jul 25-26, 1986) ***
2 I Remember You (T&A Demo – Mar 15, 1990) ***
3 It Hurts (T&A Demo – Aug 3, 1995) ***
4 Perfect Day (T&A Demo – Aug 23, 1990) ***
5 New World (Studio Vinden Demo 1996)
6 Lo Siento (Spanish version of Salvation)
LP3
Side One:
1 Piece Of Cake (Good Karma Outtake 2016) ***
2 You Don't Understand Me (Abbey Road Sessions – Nov 15, 1995)
3 Dangerous (Swedish Single Version)
4 Every Day (Studio Vinden Demo – Mar 2000) ***
5 The Big L (T&A Demo – Mar 29, 1990) ***
6 It Will Take A Long Long Time (Modern Rock Version) (Have A Nice Day Outtake 1999)
Side Two:
1 Little Girl (Studio Vinden Demo – March 2000) ***
2 Cry (Live Norrköping Dec 16, 1988)
3 Goodbye To You (Montezuma demo – Jul 25-26, 1986) ***
4 Go To Sleep (Skinnarviksringen demo – Feb 1993) ***
5 Quisiera Volar (Spanish version of Wish I Could Fly)
LP4
Side One:
1 The Centre Of The Heart (Is A Suburb To The Brain) (Have A Nice Day Outtake 1999) ***
2 Pearls And Passion (Montezuma Demo – Jul 25-26, 1986) ***
3 Things Will Never Be The Same (T&A Demo – Dec 13, 1990) ***
4 Entering Your Heart (Room Service Outtake 2001)
5 Cooper (Closer To God) (Have A Nice Day Outtake 1999)
6 Joy Of A Toy (Montezuma Demo – Jul 25-26, 1986) ***
Side Two:
1 It Takes You No Time To Get Here (Room Service Outtake 1999)***
2Before You Go To Sleep (T&A demo – Oct 23, 1992) ***
3 I  Was So Lucky (The Golden Blow) (Have A Nice Day Outtake 1999) ***
4 Jag älskar (Surrender) (Montezuma Demo – Jul 25-26, 1986) ***
5 Som i en dröm (So Far Away) (Montezuma Demo – Jul 25-26, 1986) ***
6 Alguien (Spanish version of Anyone 1999)
*** Previously unreleased
Bag of Trix 3CD set
CD 1

1.Help! (Abbey Road Sessions – Nov 15, 1995)
2.Listen To Your Heart (Abbey Road Sessions – Nov 15, 1995)
3.Let Your Heart Dance With Me (Good Karma Outtake 2016) ***
4.Waiting For The Rain ( Studio Vinden Demo 1997)
5.Joyride (Brian Malouf US Single Mix 1991)
6.Like Lovers Do (Montezuma Demo – Jul 25-26, 1986) ***
7.Pocketful Of Rain (Skinnarviksringen Demo – Feb 1993) ***
8.Tu No Me Comprendes (Spanish version of You Don't Understand Me) ***
9.Happy Together (T&A Demo – Jul 1-2, 1998)
10.Beautiful Boy (Studio Vinden Demo – Mar 2000) ***
11.Cooper (Closer To God) (Have A Nice Day Outtake 1999)
12.Hotblooded (T&A Demo – Dec 13, 1990) ***
13.The Center Of The Heart (Is A Suburb To The Brain) (Have A Nice Day Outtake 1999) ***
14.Pearls And Passion (Montezuma Demo – Jul 25-26, 1986) ***
15.Things Will Never Be The Same ( T&A Demo – Dec 13, 1990) ***
16.Alguien (Spanish version of Anyone 1999)
CD 2
1.The Look (Abbey Road Sessions – Nov 15, 1995)
2.You Don't Understand Me (T&A Demo – Jul 30, 1995) ***
3.Soul Deep (Tom Lord-Alge Mix)
4.Wish I Could Fly (Live EMP Sky Church, Seattle Oct 7, 2000) ***
5.New World (Studio Vinden Demo 1996)
6.Sleeping In My Car (The Stockholm Demo Version 1993)
7.Watercolours In The Rain (T&A Demo – Jan 24, 1990) ***
8.From One Heart To Another (Montezuma Demo – Jul 25-26, 1986) ***
9.I Remember You ( T&A Demo – Mar 15, 1990) ***
10.It Hurts (T&A Demo – Aug 3, 1995) ***
11.Perfect Day (T&A Demo – Aug 23, 1990) ***
12.Joy Of A Toy ( Montezuma Demo – Jul 25-26, 1986) ***
13.Always The Last To Know (Studio Vinden Demo 1998) ***
14.It Takes You No Time To Get Here (Room Service Outtake 1999) ***
15. Before You Go To Sleep (T&A demo – Oct 23, 1992) ***
16.Lo Siento (Spanish version of Salvation)
CD 3
1.Piece Of Cake (Good Karma Outtake 2016) ***
2.You Don't Understand Me (Abbey Road Sessions – Nov 15, 1995)
3.Dangerous (Swedish Single Version)
4.Every Day (Studio Vinden Demo – Mar 2000) ***
5.The Big L (T&A Demo – Mar 29, 1990) ***
6.It Will Take A Long Long Time (Modern Rock Version) ( Have A Nice Day Outtake 1999)
7.Little Girl (Studio Vinden Demo – March 2000) ***
8.Cry (Live Norrköping Dec 16, 1988)
9.Goodbye To You (Montezuma demo – Jul 25-26, 1986) * **
10.Go To Sleep (Skinnarviksringen demo – Feb 1993) ***
11.I Was So Lucky (The Golden Blow) (Have A Nice Day Outtake 1999) ***
12.Entering Your Heart (Room Service Outtake 2001)
13.Jag älskar (Surrender) (Montezuma Demo – Jul 25-26, 1986) ***
14.Som i en dröm (So Far Away) (Montezuma Demo – Jul 25- 26, 1986) ***
15.Quisiera Vol