 News
Roy Budd's 'Get Carter' soundtrack expanded to three CDs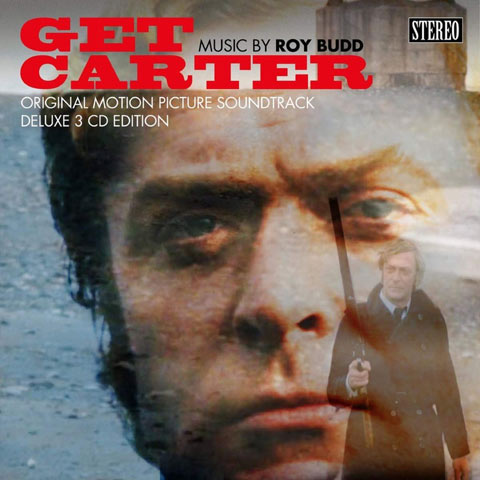 Roy Budd's atmospheric soundtrack to Mike Hodges' 1971 film Get Carter is to be reissued as and expanded three-CD set next month.

The film stars Michael Caine in one of his defining roles. As Jack Carter, he heads to the North East of England to find out what happened to his brother Frank, who apparently died accidentally.
The evocative soundtrack was much sought after and rather elusive for years. It was only ever issued originally in Japan, although the UK did get a seven-inch single ("Carter") of the title track. Eventually it was issued on CD in 1998 and two years later a two-CD set with some rather dubious 'modern' remixes was also issued. Most recently, Music On Vinyl issued a coloured vinyl version for this year's Record Store Day.
This new three-CD set is being issued by Cherry Red and looks really interesting. The first CD re-presents the original Japanese soundtrack with the addition of Hallucinations, which wasn't on the original record, while the second disc offers rarities including alternate takes, the original seven-inch version mentioned above and four of those remixes from 2000. This triple disc presentation is completed with with material not from Get Carter – it's effectively a Roy Budd film music 'best of' and includes cues from films like The Black Windmill and The Marseille Contract (both of which also star Caine).
This 3CD set of Get Carter is presented as a hardcover book edition and the cover art is a variation on the original Japanese design. It is released on 26 July 2019.
Update: I now have a finished copy of this release and I have to say that the 96-page booklet is one of the best I've EVER seen in a CD reissue. It has very detailed commentary of every aspect of the film and full of great photos, poster designs etc.
Compare prices and pre-order
Roy Budd
Get Carter O/S/T (3CD Deluxe Hardback Edition)
DISC ONE – ORIGINAL SOUNDTRACK
GET CARTER (Intro)
DIALOGUE
CARTER TAKES THE TRAIN (Main Title)
DIALOGUE
LOOKIN' FOR SOMEONE
THE RACE TRACK (Dialogue)
SOMETHIN' ON MY MIND
DIALOGUE
GETTIN' NOWHERE IN A HURRY
DIALOGUE
THE GIRL IN THE CAR
THE PHONE CALL (Dialogue)
LOVE IS A FOUR LETTER WORD
DIALOGUE
LIVING SHOULD BE THAT WAY
DIALOGUE
MANHUNT
DIALOGUE
GOODBYE ERIC + DIALOGUE
DIALOGUE
HALLUCINATIONS
GOODBYE CARTER!
DISC TWO – ORIGINAL SOUNDTRACK  BONUS MATERIAL
GET CARTER (Alternative Mix 1) *
PLAYTHING
DIALOGUE
HALLUCINATIONS (Alternative Vocal Mix) *
DIALOGUE
GETTIN' NOWHERE IN A HURRY (Instrumental + Dialogue)
LOVE IS A FOUR LETTER WORD (Alternative Mix) *
MANHUNT (Alternative Mix) *
DIALOGUE
GET CARTER (Alternative Mix 2) *
GETTIN' NOWHERE IN A HURRY (Alternative Vocal Mix) *
HALLUCINATIONS (Instrumental Mix)
HOW ABOUT YOU
GET CARTER (7″ Single Version)
GET CARTER (Dope On A Rope US Remix)
GET CARTER (De Few 2 Smoking Barrels Remix)
GET CARTER (Deadly Avenger Remix)
GET CARTER (Breakneck Dirtbox Remix)
*previously unreleased.
DISC THREE – A BIT OF BUDD
MR FUNKER (M15-FB) (from Foxbat)
WAY OUT M1 (SK 10) (from The Stone Killer)
NO DOUBT (MC-M11)  (from The Marseille Contract)
DIAMOND FORTRESS (from Diamonds)
IN THE SHADOWS (from The Stone Killer)
JAZZ IT UP (MC-M4) (from The Marseille Contract)
FREE TARRANT (from The Black Windmill)
CASSETTE JAZZ (from The Black Windmill)
FOR ALL MY DAYS (from Kidnapped)
NO COOPERATION (from The Black Windmill)
TEACHER AND PUPIL (from Paper Tiger)
MAIN THEME (from Fear Is The Key)
LOVE AT FIRST SIGHT (Theme from The Warsaw Concerto) (from The Sea Wolves)
HOW CAN WE RUN AWAY (from Something To Hide)
CRESTA'S SONG (from Soldier Blue)
THEME FROM AUNT HARRIET
THE CAREY TREATMENT (from The Carey Treatment)
VERSAILLES EXIT
WHO NEEDS LOVE ANYWAY