 News
Sleeper / Smart anniversary reissue
Expanded CD & 2LP vinyl offer bonus tracks • Signed editions available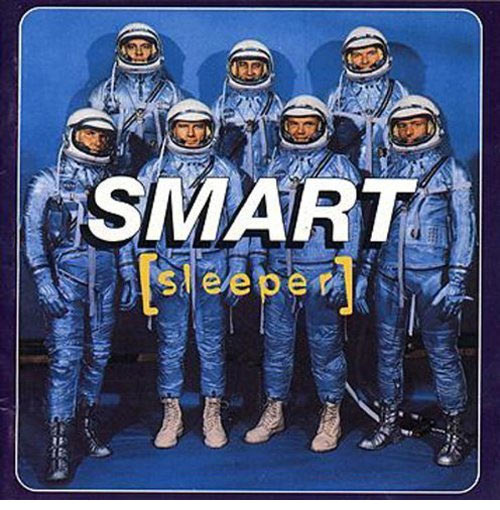 Britpop band Sleeper's debut album Smart is reissued for its 25th anniversary, with expanded editions available on coloured vinyl and CD.

The 1995 album features the band's first sizeable hit 'Inbetweener' (#16) which created enough interest for Smart to be gold-certified (for 100,000 sales) in the UK. The band enjoyed even more success with 1996 follow-up The It Girl (produced by Stephen Street) although the backlash and toxicity around the 'Britpop' label by late 1997 hampered the commercial prospects of the final long-player of that era, Pleased to Meet You.



Smart was originally issued on Indolent (a subsidiary of RCA and BMG) and was reissued on CD by Cherry Red back in 2011. Since then, Sleeper have reformed and returned last year with a fourth album, The Modern Age.

The new Smart reissue offers the album on vinyl for the first time in 25 years, along with 10 bonus tracks. It's a nifty looking 2LP package pressed on yellow vinyl and is available with a signed & numbered print from the official Sleeper store. A 2LP clear vinyl version (not signed) is also available.


The expanded CD edition includes the same bonus material and is also available signed if you choose to order via the band's shop. In fact, there's all manner of bundles and options including test pressings, signed tour posters etc., some of which are listed below.

Both vinyl & CD options include updated booklets/insert complete with new photographs. Smart is reissued on 5 June 2020.

Peruse the official Sleeper store, or see highlights below
Smart expanded CD

1. Inbetweener
2. Swallow
3. Delicious
4. Hunch
5. Amuse
6. Bedhead
7. Lady Love Your Countryside
8. Vegas
9. Poor Flying Man
10. Alice In Vain
11. Twisted
12. Pyrotechnician

Bonus tracks

13. Bedside Manners
14. Tatty
15. Little Annie
16. It's wrong of you to breed
17. One Girl Dreaming
18. Alice In Vain 7" Single version
19. Hymn To Her
20. Big Nurse
21. Ha Ha You're Dead
22. Bank


Smart 2LP vinyl

LP 1 – The album

A1: Inbetweener
A2: Swallow
A3: Delicious
A4: Hunch
A5: Amuse
A6: Bedhead
A7: Lady Love Your Countryside

B1: Vegas
B2: Poor Flying Man
B3: Alice In Vain
B4: Twisted
B5: Pyrotechnician

LP 2 with bonus tracks

C1: Bedside Manners
C2: Tatty
C3: Little Annie
C4: It's wrong of you to breed
C5: One Girl Dreaming

D1: Alice In Vain 7" Single version
D2: Hymn To Her
D3: Big Nurse
D4: Ha Ha You're Dead
D5: Bank