 News
Specials: half-speed mastered 2LP vinyl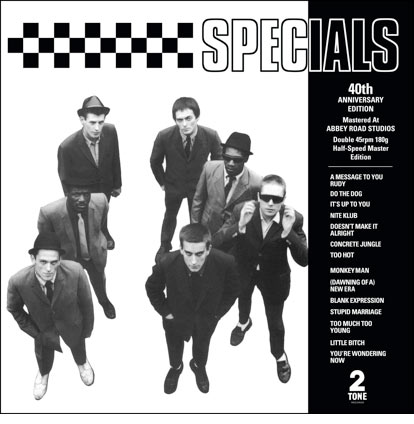 Chrysalis Records are planning a campaign of 2 Tone remasters and reissues and are starting with a 40th anniversary half-speed mastered 2LP vinyl edition of The Specials 1979 self-titled debut album.

Chrysalis Records was the original home of the 2 Tone label (founded by The Specials' Jerry Dammers) and indeed, the label's first album release was Specials.
The band were made up of seven people Dammers (keyboards), Terry Hall (vocals), Neville Staples (vocals), Lynval Golding (rhythm guitar), Roddy 'Radiation' Byers (lead guitar), 'Sir' Horace 'Gentleman' Panter (bass) and John Bradbury (drums), along with Jamaican ska trombonist Rico Rodriguez and trumpeter Dick Cuthell 
The album was produced by Elvis Costello and reached number four in the charts. The 'Too Much Too Young' EP (which featured a live version of that song) went to number one. It was the third single from the album and of course The Specials were destined to have another UK number one with 'Ghost Town' in 1981.
The new 40th anniversary 2LP vinyl edition has been mastered at Abbey Road Studios by Miles Showell and is a straight half-speed vinyl cut from the original master tapes, split over two 45RPM 12" vinyl, housed in wide spine LP.
Specials will be released on 11 October 2019.
Compare prices and pre-order
The Specials
Specials 2LP half-speed master
Side One
A Message To You, Rudy
Do The Dog
It's Up To You
Nite Klub
Side Two
Doesn't Make It Alright
Concrete Jungle
Too Hot
Side Three
Monkey Man
(Dawning Of A) New Era
Blank Expression
Stupid Marriage
Side Four
Too Much Too Young
Little Bitch
You're Wondering Now