 News
The Beatles / The Singles Collection
23 seven-inch singles in a box • Cut from original mono/stereo tapes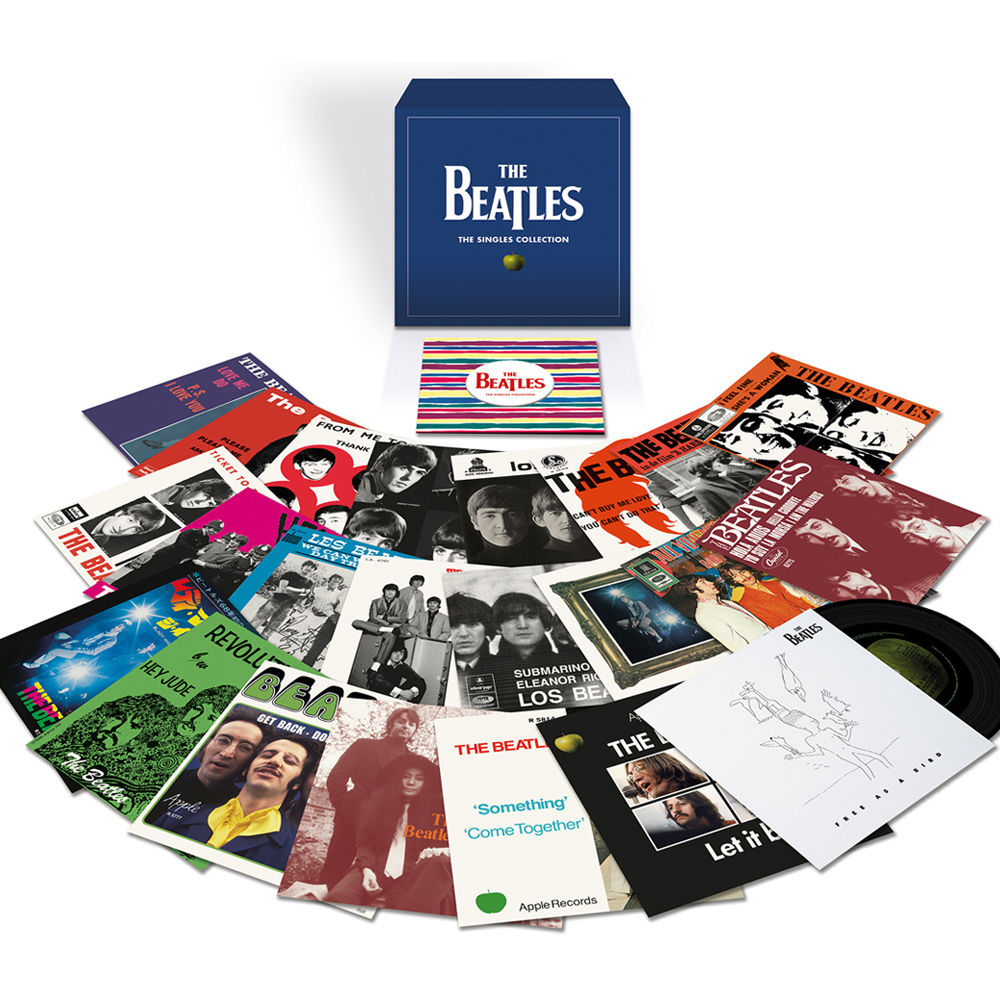 Apple Corps and Universal Music will issue The Singles Collection in November, a new Beatles box set that gathers all of their seven-inch vinyl single releases together in one box set.

The package gathers all 22 UK singles from the original era with their respective B-sides (or AA-side in the case of some). The exception to this is 1995's 'Free As A Bird', which is the 23rd and final seven-inch included in this package, but becomes a double A-side with 1996's Real Love. The original B-sides of those two Anthology-era singles – 'Christmas Time (Is Here Again)' and a live recording of 'Baby's In Black' – are ignored). The EPs aren't included in The Singles Collection, so no 'Magical Mystery Tour' or 'Long Tall Sally', for example.

Every single here reached number one in the UK charts, except 'Love Me Do' (#17), 'Please Please Me' (#2) 'Strawberry Fields Forever'/'Penny Lane' (#2) 'Something' (#4), 'Let It Be' (#2), Free As A Bird (#2) and Real Love (#4).

To make things interesting these seven-inch singles will use various international cover art, so the 'Love Me Do' sleeve is from the USA, 'She Loves You' from Germany and 'Ticket to Ride' is from Sweden ('Free As A Bird' had the same artwork everywhere).

Each seven-inch single is pressed on heavyweight vinyl (incorrectly described as "180g" by the label) and these are "newly cut for vinyl from their original mono and stereo master tapes" by Sean Magee at Abbey Road Studios.



The front cover of this box set is consistent with previous packages like the 2014 The Beatles in Mono vinyl box and this comes with a 40-page booklet with notes by Kevin Howlett.

Sadly, in this rather vinyl obsessed age, this singles box set isn't being issued on CD. I doubt it was even considered but a set with Japanese style 3″ CD singles would have been cool.

The Singles Collection will be released on 22 November 2019. This is described as a 'limited edition' box although we don't know how limited it is.




The Singles Collection seven-inch singles box

1962 [SLEEVE ART: U.S.]
1 A: Love Me Do
2 B: P. S. I Love You

1963 [SLEEVE ART: CHILE]
1 A: I Want To Hold Your Hand
2 B: This Boy

1963 [SLEEVE ART: GREECE]
1 A: She Loves You
2 I'll Get You

1963 [SLEEVE ART: ITALY]
1 A: Please Please Me
2 B: Ask Me Why

1963 [SLEEVE ART: NORWAY]
1 A: From Me To You
2 B: Thank You Girl

1964 [SLEEVE ART: AUSTRIA]
1 A: Can't Buy Me Love
2 B: You Can't Do That

1964 [SLEEVE ART: HOLLAND]
1 A: A Hard Day's Night
2 B: Things We Said Today

1964 [SLEEVE ART: SWEDEN]
1 A: I Feel Fine
2 B: She's A Woman
1965 [DO

DOUBLE A-SIDE / SLEEVE ART: FRANCE]
1 A: We Can Work It Out
2 A: Day Tripper

1965 [SLEEVE ART: BELGIUM]
1 A: Help!
2 B: I'm Down

1965 [SLEEVE ART: SPAIN]
1 A: Ticket To Ride
2 B: Yes It Is

1966 [DOUBLE A-SIDE / SLEEVE ART: ARGENTINA]
1 A: Eleanor Rigby
2 A: Yellow Submarine

1966 [SLEEVE ART: TURKEY]
1 A: Paperback Writer
2 B: Rain

1967 [DOUBLE A-SIDE / SLEEVE ART: AUSTRALIA]
1 A: Strawberry Fields Forever
2 A: Penny Lane

1967 [SLEEVE ART: MEXICO]
1 A: Hello, Goodbye
2 B: I Am The Walrus

1967 [SLEEVE ART: WEST GERMANY]
1 A: All You Need Is Love
2 B: Baby, You're A Rich Man

1968 [SLEEVE ART: JAPAN]
1 A: Lady Madonna
2 B: The Inner Light

1968 [SLEEVE ART: SOUTH AFRICA]
1 A: Hey Jude
2 B: Revolution

1969 [SLEEVE ART: DENMARK]
1 A: Get Back
2 B: Don't Let Me Down

1969 [SLEEVE ART: ISRAEL]
1 A: Something
2 B: Come Together

1969 [SLEEVE ART: PORTUGAL]
1 A: The Ballad Of John And Yoko
2 B: Old Brown Shoe

1970 [SLEEVE ART: UK]
1 A: Let It Be
2 B: You Know My Name (Look Up The Number)

1995 / 1996 [EXCLUSIVE DOUBLE A-SIDE SINGLE / SLEEVE ART: WORLDWIDE]
1 A: Free As A Bird [1995]
2 A: Real Love [1996]