 News
The Doobie Brothers / Live From the Beacon Theatre / audio-video releases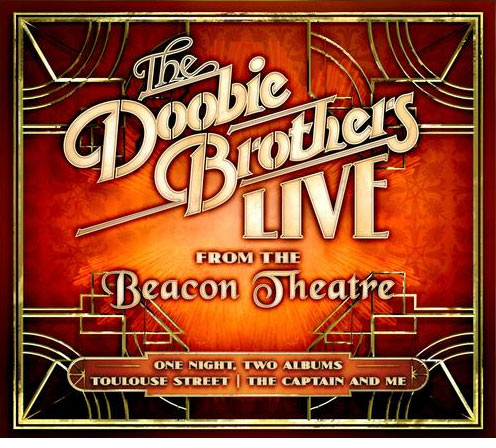 New release celebrating two classic albums
The Doobie Brothers are to release live album Live from the Beacon Theatre this June.
In November 2018 the band returned to the Beacon Theatre in New York for the first time in 25 years to perform two of their landmark albums, Toulouse Street and The Captain And Me. Now, as they set out to tour as the opening turn for Santana, they've chosen to release audio and video of the event for posterity.

The performance at the Beacon offered an opportunity for Doobie fans to hear deep cuts and songs never-before performed live by the band, such as 'Mamaloi', 'O'Connelly Corners', 'Ukiah', and 'The Captain And Me', as well as the hits from the Toulouse Street such as 'Listen to the Music' and 'Jesus is Just Alright' all aided with a horn section.
Their third album The Captain and Me featured 'China Grove', 'South City Midnight Lady' and the classic 'Long Train Runnin'' which coincidentally had just (belatedly) become a top ten hit in the UK in 1993 the year they last played the Beacon. The show ended with a three-song encore that included their U.S. chart-topper hit 'Black Water.'
This release is offered as a good value 2CD+DVD package or you can opt for just the audio on two CDs. A standalone blu-ray is also available. There's no news on a vinyl release as yet.
Live from the Beacon Theatre is released 28 June 2019 via Rhino Records.
Compare prices and pre-order
The Doobie Brothers
Live from the Beacon Theatre - 2CD+DVD
Compare prices and pre-order
Doobie Brothers
Live from the Beacon Theatre - 2CD
Compare prices and pre-order
The Doobie Brothers
Live from the Beacon Theatre - blu-ray
LIVE FROM THE BEACON THEATRE
DVD/blu-ray
1. Five Corners (Live From the Beacon Theatre, November, 2018)  2. Listen To The Music (Live From the Beacon Theatre, November, 2018)
3. Rockin' Down The Highway (Live From the Beacon Theatre, November, 2018)
4. Mamaloi (Live From the Beacon Theatre, November, 2018)
5. Toulouse Street (Live From the Beacon Theatre, November, 2018)
6. Cotton Mouth (Live From the Beacon Theatre, November, 2018)
7. Don't Start Me To Talkin' (Live From the Beacon Theatre, November, 2018)
8. Jesus Is Just Alright (Live From the Beacon Theatre, November, 2018)
9. White Sun (Live From the Beacon Theatre, November, 2018)
10. Disciple (Live From the Beacon Theatre, November, 2018)
11. Snake Man (Live From the Beacon Theatre, November, 2018)
12. Natural Thing (Live From the Beacon Theatre, November, 2018)
13. Long Train Runnin' (Live From the Beacon Theatre, November, 2018)
14. China Grove (Live From the Beacon Theatre, November, 2018)
15. Dark Eyed Cajun Woman (Live From the Beacon Theatre, November, 2018)
16. Clear As The Driven Snow (Live From the Beacon Theatre, November, 2018)
17. Without You (Live From the Beacon Theatre, November, 2018)
18. South City Midnight Lady (Live From the Beacon Theatre, November, 2018)
19. Evil Woman (Live From the Beacon Theatre, November, 2018)
20. Busted Down Around O'Connelly Corners (Live From the Beacon Theatre, November, 2018)
21. Ukiah (Live From the Beacon Theatre, November, 2018)
22. The Captain And Me (Live From the Beacon Theatre, November, 2018)
23. Take Me In Your Arms (Rock Me) [Live From the Beacon Theatre, November, 2018]
24. Black Water (Live From the Beacon Theatre, November, 2018)
25. Listen To The Music (Reprise) [Live From the Beacon Theatre, November, 2018]
2CD 
Disc One: Toulouse Street
Listen To The Music
Rockin' Down The Highway
Mamaloi
Toulouse Street
Cotton Mouth
Don't Start Me To Talkin'
Jesus Is Just Alright
White Sun
Disciple
Snake Man
Disc Two: The Captain And Me
Natural Thing
Band Intros
Long Train Runnin'
China Grove
Dark Eyed Cajun Woman
Clear As The Driven Snow
Without You
South City Midnight Lady
Evil Woman
Busted Down Around O'Connelly Corners
Ukiah
The Captain And Me
Encore
Take Me In Your Arms (Rock Me)
Black Water
Listen To The Music (Reprise)