 News
The League of Gentlemen / Precious Things vinyl box set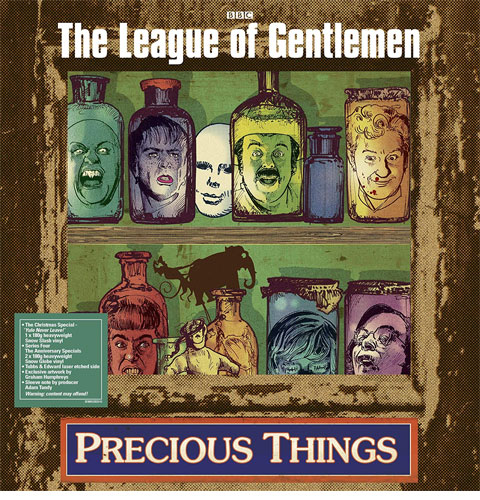 Demon Music follow up last years impressive Special Stuff  box set this December with a new League of Gentlemen vinyl package, Precious Things.

The 3LP box pulls together the original Christmas special (first aired in 2000) and the three anniversary episodes shown in December 2017.

Precious Things vinyl box (click image to enlarge)
"Yule Never Leave" is pressed on 180g 'Snow Slash' vinyl, while the three anniversary specials ("Return To Royston Vasey", "Save Royston Vasey" and "Royston Vasey Mon Amour") from 2017 are pressed on three sides of 180g 'Snow globe' vinyl. The fourth side is an Tubbs and Edward etched disc.
Each series is presented in a gatefold set and the artwork is once again handled by Graham Humphreys. Producer Adam Tandy supplies sleeve notes and a die cut outer slipcase allows you to swap over the sleeves to create a different 'local shop' window.
Special Stuff was a thing of beauty and went out of print very quickly (in part thanks to the signed print) and anyone who was lucky enough to acquire that is surely going to 'need' this to complete the collection.
Precious Things is released on 6 December 2019.
You might also like…