 News
The Replacements / Dead Man's Pop
4CD+1LP box set based around 'Don't Tell A Soul' featuring exclusive recordings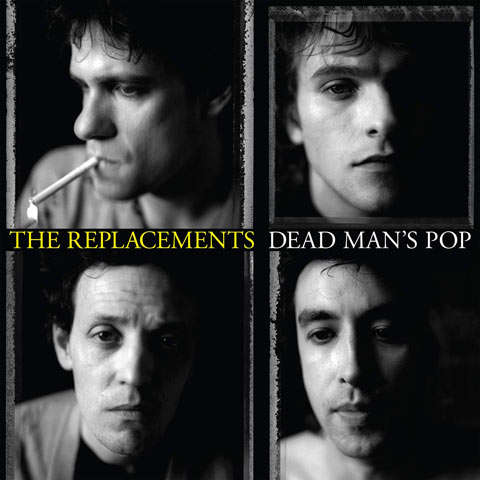 Minneapolis band The Replacements are set to release a deluxe set based around their 1989 album Don't Tell A Soul.

Dead Man's Pop features 60 tracks – 58 of which have never been heard before – and features a radically reimagined 'Redux' version of the album. The set also comes with a host of other period-appropriate recordings, alongside a live recording of a concert in Milwuakee from their 1989 tour, early aborted album sessions and several tracks recorded with Tom Waits.

Formed in Minneapolis in 1978, guitarist and vocalist Paul Westerberg, guitarist Bob Stinson, bass guitarist Tommy Stinson and drummer Chris Mars inspired by the likes of The Clash, Slade, Big Star and The Damned.

While not necessarily much of a big deal in the UK, The Replacements were the toast of the US alternative scene in the 1980s, graduating from punk beginnings alongside fellow Minneapolians Husker Du, towards a major label breakthrough with a series of critically acclaimed albums.

Eventually signing to Sire Records, they issued their Tommy Ramone-produced Tim in 1985, with Bob Stinson deciding to leave soon afterwards as the band had moved further from their hardcore roots. By their next album Pleased To Meet Me, they began to make inroads outside of the US alternative circuit, leading to a shambolic performance on Saturday Night Live where the visibly inebriated band managed to be banned from the show for life.

Don't Tell A Soul was a lunge for mainstream acceptance, however Westerberg wasn't entirely convinced with the finished product, suggesting that the initial demos were more what he had in mind. Just as they were completing work with producer Matt Wallace on Don't Tell A Soul at Paisley Park, they made off with a collection of tapes recording during those sessions, and kept them safe until now.

Tensions soon rose internally within the band, alongside a disastrous support touring with Tom Petty and the Heartbreakers, the band released their final album – although originally earmarked as Westerberg's solo debut – All Shook Down in 1990.

The band split shortly afterwards, just as the appetite for US alternative music was beginning to happen worldwide and acts they'd influenced such as Soul Asylum and Green Day became popular. Westerberg released a handful of solo albums throughout the next decade with occasional contributions to film soundtracks, as well as writing songs for other people, such as Glen Campbell's 'Ghost On The Canvas'.

The Replacements reformed briefly in 2012, with Tommy Stinson and Paul Westerberg the only remaining members. They played their first shows together in 22 years, performing at Coachella in 2014. After several attempts to kick start a new album came to nothing, they played their final gig at the Primavera festival in 2015.


Dead Man's Pop comes in a handsome 12″ x 12″ hardcover book which features a detailed history of the Don't Tell A Soul era written by Bob Mehr, who co-produced this package for Rhino. He says "While it's impossible to unhear a record that's been around for three decades, this version, Don't Tell A Soul Redux, is the album the band made and intended to release. In addition to Matt Wallace's mix, Redux also restores several crucial elements from the sessions, including original drums tracks, vocal takes and tempos that were altered in post-production…[and] the band's original sequence of the album."

Matt Wallace concurs: "The true spirit of The Replacements was always there on the recordings we did back in 1988, and now you can hear and feel it clearly…This was the project of a lifetime for me when we recorded it 30-plus years ago, and it's even truer today as we've finally fulfilled our original vision."

The final two CDs in this Dead Man's Pop package capture the band performing live in Milwaukee during the "Don't Tell A Soul Tour." The bulk of the 29 tracks included have never been released and the entire show has been newly mixed by Brian Kehew.

Dead Man's Pop will be released on 25 October 2019.




Disc One (CD): Don't Tell A Soul Redux

"Talent Show" – Matt Wallace Mix *
"I'll Be You" – Matt Wallace Mix *
"We'll Inherit The Earth" – Matt Wallace Mix *
"Achin' To Be" – Matt Wallace Mix *
"Darlin' One" – Matt Wallace Mix *
"Back To Back" – Matt Wallace Mix *
"I Won't" – Matt Wallace Mix *
"Asking Me Lies" – Matt Wallace Mix *
"They're Blind" – Matt Wallace Mix *
"Anywhere's Better Than Here" – Matt Wallace Mix *
"Rock 'n' Roll Ghost" – Matt Wallace Mix *

Disc Two (CD): We Know The Night: Rare and Unreleased

"Portland" – Alternate Mix (Bearsville Version) *
"Achin' To Be" – Bearsville Version *
"I'll Be You" – Bearsville Version *
"Wake Up" – Alternate Mix – Bearsville Version *
"We'll Inherit The Earth" – Bearsville Version *
"Last Thing In The World" *
"They're Blind" – Bearsville Version *
"Rock 'n' Roll Ghost" – Bearsville Version *
"Darlin' One" – Bearsville Version *
"Talent Show" – Demo Version
"Dance On My Planet" *
"We Know The Night" – Alternate Outtake *
"Ought To Get Love" – Alternate Mix *
"Gudbuy T'Jane" – Outtake
"Lowdown Monkey Blues" – Featuring Tom Waits *
"If Only You Were Lonely" – Featuring Tom Waits *
"We Know The Night" – Featuring Tom Waits (Rehearsal) *
"We Know The Night" – Featuring Tom Waits (Full Band Version) *
"I Can Help" – Featuring Tom Waits *
"Date To Church" – Matt Wallace Remix*

Disc Three (CD): The Complete Inconcerated Live, Part One

"Alex Chilton" *
"Talent Show" *
"Back To Back" *
"I Don't Know" *
"The Ledge" *
"Waitress In The Sky" *
"Anywhere's Better Than Here" *
"Nightclub Jitters" *
"Cruella De Ville" *
"Achin' To Be" *
"Asking Me Lies" *
"Bastards Of Young" *
"Answering Machine" *
"Little Mascara" *
"I'll Be You" *

Disc Four (CD): The Complete Inconcerated Live, Part Two

"Darlin' One" *
"I Will Dare" *
"Another Girl, Another Planet" *
"I Won't" *
"Unsatisfied" *
"We'll Inherit The Earth" *
"Can't Hardly Wait" *
"Color Me Impressed" *
"Born To Lose" *
"Never Mind" *
"Here Comes A Regular" *
"Valentine" *
"Left Of The Dial" *
"Black Diamond" *

* previously unreleased

Disc Five (vinyl LP): Don't Tell A Soul Redux

"Talent Show" – Matt Wallace Mix *
"I'll Be You" – Matt Wallace Mix *
"We'll Inherit The Earth" – Matt Wallace Mix *
"Achin' To Be" – Matt Wallace Mix *
"Darlin' One" – Matt Wallace Mix *
"Back To Back" – Matt Wallace Mix *
"I Won't" – Matt Wallace Mix *
"Asking Me Lies" – Matt Wallace Mix *
"They're Blind" – Matt Wallace Mix *
"Anywhere's Better Than Here" – Matt Wallace Mix *
"Rock 'n' Roll Ghost" – Matt Wallace Mix *