 News
Tom Petty's Wildflowers & All The Rest 5CD super deluxe available in the UK
The 'D2C' exclusive now more widely available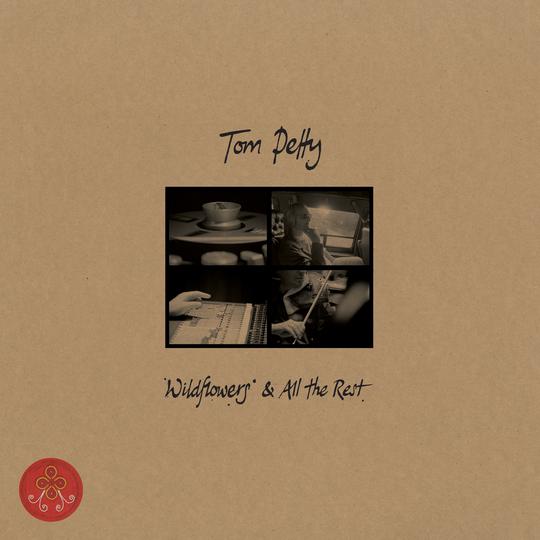 The special five-CD super deluxe edition of Tom Petty's Wildflowers & All The Rest – initially exclusive to Petty's US store – can now be ordered via Amazon in the UK.
At the time, this set appealed to collectors thanks to the inclusion of an 'exclusive' fifth discs Finding Wildflowers which featured 16 alternate versions (it has since controversially been announced as a standalone release).
The super deluxe is much bigger and more lavish than its 4CD deluxe 'cousin'. It includes an 80-page hardcover book, an exclusive lithograph, a replica of the 1995 "Dogs With Wings" tour program, the Wildflowers logo as a cloth patch and a sticker, reproductions of Tom's handwritten lyrics of four songs, and a numbered certificate of authenticity.

The 5CD super deluxe edition of Wildflowers is a lavish, large format affair (click image to enlarge)
These were priced at $150 on Petty's store (fans in the UK were frustrated that it wasn't available over here) but are now no longer available. They did recently surface on Amazon in America and now via their 'global stores' initiative this can be ordered directly from the UK site for £115 which once converted is fairly close to that $150 price. To be clear, these will ship from the USA but you are ordering via the UK site with the big advantage of a guarantee of no import charges and low/no shipping!
Of course, with Finding Wildflowers now available separately you might consider this set unnecessary, but I have a sneaky suspicion this collectible will go out-of-print in the not too distant future and it's a tempting prospect.
The Wildflowers & All The Rest 5CD super deluxe is available now.
Compare prices and pre-order
Tom Petty
Wildflowers and All The Rest 5CD super deluxe
You might also like:
Compare prices and pre-order
Tom Petty
Wildflowers - 7LP deluxe
Compare prices and pre-order
Tom Petty
Wildflowers - 4CD deluxe
CD1: Original Album
01 Wildflowers
02 You Don't Know How It Feels
03 Time To Move On
04 You Wreck Me
05 It's Good To Be King
06 Only A Broken Heart
07 Honey Bee
08 Don't Fade On Me
09 Hard On Me
10 Cabin Down Below
11 To Find A Friend
12 A Higher Place
13 House In The Woods
14 Crawling Back To You
15 Wake Up Time
CD2: All The Rest (10 tracks 5 unreleased songs)
01 Something Could Happen
02 Leave Virginia Alone
03 Climb That Hill Blues
04 Confusion Wheel
05 California
06 Harry Green
07 Hope You Never
08 Somewhere Under Heaven
09 Climb That Hill
10 Hung Up And Overdue
CD3: Home Recordings (15 tracks – 3 unreleased songs; 12 unreleased versions)
01 There Goes Angela (Dream Away)
02 You Don't Know How It Feels
03 California
04 A Feeling Of Peace
05 Leave Virginia Alone
06 Crawling Back To You
07 Don't Fade On Me
08 Confusion Wheel
09 A Higher Place
10 There's A Break In The Rain (Have Love Will Travel)
11 To Find A Friend
12 Only A Broken Heart
13 Wake Up Time
14 Hung Up And Overdue
15 Wildflowers
CD4: Wildflowers Live (14 tracks – 12 unreleased versions; 2 distributed to Fan Club only)
01 You Don't Know How It Feels
02 Honey Bee
03 To Find A Friend
04 Walls
05 Crawling Back To You
06 Cabin Down Below
07 Drivin' To Georgia
08 House In The Woods
09 Girl On LSD
10 Time To Move On
11 Wake Up Time
12 It's Good To Be King
13 You Wreck Me
14 Wildflowers
CD5: Finding Wildflowers (Alternate Versions)
01 A Higher Place
02 Hard on Me
03 Cabin Down Below
04 Crawling Back To You
05 Only a Broken Heart
06 Drivin' Down To Georgia
07 You Wreck Me
08 It's Good to Be King
09 House in The Woods
10 Honey Bee
11 Girl On LSD
12 Cabin Down Below (Acoustic Version)
13 Wildflowers
14 Don't Fade on Me
15 Wake Up Time
16 You Saw Me Comin'