 News
What's coming out on this year's National Album Day?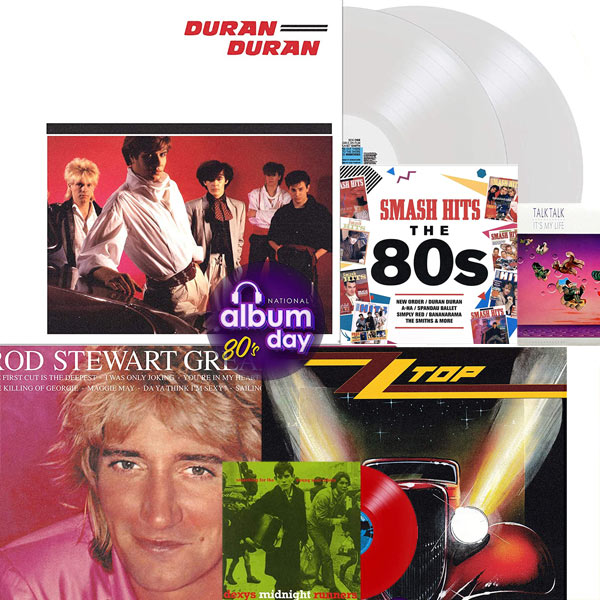 Releases from Duran Duran, Talk Talk, Dexys Midnight Runners & more
'National Album Day' returns for the third time in October this year as record labels and retailers work together to provide what will this year be an eighties-themed celebration of 'the album'. So what releases can we look forward to? Read on to find out…

The exclusive offerings are largely coloured vinyl, although some CD-based products are coming out on the National Album Day (10 October 2020) and, in theory, flying the flag, although in reality these are things that would have almost certainly come out anyway (e.g. the Dire Straits CD box).
So let's dig in… Duran Duran release a studio album on vinyl for the first time since 2015 with a WHITE vinyl reissue of their 1981 debut album across 2LPs. This includes a disc of 'Night Versions' although if you are looking at the glass half-empty, I should point out that this is the much-criticised 2010 mastering.
Rhino's Smash Hits: The 80s 20-track compilation was issued back in 2017 on black vinyl but is now issued on RED vinyl for NAD. You can checkout the track listing on discogs.
Talk Talk's It's My Life album (from 1984) is repressed on PURPLE vinyl and Roxette's poptastic Look Sharp! from 1988 is issued on clear vinyl (having been put out on red vinyl only two years ago).
The soundtrack to US horror classic The Lost Boys – which features music from INXS, Echo & The Bunnymen and Roger Daltrey – is pressed on RED vinyl, but again, only two years ago we were offered a white vinyl pressing, so I'm experiencing a lot of vinyl déjà vu here!
ZZ Top's mega-selling Eliminator (from 1983) is issued on YELLOW vinyl, while Dexys Midnight Runner's 1980s debut Search For The Young Soul Rebels is released on RED vinyl. Rod Stewart's Greatest Hits Vol 1 (not actually the 1980s, since this was issued in 1979) is coming out as a new WHITE vinyl pressing.
Other vinyl releases including The Stone Roses first album (CLEAR vinyl), Paul Simon's Graceland (CLEAR vinyl), Blues Brothers soundtrack (BLUE vinyl), Simply Red's Picture Book (BLACK vinyl), Ice T Rhyme Pays (YELLOW vinyl) and Alphaville's Forever Young (ORANGE vinyl). There's also a Rocky IV soundtrack vinyl picture disc and the only-just released Made of Rain from The Psychedelic Furs is available on WHITE vinyl.
In terms of CD box sets, Howard Jones's previously announced Cross That Line reissue becomes a NAD release, and a Sigue Sigue Sputnik Flaunt It 4CD set is coming too (more info on that when we have it).
National Album Day is on 10 October 2020. All of these releases mentioned come out the day before on 9 October 2o2o.