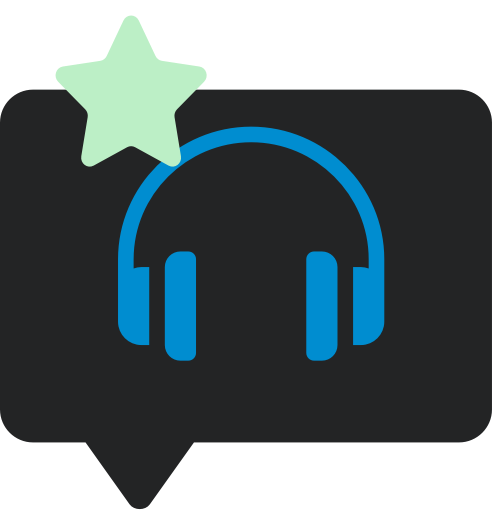 Reviews
Nancy Sinatra / Start Walkin' 1965-1976
Sean Hannam reviews Light in the Attic's new collection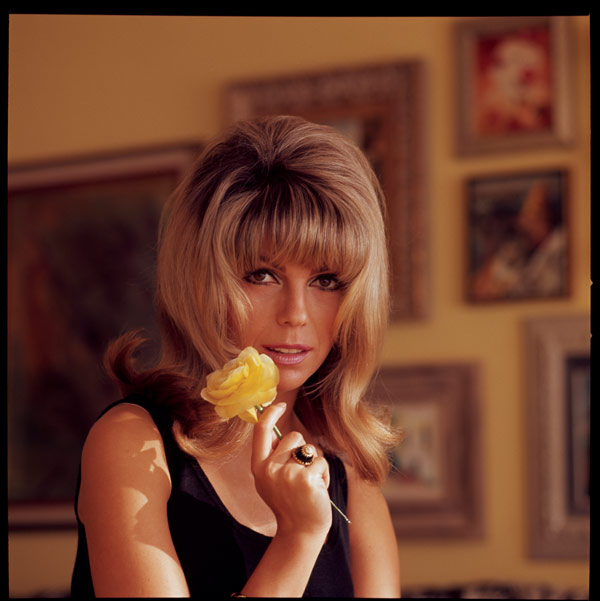 The word 'icon' is overused, but, in the case of Nancy Sinatra, it's perfectly acceptable. Daughter of legendary crooner Frank Sinatra, she scored her first hit in 1966, with the Lee Hazlewood-penned, girl-power-meets-kinky-domination anthem, 'These Boots Are Made For Walkin', which went to number one on both sides of the Atlantic. Thanks to its twangy, descending bass riff, it has arguably one of the greatest and most recognisable intros in pop.

When she first promoted the song on TV, wearing go-go boots and a mini-skirt, Sinatra unknowingly walked straight into history. Now, 55 years later, thanks to her distinctive style, she is as much a part of '60s iconography as Beatles mop top haircuts, Bob Dylan's Ray-Ban sunglasses, Sean Connery playing James Bond, or Christine Keeler sitting naked the wrong way round on a chair.
But, as this new, 23-track retrospective compilation album, Nancy Sinatra: Start Walkin' 1965-1976, released on the specialist US archive label, Light In The Attic Records, proves, she was so much more than just a pair of boots and a novelty song.
Originally due in early February, but delayed until March, with the vinyl available ahead of the CD, it's marketed as a definitive collection, and Sinatra, who turned 80 last year, has been heavily involved with the project. Included are a selection of her solo recordings, as well as some of her legendary and seminal duets with moustachioed maverick and psychedelic cowboy Hazlewood, such as the dramatic and lushly orchestrated country pop of 'Summer Wine' and the magnificent and mysterious 'Some Velvet Morning'. In 2013, UK newspaper The Daily Telegraph voted the latter the greatest duet of all time, calling it "one of the strangest, druggiest, most darkly sexual songs ever written."
The inspired and unlikely pairing of Sinatra's sweet pop princess vocals with Hazlewood's whisky-soaked baritone has been much imitated since – think Mark Lanegan and Isobel Campbell, and Nick Cave and Kylie Minogue, to name just a few examples.
Remastered from the original analogue tapes by engineer John Baldwin, who worked on the impressive 2013 Light In The Attic anthology, There's A Dream I've Been Saving: Lee Hazlewood Industries 1966 – 1971, the album doesn't begin with boots, but with a bang… The opening song is Sinatra's stripped-down version of the Cher hit single 'Bang Bang', which she recorded for her second studio album, 1966's How Does That Grab You?
It's a wonderfully sparse rendition – just Sinatra's vocals and Billy Strange's eerie and lonesome tremolo guitar. The song was used to great effect over the opening credits of Quentin Tarantino's 2003 film, Kill Bill Volume 1.
'These Boots Are Made For Walkin' stomps its way into second place on the track listing, followed by the playful Easy Listening of 1967's 'Sugar Town', but underneath the sweet surface lurks something far more sinister – it's actually a song about LSD.
Hazlewood wrote 'Sugar Town'. In a new interview with Sinatra that's included in the lavish and informative 24-page colour booklet which accompanies the double vinyl set (the single CD edition comes housed in a 60-page hardcover book), Sinatra refers to the song as "Hazlewood's 'Lucy In The Sky With Diamonds'", saying: "It's obviously about drugs."
It's a fun song and perfect for subverting daytime radio during the summer of love – bubblegum pop with just a hint of acid.
Oddly, the album's running order isn't chronological – after 1967's 'Sugar Town', for some reason we're taken back to 1965 for her single 'So Long, Babe', and then jump forward to 1966 for the cheeky 'How Does That Grab You, Darlin'?'
The latter is essentially a rewrite of 'These Boots Are Made For Walkin'. It was a top ten hit in the US and reached number 19 in the UK singles chart.
Nestled away on its B-side was the groovy 'The Last of the Secret Agents?' which jumped on the James Bond bandwagon – it even name-checks the super-spy in its lyric. Sadly, it isn't included on this collection, but we do get Sinatra's exotic and enticing official Bond song, 'You Only Live Twice', written by composer John Barry and lyricist Lesley Bricusse for the 1967 film of the same name.
With its haunting string arrangement – half-inched by Robbie Williams for 'Millennium' – it's easily one of the best compositions to grace a 007 movie, although the version on here is the US release, rather than the UK recording.
'How Does That Grab You, Darlin' is essentially a rewrite of 'These Boots Are Made For Walkin'
The track was re-done in L.A. with top-notch session musicians The Wrecking Crew and features a prominent electric guitar riff and unusual, double-tracked vocals – a pun on the title.
Hazlewood didn't think the original was right for the US market – perhaps he felt it lacked drama – but that's not the case. The re-recording is more bombastic than its English cousin and not as classy, with the heavy guitar rather overpowering. Sometimes less is more.
There's also a decent smattering of her '60s duets with Hazlewood – as well as the classics 'Summer Wine' and 'Some Velvet Morning', we get the sublime 'Sand', which is a personal favourite of Sinatra's and has a great Beatlesy backwards guitar solo, plus 'Ladybird' and the jaunty country of 'Jackson', which came out in 1967 – Johnny Cash and June Carter did a version of it in the same year.
Some lesser-known Sinatra solo gems are also included: the funky, organ-fuelled 'Happy' from 1968, the folky 'Hook and Ladder' – a single in 1971 – the breezy pop of 'How Are Things In California?' and the Bobbie Gentry-style Southern soul of 'Hello L.A., Bye Bye Birmingham' – both from 1970 – and 1974's 'Machine Gun Kelly.'
A few of her '70s collaborations with Hazlewood make the cut, such as the cinematic, string-laden 'Paris Summer', 'Down From Dover' – the latter was written by Dolly Parton – and the atmospheric and autumnal English language cover version of '(L'été Indien) Indian Summer.' The original was a 1976 single by French singer Joe Dassin.
If you exclude the 2009 digital-only release, Cherry Smiles – The Rare Singles, previous anthologies of Sinatra's work tend to concentrate on her '60s recordings, so it's great to see some selections from the '70s featuring on this compilation.

The limited deluxe CD version is packaged as a 60-paged, seven-inch hardcover book
While it's fair to say that most Sinatra devotees will already have the majority of songs, if not all of them, for fans this collection is still a must-have, as it's a comprehensive collection that's very well packaged (and it comes with a great booklet, which has some previously unseen photos, authoritative liner notes written by author and music critic, Amanda Petrusich, and an insightful Q&A with Sinatra and archivist/reissue co-producer Hunter Lea.
Not only that, but Nancy Sinatra: Start Walkin' 1965-1976 also serves as a brilliant introduction to her back catalogue and heralds the start of a year-long reissues and remasters campaign by Light In The Attic, which will include her 1966 debut album Boots, 1968's Nancy and Lee, and its follow-up, 1972's Nancy & Lee Again.
How does that grab you?
Nancy Sinatra: Start Walkin' 1965-1976 is already available on vinyl and is released this on CD this Friday. Note: The limited edition CD package is already out of stock via some channels (superseded by a digi-pak with 40-page booklet) so be clear about which version you are ordering.
Compare prices and pre-order
Nancy Sinatra
Start Walkin 1965-1976 - 2LP black vinyl edition
Compare prices and pre-order
Nancy Sinatra
Velvet Morning Sunrise 2LP coloured vinyl
Compare prices and pre-order
Nancy Sinatra
Start Walkin 1965-1976 deluxe CD edition
Tracklisting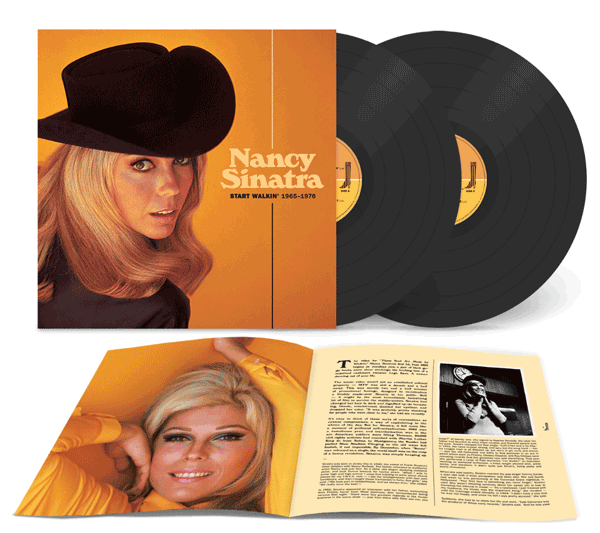 Start Walkin' 1965-1976 Nancy Sinatra
/
2LP vinyl
Side One

Bang Bang
 These Boots Are Made for Walkin'
Sugar Town
So Long Babe
How Does That Grab You, Darlin'
Friday's Child
You Only Live Twice

Side Two

Summer Wine
Some Velvet Morning
Lightning's Girl
Sand
Lady Bird

Side Three

Jackson
Happy
How Are Things in California
Hook and Ladder
Hello L.A., Bye Bye Birmingham
Paris Summer

Side Four

Arkansas Coal
Down From Dover
Kind Of A Woman
Machine Gun Kelly
(L'été Indien) Indian Summer
Tracklisting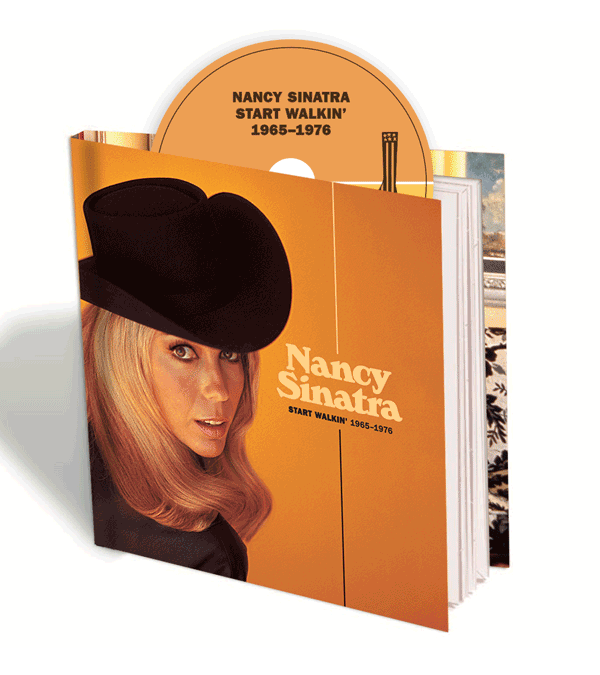 Just Walkin' 1965-1976 Nancy Sinatra
/
CD edition
Bang Bang
 These Boots Are Made for Walkin'
Sugar Town
So Long Babe
How Does That Grab You, Darlin'
Friday's Child
You Only Live Twice
Summer Wine
Some Velvet Morning
Lightning's Girl
Sand
Lady Bird
Jackson
Happy
How Are Things in California
Hook and Ladder
Hello L.A., Bye Bye Birmingham
Paris Summer
Arkansas Coal
Down From Dover
Kind Of A Woman
Machine Gun Kelly
(L'été Indien) Indian Summer