SDE's 10 best box sets of 2017
"Another year over and a new one just begun". Lots of great albums have been reissued in 2017, but a good album doesn't always guarantee an excellent reissue, or box set. More often than not, when box sets are reviewed in the so-called 'mainstream media' you get 1500 words on how great the album is and two lines at the end 'summarising' what's in the box! This blog tends towards the opposite, taking into account what the box set delivers music fans. Are all the commercially released remixes and B-sides present and correct? Has anyone made any effort to dig out demos or unreleased material? Is the presentation well thought out or slap dash? Has that old 5.1 surround mix, that now only exists on some out-of-print format, been retrieved for use in the new reissue? These are the kinds of questions we like to ask. With that in mind, here are – in no particular order – SDE's ten favourite box sets and reissues of 2017, as chosen by Editor Paul Sinclair….


RELEASED: June 2017
The fact that this Prince Purple Rain deluxe set even exists, probably earns it a place in the SDE 'best of' list for 2017. We were promised it years ago, then when Prince died last year, many fans thought that was it – the catalogue and 'vault' would be inaccessible for a long time, while legal wrangles with the estate would continue for an eternity. However, the 4EVER compilation emerged at the end of 2016 and with it the promise of an expanded Purple Rain for 2017. Warners didn't quite deliver on their initial promise of "two incredible albums of previously unreleased Prince music and two complete concert films" but that was mostly forgiven/forgotten when fans realised that Purple Rain would still deliver more than most realistically expected – it would be a four-disc set that would include a Prince-approved remaster (from 2015); ALL the remixes, single edits and B-sides; a complete disc of unreleased songs (such as Dance Electric, Wonderful Ass and Velvet Kitty Cat) and a DVD featuring a stunning live performance from early 1985, at the Carrier Dome, Syracuse, NY. The whole package is quite brilliant. Prince was clearly a very hard individual to get hold of and negotiate with when he was alive, so getting this out in the aftermath of the man's tragic death was a stunning achievement by the record company. The relatively modest packaging in all likelihood was more about making the path to release as simple as possible. As soon as you introduce complicated packaging, you get into bespoke tooling at the manufacturing stage and the risk of time-consuming complications. Further delays to the deluxe Purple Rain could have threatened the whole project. Keeping things simple mitigated those risks and had the welcome bonus of keeping this affordable (it's only £12 at the time of writing on Amazon UK!).
Read more about the Purple Rain deluxe edition.
---
RELEASED: July 2017
On the face of it, the 1998 two-CD deluxe edition of Marillion's 1985 album seemed to be fairly comprehensive, offering the album, B-sides and alternative mixes and demos. However, this 2017 4CD+blu-ray deluxe edition raises the bar considerably. That content is repeated (and remastered) but is augmented with two discs of Live at Utrecht (which includes the album performed live in its entirety) and a Steven Wilson 5.1 surround mix on a blu-ray audio disc. A new and brilliant documentary on that same disc and the 60-page booklet, the beautifully presented bookset packaging, make this an almost perfect reissue of a favourite album. And it was only around £25. Seeing producer Chris Kimsey this year (at a public event) talk in detail about the recording in Hansa Studios in Berlin – and go through some of the multi-tracks on his laptop – made me love the whole thing even more.
Read more about Misplaced Childhood
---
RELEASED: November 2017
Since 2013 Andy Partridge (and his APE label) has been a fine custodian of XTC reissues. Every year without fail, an album from the band's back catalogue has been reissued as a CD+blu-ray set. If we're honest, the packaging is fairly perfunctory, but it's the depth and breadth of content, coupled with the remarkably low price, that make these an essential purchase for fans and the curious alike. Each set includes a new stereo remix by XTC fan and friend of Partridge Steven Wilson, along with a 5.1 surround mix, which normally goes beyond 'just' the album and takes in additional tracks. That's only the start. You will normally get to enjoy instrumentals, demos, the original mix, video footage (often featuring the band in the studio) and much more. 1980's Black Sea continues the good work and easily earns it place in the SDE list of one of the best reissues of 2017. Roland Orzabal from Tears For Fears reviewed the reissue for this blog just last month.
Read more about XTC's Black Sea.
---
RELEASED: March 2017
Lloyd Cole and The Commotions' Collected Recordings box from 2015 was an excellent package, but while Lloyd Cole's work with The Commotions is reasonably well known (particularly 1984's Rattlesnakes) his solo career somehow failed to catch the public's imagination in quite the same way. It's hard to fathom why. 1990's well promoted Lloyd Cole had a rocky, confident New York swagger, the Raymond Carver name-checking Don't Get Weird On Me Babe (from '91) hedged its bets with a poppy side and a lush orchestral suite (both were great) and although 1993's Bad Vibes exhibited a slightly wearisome what-do-I-have-to-do-to-get-a-break quality, it contains one of his very best songs in So You'd Like To Save The World. Four albums in and the break came, although when 1995's Like Lovers Do (from Love Song) was a modest hit in the UK (supported by DJ Chris Evans on Radio 1), this success was a blip and not a long term turning of the commercial tide. The Lloyd Cole in New York box set was put together by the man himself and brings all four of these fine records together, along with an unreleased album Smile If You Want To and a hardcover book where the narrative outlined above, is explored in some depth. The sixth demos CD is good enough to warrant more than one or two plays out of curiosity. Interestingly, a few days ago Lloyd posted on Facebook that Universal have no more Commotions box sets left and that they've almost run out of this Lloyd Cole in New York package. It's not known yet whether there will be another production run. Lloyd said he will ask them to "once I connect with the person who replaced the product manager I dealt with who was subsequently fired, but I've no idea if they will listen to me."
Read more about Lloyd Cole in New York
---
RELEASED: May 2017
Take note Tears For Fears and Universal Music, this is how you 'do' a greatest hits. Lovely Creatures: The Best of Nick Cave and The Bad Seeds (1984-2014) is just so good, on so many levels that it puts most other efforts to shame. For a start, there were four different physical editions, tailored to different budgets and preferences (vinyl or CD) and the attention to detail – along with the obvious engagement of the artist – is what impressed most. The 3CD+DVD deluxe edition would have satisfied the most finicky of fans – issued in hardcover bookset format with 45 audio tracks and a DVD packed with live performances across the band's career – but record label BMG, in association with Nick Cave and the band, went above and beyond the call of duty to create a beautiful and tactile super deluxe edition featuring the same discs. The super deluxe was stunning. The typography and iconography was spot on. The four discs were stored in a ten-panel fold-wallet which featured a paper booklet with full track listing/credits. This folio/wallet slotted into the outer slipcase next to a tour-de-force 256-page hardcover book, with what I described at the time as a 'crazy' amount of content. Endless photos, and text to guide you through 30 years of Nick Cave and The Bad Seeds history. As you flicked through 'bits' would fall out; doodles, photos, film cells, stickers, facsimile ticket stubs and more. Stunning… and easily available for less than £40 at the time.
Read more about Lovely Creatures: The Best Of Nick Cave & The Bad Seeds
---
RELEASED: June 2017
Apple/Universal's first expanded box set devoted to one Beatles album could easily have fallen into the trap of complacency and taken fans' interest and enthusiasm as a given – particularly when the album is 1967's Sgt. Pepper's Lonely Hearts Club Band. However, they took nothing for granted and arguably delivered much more than anyone had the right to expect, what was in the words of this blog, a 'dream box set'. Not only did Giles Martin and Sam Okell create a 5.1 surround mix (included on blu-ray/DVD) they created a brand new stereo mix for the main CD inspired by the authenticity and power of the original mono version. Does anyone ever get bored of hearing The Beatles at work in Abbey Road in the 1960s? Chatter, advice between band members, giggling, those early exploratory takes… It's all fantastic stuff and so much better than those crappy bootleg tapes I used to buy at Camden market in the 1980s! Two further CDs are full of this kind of thing – a plethora of outtakes, delivering 33 additional recordings and the original mono mix included on a further disc (with six bonus tracks). The blu-ray/DVD contains promos and a restored documentary, while the 144-page book actually informs and educates, and doesn't just cobble together some pretty images (as is often the case). The posters, inserts, tape-box style packaging and lenticular sleeve finish things off nicely. A splendid time is guaranteed for all.
Read more about the Sgt. Pepper box set
---
RELEASED: March 2017
Something I never thought would happen would be Fleetwood Mac approving all those very 'of the time' extended and dub mixes issue on the singles from their 1987 album. Most 'serious' artists might seriously consider vetoing the 'bonus beats' mix of an old single, but to their credit Fleetwood Mac didn't do this for this year's reissue of Tango in the Night, which says something about the health of the relationship between the band and their record label. FM either understand the marketplace for box sets very well, or more likely they trust the record company and let them get on with delivering what their fans want. This 3CD+DVD+LP set was superb and gave us a remastered version of the album (also included in hi-res on the DVD), a fantastic disc of demos and early versions, all the aforementioned remixes and a vinyl record of the album. The only major omission was the lack of a 5.1 surround mix, but the price point of around £50 which cheap enough for most to focus on the many positive aspects of this long desired box set.
Read more about Tango in the Night.
---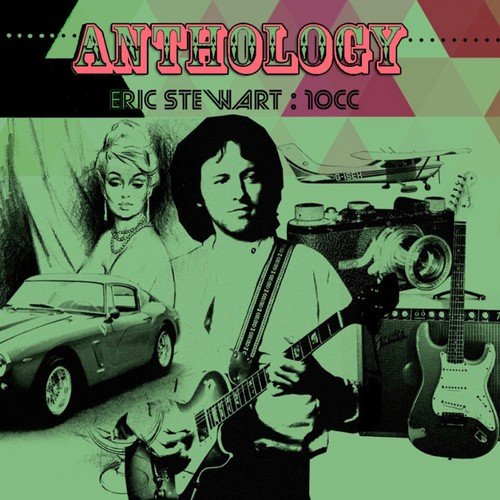 RELEASED: July 2017
Probably because much of his own work is unavailable (or hard to find) on CD, Eric Stewart's solo career is something that had largely passed me by. For this new Anthology Stewart himself went through all his recordings – from the 1980 Girls album to 2009's Viva La Difference – and has put together a two-CD set which boast 31 tracks (some are solo tracks he contributed to 10cc albums Mirror Mirror and Ten Out Of Ten). He remixed recordings where he felt it necessary and came up with a running order that is neither chronological nor bothers to even group tracks from the same album together! It works beautifully and I played this to death in the summer months of 2017. Stewart has everything. A brilliant musician, his songwriting chops are matched only by his production skills – everything sounds great and there are some wonderful arrangements, styles and rhythms on show. His lyrics are spot on too – full of wit and humanity. I would love to live in a world where sets like these make it to the higher reaches of the chart. Highly recommended.
Read more about Eric Stewart's Anthology.
---
RELEASED: September 2017
This five-disc super deluxe edition of Wet Wet Wet's massively popular debut Popped In Souled Out is a superb exploration of the 1987 album. The large format bookset offers a remastered version of the album, all the B-sides/remixes, an expanded 'Memphis Sessions' (recorded before the album, but released after) and masses of unreleased demos. The 72-page book delivered some brilliant notes that brought to life the five or so years before the band became famous and DVD offers promos, TV appearances and more. Frontman Marti Pellow didn't read the reissue script and upped and left the band before this anniversary set was even released. Graeme Clark spoken confidently in my interview about a possible Pellow-free future for Wet Wet Wet, but his absence from promotional duties undoubtedly hurt this set's commercial performance.
Read more about Popped In Souled Out
---
RELEASED: September 2017
David Bowie's late seventies period – which saw him working in France, Berlin, Switzerland and New York – delivered four studio albums that might be career highs for other acts. Low, Heroes, Lodger and Scary Monsters and Super Creeps were released in fairly quick succession between 1977 and 1980 (live album Stage was issued between Heroes and Lodger) and were all produced by Tony Visconti. A New Career In A New Town – the third major David Bowie box in as many years – brings all of these albums together in excellent mini-LP CD 'vinyl replica' packaging and offers some bonus material including a new remix of Lodger and the Re:Call 3 'odds and sods' compilation. The controversy over the title track of "Heroes" was a bit of a disaster for Parlophone, but they are now issuing replacement CDs and vinyl records, and the majority of fans are satisfied. It's frustrating that 5.1 mixes and unreleased material from the archive has been deemed out of scope for this series of box sets but these albums are all but essential for serious music fans and everything is superbly presented.