 News
James / Live in Extraordinary Times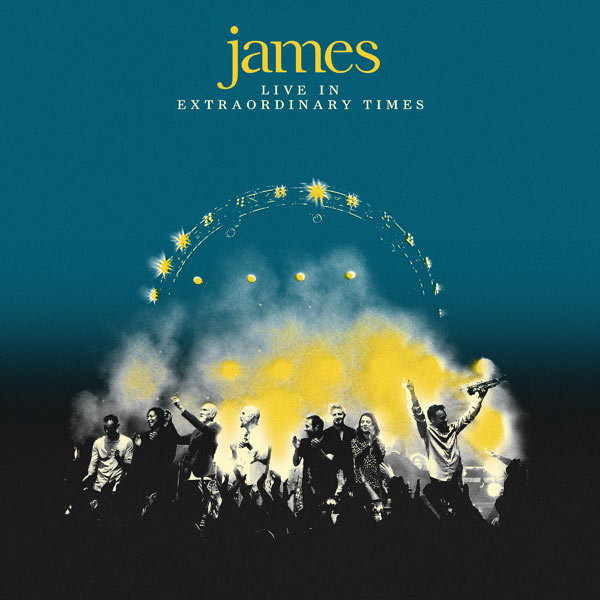 New live album • Signed CD and vinyl packages • Box set includes DVD
This December, James will release a Live in Extraordinary Times, a collection of live recordings from their 2018-2019 Living in Extraordinary Times tour.

The tour covered 14 countries and 86 shows, including their biggest ever audience at Manchester Arena, an intimate club gig in Madrid and a memorable show in Philadelphia.
This band-curated release offers 23 tracks on the two-CD edition and 13 tracks on the 2LP coloured vinyl versions (there's blue and yellow variants).

Live in Extraordinary Times 2CD+DVD+2LP blue vinyl photobook box set
A limited box set version features both CDs, a DVD of live performances from Madrid and Philadelphia, the two LPs, a 24-page hardcover photobook (limited and numbered) and a 12-inch print signed by the band.
Live in Extraordinary Times will be released on 11 December 2020. (Update: apparently the vinyl download is only the tracks on the records not the 23 tracks on the two-CD set. SDE was given incorrect info originally – sorry).
For now, this is exclusive to the band's store and all signed editions are totally exclusive. Peruse the store for all the formats and bundles or check out some highlights below.
Key formats from the band's official store
LIVE in Extraordinary Times 2CD edition
CD1
1. Five-0
2. WALTZING ALONG
3. LEVIATHAN
4. BROKEN BY THE HURT
5. SHE'S A STAR
6. GETTING AWAY WITH IT
7. STUTTER
8. FEET OF CLAY
9. MOVING ON
10. MANY FACES
11. SOMETIMES
12. COME HOME
CD2
1. HANK
2. PICTURE OF THIS PLACE
3. ENGLISH BEEFCAKE
4. P.S.
5. HEADS
6. ALL I'M SAYING
7. EXTRAORDINARY TIMES
8. TOMORROW
9. WHAT'S IT ALL ABOUT
10. LAID
11. ATTENTION
LIVE in Extraordinary Times 2LP vinyl
Madrid Side 1
1. Five-O
2. Broken By The Hurt
3. Feet Of Clay
4. She's A Star
Madrid Side 2
1. Waltzing Along
2. Living in Extraordinary Times
3. English Beefcake
Manchester Side 1
1. Hank
2. Picture Of This Place
3. What's It All About
Manchester Side 2
1. Attention
2. Many Faces
3. Sometimes