 News
'Roxymphony' DVD changed to NTSC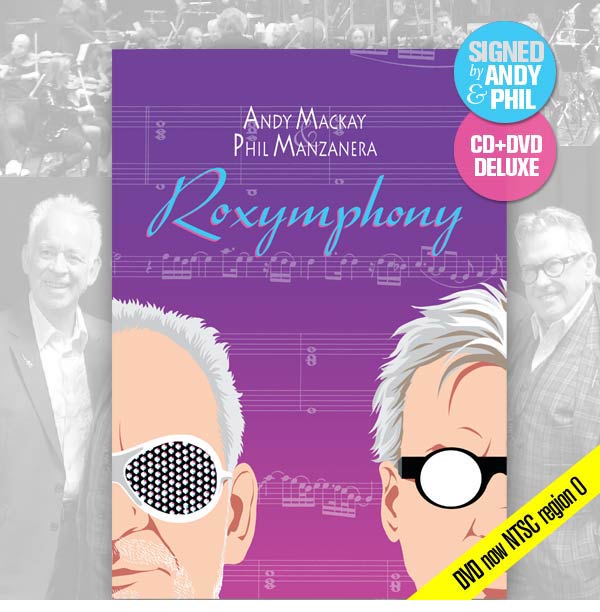 The recently announced Roxymphony CD+DVD deluxe set from Roxy Music legends Andy Mackay and Phil Manzanera will now feature a DVD in the NTSC format, to allow US fans to enjoy the video content on the second disc.

This set, which features re-imaginings' of Roxy Music classics performed live on stage with Andy, Phil and an orchestra, was going to include a PAL DVD but Phil Manzanera himself intervened, stopped production, and insisted this was changed to ensure everyone could enjoy it, regardless of where they lived.
For the uninitiated, NTSC DVDs will play worldwide, while PAL is incompatible with TVs in North America. The DVD is region 0, which means it is region-free and will play on any DVD player.
SDE is delighted to be offering exclusive signed copies of this deluxe CD+DVD set –  which come packaged as a hardcover 20-page book – via the SDE shop. The release date is 6 December 2019, so everyone should have this in good time for Christmas.
Speaking of which, don't forget about festive 'Players' Christmas album on CD from 1989 signed by both Andy and Phil. This features traditional carols performed on acoustic instruments.
Roxymphony CD +DVD deluxe
CD
1. SONG FOR EUROPE
2. OUT OF THE BLUE
3. IN EVERY DREAM HOME A HEARTACHE
4. BITTER SWEET
5. MORE THAN THIS
6. SENTIMENTAL FOOL
7. LOVE IS THE DRUG
8. TARA
DVD (NTSC, Region 0)
1. SONG FOR EUROPE
2. OUT OF THE BLUE
3. BITTER SWEET
4. MORE THAN THIS
5. IN EVERY DREAM HOME A HEARTACHE
6. SENTIMENTAL FOOL
7. TARA
BONUS TRACKS
8. LOVE IS THE DRUG (Valedictory Version)
9. MORE THAN THIS (Pastoral Version)
The Players / Christmas
1. The Holly and the Ivy
2. In Dulci Jubilo/I Saw Three Ships
3. Good King Wenceslas
4. O Little Town of Bethlehem
5. Angels from the Realms of Glory
6. In the Bleak Midwinter
7. While Shepherds Watch Their Flocks
8. As with Gladness
9. We Three Kings
10. Little Jesus Sweetly Sleep (Rocking Carol)
11. The Holly Bears the Berry
12. Coventry Carol
13. Away in a Manger
14. The First Noel
15. Joy of the World
16. The Holly and the Ivy
17. Ding Dong Merrily on High
18. On Christmas Night (Sussesx Carol)
19. Jingle Bells
20. Here We Come A-Wassailing
21. Past Three O'Clock
22. The Rising of the Sun
23. Once in Royal David City
24. O Come All Ye Faithful
25. It Came Upon the Midnight Clear
26. God Rest Ye Merry Gentlemen
27. Hark the Herald Angels Sing
28. Silent Night
29. O Come All Ye Faithful
30. The Boar's Head Carol
31. Deck the Hall's
32. We Wish You a Merry Christmas
33. The Holly and the Ivy