 News
Stealers Wheel & Gerry Rafferty / 'Collected' limited coloured 2LP vinyl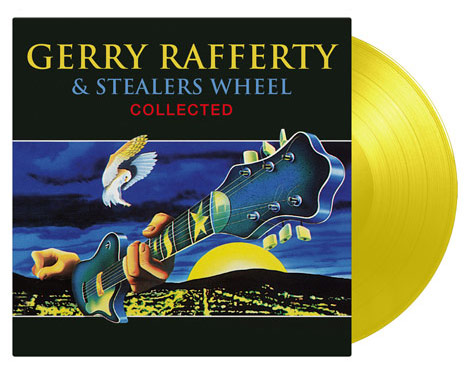 Limited edition on Yellow Vinyl • Gatefold • Numbered
Music On Vinyl continue with their excellent 'Collected' gatefold vinyl packages with a two-LP collection of music from Stealers Wheel and Gerry Rafferty with first pressings on coloured vinyl.

The four sides of vinyl are divided between Stealers Wheel (one side) and Gerry Rafferty (three sides). The former is best known for the hit Stuck In The Middle With You which was a transatlantic top ten hit in 1973 and found a new audience in 1991 when Quentin Tarantino used it in his directorial debut Reservoir Dogs.
After the band split in 1975 Gerry Rafferty went on to enjoy some solo success and is best known for hits like 'Baker Street,' 'Right Down the Line' and 'Night Owl'.
Those songs all feature on this new collection along with fan favourites and other gems. Only 1500 copies of the yellow vinyl will be pressed. Collected is released on 22 February and this limited edition can be ordered via the SDE shop using this link or the button below.
SIDE A
1. Stealers Wheel – Stuck In The Middle With You
2. Stealers Wheel – Late Again
3. Stealers Wheel – Everything Will Turn Out Fine
4. Stealers Wheel – Star
5. Stealers Wheel – Right Or Wrong
6. Stealers Wheel – Found My Way To You
7. Stealers Wheel – Go As You Please
SIDE B
1. Can I Have My Money Back
2. City To City
3. Baker Street
4. Right Down The Line
5. The Ark
SIDE C
1. Night Owl
2. Get It Right Next Time
3. Bring It All Home
4. The Garden Of England
5. Sleepwalking
SIDE D
1. Shipyard Town
2. Hearts Run Dry
3. Don't Give Up On Me
4. Time's Caught Up On You
5. A New Beginning