 News
The Jam / Snap! 2LP with 7″ single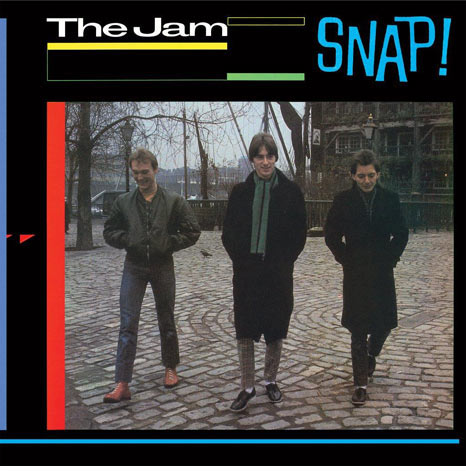 The Jam's classic compilation Snap! is being reissued as a double vinyl edition which comes complete with the bonus 7″ single given away with first editions back in 1983.

This was the group's first greatest hits and was released just after Paul Weller's decision to break up the band at the height of their fame. It's a 29-track collection, in chronological order and features hit singles such as 'Down In The Tube Station At Midnight,' 'Strange Town,' 'When You're Young,' 'Going Underground,' 'That's Entertainment,' 'Start!,' 'Town Called Malice ,' and 'The Eton Rifles' and many more. 
This comes in a gatefold sleeve and has been remastered at Abbey Road Studios. This release also replicates the very original with a 'free' seven-inch single given away with early editions of Snap! This four-track 'Live! EP' was recorded live at Wembley Arena on 2 and 3 December 1982. The 2LP+7″ set comes with a download card.
Snap! is released on 25 October 2019 and can be pre-ordered from the SDE shop using this link or the button below.
LP1 – Side A
In The City
Away From The Numbers
All Around The World
The Modern World
News Of The World
Billy Hunt
English Rose
Mr. Clean
LP1 – Side B
David Watts
'A' Bomb In Wardour St
Down In The Tube Station At Midnight
Strange Town
The Butterfly Collector
When You're Young
Smithers-Jones
Thick As Thieves
LP2 – Side A
The Eton Rifles
Going Underground
Dreams Of Children
That's Entertainment
Start!
Man In The Corner Shop
Funeral Pyre
LP2 – Side B
Absolute Beginners
Tales From The Riverbank
Town Called Malice
Precious
The Bitterest Pill (I Ever Had To Swallow)
Beat Surrender
7″ – Side A
Move On Up (Live)
Get Yourself Together (Live)
7″ – Side B
The Great Depression (Live)
But I'm Different Now (Live)