 News
'Brilliant Live Adventures': Parlophone announce six 90s-era Bowie live albums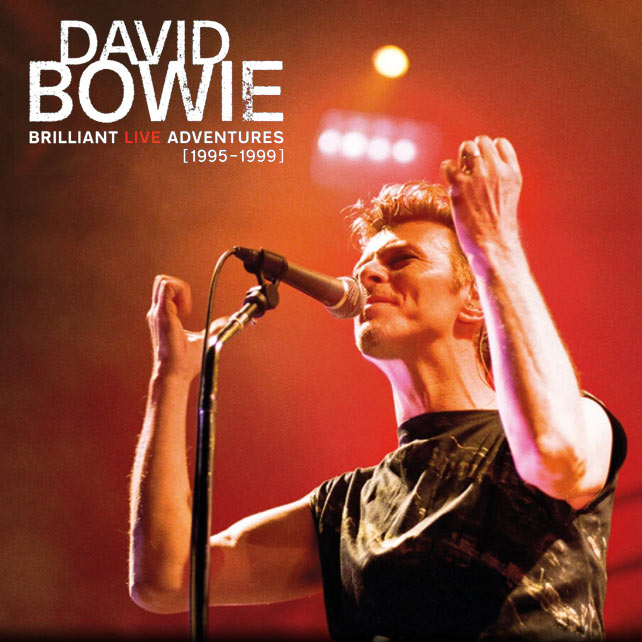 Three due before Christmas and the rest in the new year
As hinted by the official David Bowie site earlier this week, there is a new product announcement today. Parlophone will soon issue as series of Bowie live albums with material recorded between 1995 and 1999 under the banner 'Brilliant Live Adventures'.

These are six albums which will all be made available on CD and vinyl, but as "limited one run only pressings". The first release is called Ouvrez Le Chien. This was previously a streaming-only live album but will be released physically at the end of this month. It features audio recorded at the Starplex Amphitheater, Dallas, 13 October, 1995, during the U.S. leg of the Outside tour.
Ouvrez Le Chien was produced by David Bowie and recorded by Steve Guest. The musicians are David Bowie – vocals and saxophone, Carlos Alomar – rhythm guitar, Reeves Gabrels – lead guitar and vocals, Gail Ann Dorsey – bass and vocals, Zachary Alford – drums, Peter Schwartz – musical director, keyboards and synthesisers, George Simms – vocals, Mike Garson – piano and keyboards.
'Ouvrez Le Chien' is the first of six 1990s live release promised by Parlophone
I think it's reasonable to presume that the two other streaming exclusives – Something In The Air (Live Paris 99) (check it out on Spotify) and LiveAndWell.com (listen here) will be amongst the remaining five yet-to-be-announced concerts, but we'll have to wait and see about the other three.
All these live albums will ONLY be available via David Bowie's online store or the newly rebranded Rhino store 'Dig!' and for now Ouvrez Le Chien is the only one you can pre-order.
Parlophone are incentivising you to buy all six albums, by offering empty boxes with 'Brilliant Live Adventures'. The idea is you buy the boxes to house your purchases. Neither are available yet from the Dig! store – you have to 'register your interest' but on Bowie's shop they are showing as 'sold out' (CD was £12, vinyl box £17). As we approach the season of goodwill, you'd think, if you buy all six albums under one account, they might actually GIVE you a box… but apparently not (Disc Union in Japan do this very thing – if you purchase a 'set' of mini-LP CD vinyl replicas, they give you a 'free' box).
Ouvrez Le Chien will be released on 30 October 2020.
Empty box to collect the CDs was retailing for £12
Ouvrez Le Chien
Recorded live at the Starplex Amphitheater, Dallas, 13th October, 1995

CD:
Look Back In Anger
The Hearts Filthy Lesson
The Voyeur Of Utter Destruction (As Beauty)
I Have Not Been To Oxford Town
Outside
Andy Warhol
Breaking Glass
The Man Who Sold The World
We Prick You
I'm Deranged
Joe The Lion
Nite Flights
Under Pressure
Teenage Wildlife
Ouvrez Le Chien
Recorded live at the Starplex Amphitheater, Dallas, 13th October, 1995

LP
SIDE ONE
Look Back In Anger (David Bowie/Brian Eno)
The Hearts Filthy Lesson
The Voyeur Of Utter Destruction (As Beauty)
SIDE TWO
I Have Not Been To Oxford Town (David Bowie/Brian Eno)
Outside
Andy Warhol
Breaking Glass
SIDE THREE
The Man Who Sold The World
We Prick You
I'm Deranged
Joe The Lion
SIDE FOUR
Nite Flights
Under Pressure
Teenage Wildlife