 News
David Bowie / Clareville Grove Demos / seven-inch vinyl box set
3 x 7″ vinyl box • plus Pinups picture disc announced for RSD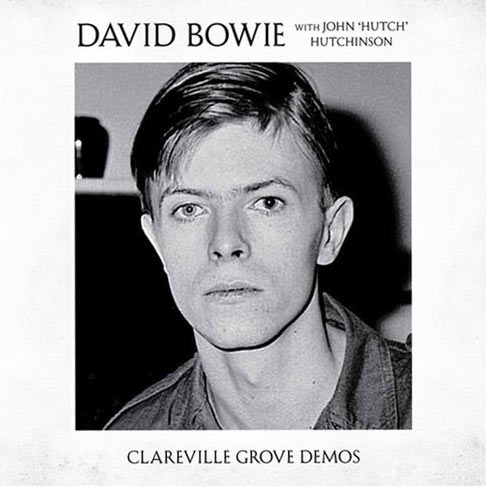 Following the recent Spying Through A Keyhole announcement, Parlophone are to release another seven-inch vinyl box set of David Bowie demos, called Clareville Grove Demos.

The set will contain home demos across three seven-inch singles. These were recorded in 1969 in David's flat in Clareville Grove, London (hence the name) and this live to tape demo session features David performing as a duo with John 'Hutch' Hutchinson following the end of the Feathers trio, which featured David's then girlfriend Hermione Farthingale.




Amongst the tracks are another demo of 'Space Oddity' (which was previously on the 2CD deluxe of the Space Oddity/David Bowie album), 'Lover to the Dawn' (an early version of the same album's 'Cygnet Committee') and a demo of 'An Occasional Dream'.

Box set photography is by Bowie's then manager, Ken Pitt and as with the Spying Through A Keyhole, the design of each single label is presented to reflect the way David sent many of his demos to publishers and record companies, featuring his own handwritten song titles on EMIDISC acetate labels. The singles are all mono and play at 45 rpm.




A released date hasn't been confirmed yet for the Clareville Grove Demos box set, but in other Bowie news there will be a Pinups vinyl picture disc issued for this year's Record Store Day, which is on 13 April.


Single 1

Side A

Space Oddity

Now featuring the final lyrics, this version of the demo first appeared on the long deleted Space Oddity 40th Anniversary 2 CD release, and is now making its debut on vinyl. It predates the 2nd February Morgan Studios recording that featured in the Love You Till Tuesday television film.

Side B

Lover To The Dawn

This song aimed at a former lover would eventually morph into Cygnet Committee recorded for the David Bowie (aka Space Oddity) album later in the year.

 

Single 2

Side A

Ching-a-Ling

Previously recorded in October 1968 by the trio Turquoise featuring David, Hermione and Tony Hill (who became Feathers when Hutch replaced Hill). David and Hutch continued to perform the song as a duo following Hermione's departure.

Side B

An Occasional Dream

Slightly different lyrically to the later album version, this version of the demo also first appeared on the deleted Space Oddity 40th Anniversary release.

 

Single 3

Side A

Let Me Sleep Beside You

A studio version was first recorded in September 1967 but remained unreleased until The World Of David Bowie album in 1970. The song was later recorded in session for the BBC in October 1969 and was a song David clearly believed in, recording it once more for the unreleased Toy album 30 years later. That version finally saw the light of day on the Nothing Has Changed 3 CD set in 2014.

Side B

Life Is A Circus

A cover of an obscure song written by Roger Bunn recorded by vocal/instrumental quartet Djinn. Vocals are shared Simon and Garfunkel style by David and Hutch.